Intro
Books
DVDs
Holiday Happenings
Holiday Movies
Music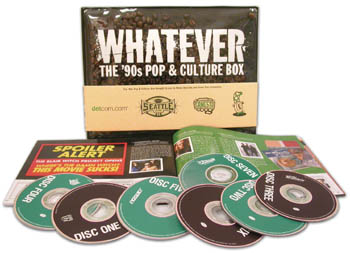 Flavorous and delicious communication: Whatever your taste in '90s pop, 'Whatever' is a cool gift.
Give, Give, Give Me More, More, More
Buying for the music freak is easier than ever this year
By Todd Inoue
IF YOU HAVEN'T stockpiled enough brownie points to ask for the video iPod ($299–$399), there are plenty of good things to eat up time and bookshelf space.
Big Ticket Items
Whatever: The '90s Pop and Culture Box (Rhino, $105.98) is unbelievable (ohhh!). The decade that begat grunge and MC Hammer is tidily summed up over 130 tracks on seven CDs. The nifty eight hours of music comes with a bag of coffee beans. Better grind it up because sifting through some of the lighter fare (like Candlebox, Primitive Radio Gods and Letters to Cleo) will need caffeinated assistance. For something more contemporary, think about the Live 8 DVD set ($53.98), which covers the highlights and a few complete sets from the summer concert that spanned generations and genres.
For the Hipster
Beck fans will have to wait until Jan. 23 to get the Guerolito remix album, but there are still enough unique items worth copping for the "too-cool for school" nimrod in your life. The Director's Label Series DVD collections have been solid thus far (Spike Jonze, Michel Gondry, Chris Cunningham) and the latest release assembles four of its newest spotlighted directors for the Director's Label Series Box Set Vol. 2 ($79.98): Mark Romanek, Anton Corbijn, Jonathan Glazer and Stephane Sednaoui. Artists like Bono, Trent Reznor, Nick Cave, Gwen Stefani and Jamiroquai provide running commentary for their videos. Urban Arts released a slick redesign riffing on the 2K "John & Paul & George & Ringo" T-shirt, substituting N.W.A.'s "Dre & Eazy & Cube & Ren" ($29) for the Fab Four. It's available through trusted hip-hop whatnot online shop turntablelab. While there, scoop up the latest Hollertronix EP No. 3 ($7.99), which spotlights Diplo and friends playing with pop songs and genres like Tinkertoys.
The White Elephant Exchange
Is it safe to say that R. Kelly has lost his damn mind? Trapped in the Closet Chapters 1–12 was released on DVD ($19.98) and it's possibly the best white elephant gift this season. It's under $20 and will be stolen by intrepid white elephant participants—guaranteed. But the joke is on the final owner—Trapped in the Closet requires one viewing maximum (unless you really need to watch R. Kelly's self-aggrandizing commentary on his commentary). Other white elephant gifts this holiday season include holiday CDs by Regis Philbin and Kenny G.
The Tweeners
Diddy protégés B5 caused a huge ruckus recently when authorities shut down a Minneapolis mall after their performance caused all matter of mayhem and four people went to the hospital. The group of five brothers—ages 10–17—from Atlanta are playing the Radio Disney Jingle Jam tour coming to the San Jose Convention Center on Dec. 17. If your hearing is too sensitive to soak up the screams for an early Christmas present, pick up a copy of their new album All I Do ($13.98) or the new fully poseable Bratz Rock Angelz record ($13.98).
The Classic Rocker
With a bonus DVD of a Hammersmith Odeon 1975 show and a second DVD documentary Wings for Wheels: The Making of Born to Run, the digitally remastered Born to Run 30th Anniversary set ($39.98) is sure to please the most casual or ardent Bruce Springsteen fans. It won't turn the opinions of Republicans who voted down legislation to honor the New Jersey singer, but they're too busy checking if Paul Anka can get props to notice anyway. Also celebrating 30 years in the game is Rush, who release R30—a multiple CD and DVD package ($39.98). Among the features: rare and previously unseen live and interview footage. The first DVD captures the band's 2004 Frankfurt concert filmed with 14 hi-definition cameras. The second DVD is a historical retrospective. A deluxe edition of Rush-R30 also features two CDs with the complete soundtrack from the Frankfurt concert DVD, two limited edition Rush guitar picks and a souvenir backstage pass. Sweet!
Give of Yourself
After years as a calming profundity, this year it is truly better to give than to receive. That means helping the rebuilding effort in New Orleans in unique ways. One is to purchase the Rounder Records A Celebration of New Orleans Music to Benefit MusiCares Hurricane Relief 2005 which leans on the indigenous sounds of jazz, funk and soul with the usual suspects. Another is to go to Target and gift Sound Response, 16 exclusive live tracks by artists like Dave Matthews Band, Coldplay, Radiohead and Tori Amos. And of local mention, ace photographer Scott Chernis is selling prints captured from over a decade of shooting musicians and cultural events in New Orleans. Eight-by-10 prints go for $30 apiece with proceeds benefiting displaced musicians and their families. Superb shots for a good cause. Go to www.scottchernis.com/nor.html for more information.
---
Send a letter to the editor about this story to letters@metronews.com.
---
[ Silicon Valley | Metroactive Home | Archives ]