02.04.09
home | metro silicon valley index | features | silicon valley | feature story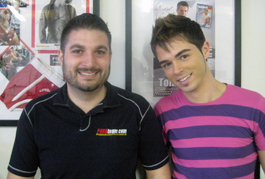 DAY JOB: Chris and Turk pose before the memorabilia collected on the walls of PornTeam.com.
Sex in the Suburbs
Porn is alive and well-hung in Rohnert Park
By Gabe Meline
The warehouse is unmarked, just another white door in an industrial area in Rohnert Park. Chris meets me at the door with a smile and a handshake, and leads me up the stairs. "Can we not use our last names?" he asks. Sure, I say, eyeballing the framed photos along the staircase, all massive penises and tight butts. "This is Turk," Chris says at the top of the stairs, pointing out a slender guy behind a desk in tousled hair and tight striped shirt, and I get the sensation that I've seen him somewhere before. Sure enough, right behind me, framed on the wall, is Turk, spread-eagled on a pile of hay, fondling his giant cock.
Most people don't know that a porn industry exists in Sonoma County, let alone thrives. Yet the discovery that Rohnert Park is the hub of our local porn industry makes a strange sort of sense. It's always the faceless, homogenous suburbs, like the San Fernando Valley in Southern California, that generate the masturbatory materials for the rest of the world.
One of Turk's favorite stories is how his parents discovered he was a porn star. His dad, a "big fan" of porn, was flipping through the Adam & Eve catalogue and noticed his son's image on the cover of a DVD. "So he sees it," Turk says, "and calls me up and says, 'Yeah, I knew you were doing modeling, but I didn't know you were doing porn! I guess you're getting all the ladies!' And I'm just like, 'Oh, Dad. We need to talk.'"
Turk, a 24-year-old gay "twink" (slang for a young, hairless, slender gay man), got into porn in classic fashion: his car broke down and he needed money. A photographer he'd done some modeling with offered $500 for some website photo sets. A month later, he made his first film. With a diminutive frame and young looks, he was a natural for the red-hot twink market. He's made 40 films since.
Turk prepares for his receiving scenes by douching, by working with an oversized butt plug and, in cases where he's expected to receive an exceptionally large penis, by using Anal-Eze, a novocain-infused lubricant. He says he's good at keeping erect on the set, but "a lot of companies, they don't even ask, they just pop it to you—Viagra, Cialis. It works, but you do get side effects. Crazy headaches. There's also the shot, which I've only done once, right in the base of your dick."
Turk, like almost all porn stars, gets paid not in royalties or residuals but in up-front pay, per scene. The take can be fairly good—once, he took home $4,500 for one scene. "There were six people in the scene," he explains. "It was kind of intense. Usually, they're just an hour or two. That one was probably about five hours." The soreness, he says, goes away in about a day.
It's incredibly common for straight guys to do gay porn—in industry parlance, to be "gay for pay." After all, it pays far better than straight porn, where the girls take home virtually all the cash. Turk likes working with straight guys. They're not prima donnas. There's no attraction. They know there's a job to do and they get it done. "My last shoot I did," he points out, "there were 14 guys, and four of 'em were straight, and it was so much easier working with the four straight guys."
Turk has only once made a film with a girl, because it offered the incredible sum of $3,000. He's not sure if he'd do it again, but it was quick, he says—just a series of scenes. "I only had to come twice."
After doing well for several months, getting weekly jobs, Turk saw his schedule drop in the last couple months. He decided to make a "water sports" (urination) video. ("I didn't do any of the swallowing," he says. "I'm not ready for that yet.") He coolly mentions he had no problem acting excited about being urinated on, but doing it himself was a different story: turns out he's pee-shy.
Turk's recently started a website, www.turkxxxonline.com, which in its larval stages, with no advertising, still nets him about a grand a month. Fans can keep up with his real-life relationship with recurring co-star Vance and can read his blog, watch private videos and find links to his film work. Those are links, Turk says, that he rarely clicks, and when he does, he fast-forwards through the sex. Turk makes what he calls a "chipmunk face" when he climaxes, and he can't stand seeing it.
Chris is the president of PornTeam.com, a distributor of gay porn who works with independent producers to package and distribute amateur films. A graduate of Rancho Cotate High School in Rohnert Park, he worked in Internet design before coming into porn. His company, founded in 2001, does well enough to offer health benefits to its four full-time employees and to let Chris buy a house at the height of the housing boom a few years back. He is a businesslike, well-groomed man of 33 who speaks in assured but not overconfident tones, able to assess sales in the same sentence as evaluating penis size.
Size, by the way, doesn't matter in porn. "You can get small hands on the other person. It's all the angle of the picture, lighting, everything else," Chris explains. "All the women in porn are 5-foot-4, a hundred pounds, small hands, and they just make those guys look huge. "
PornTeam specializes in twink videos, like the ones Turk stars in, but has slowly moved into the jocks and bears market. Films of straight guys going gay are big, Chris says, and "reality porn" is taking off alongside PornTeam's line called Straight Guys for Gay Eyes, which is straight porn shot from a gay man's point of view. They don't carry too many fetish videos because of restrictions on shipping—the Bible belt is out of the question for any gay sex at all, as is the entire state of Utah. Well more than half of PornTeam's customers are closeted, Chris estimates, and have moved collectively into buying more extreme, more voyeuristic, more fetish films. "And now 'felching' is coming in," Chris explains, referring to a variant on anal sex. "It's been interesting to see how raunchy the sex is getting."
Chris, currently single, has found his career a little limiting when it comes to dating other guys. They want to sit in on a set; they want to meet the stars; they want to be fluffers. Chris has started simply telling people he runs a website. "I don't really watch much porn anymore," he admits. "I love Wall-E. That's my favorite film right now."
"A lot of people in Sonoma County are shocked that we've been here for seven years," says 49-year-old Stephan Sirard, sitting beneath an artful fellatio photo at his FCF Agency office in central Rohnert Park. Sirard, though, isn't shocked by much anything anymore. He's been accused of murder. He's been sued several times. His eyes are bright and his speech hurried, but he offers the jaded veteran's motto, "I've seen and heard it all," he says.
The FCF Agency, as Sirard loves to point out, is the largest adult amateur modeling agency in the world, with offices in Toronto, Montreal, L.A. and Rohnert Park. He receives a thousand applications a month. "Everyone," he says, "from 18 to 88." On average, about 800 of them are straight men, 100 are gay or bi men and 100 are females. He currently represents 834 models, seven of which live locally, and does filming at locations throughout Sonoma County, declining to be more specific.
With mainstream porn evaporating and with public tastes adapting from high-production values to low-production values as a turn-on in reality and amateur porn, amateur actors are increasingly in demand. Sirard runs down a list of porn payments like he's reading off the daily specials. For intercourse scenes, a girl generally gets $1,000 for vaginal sex, $1,500 for anal and $2,000 for double penetration. The guy, meanwhile, settles for $300 regardless.
Compare that with the $500 a guy will get for a solo masturbation scene, or the $700 for being fellated by another man, and it's easy to see why there's so many gay-for-pay actors. The FCF Agency's application contains a checklist of 34 things the applicant would be willing to do; there's also a section for describing any "special" sex talent, for photos, and for tattoos, piercings and penis length.
In Sirard's seven years of filming over 5,000 people, he's gotten a few phone calls from former models begging him to take down scenes. One of them was a son of a wealthy New York family who was trying out for the Olympic team. "First, they contacted us through their attorney, trying to sue us," he says. "Our lawyer called them and said, 'Here's the model release, here's the authorization, here's the ID, everything is legal.' After that, they came back to us, they apologized and offered us 10 times the money we paid him."
Sirard accepted the offer and removed the scene from his site with a warning that there was no guarantee it would disappear forever, alluding to sites like PornoTube, XTube and YouPorn where once-downloaded scenes are often recycled. Because of this, he has a firm, solemn line of advice to anyone interested in doing porn: "Make sure this is what you want to do," he says. "When it's done, it's done."
The FCF Agency's offices are nondescript, at the top of a three-story office building with only a small sign denoting the editing, casting and conferencing that occurs inside. While Sirard's company continues to grow, he has no plans to move out of the area. "Why go to San Francisco where most of the gay studios are?" he says. "Why go to the Valley where most of the straight studios are? I love Rohnert Park, I love Sonoma County. It's quiet."
Send a letter to the editor about this story.