03.18.09
home | metro silicon valley index | features | silicon valley | feature story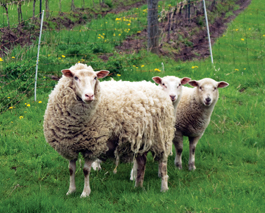 Best of the North Bay 2009
Food & Drink
Writer's Picks
Best Solar-Powered Tractors
As scads of wags have lamented, the 21st century arrived without the flying cars we were promised. Somewhat less remarked upon is that farmers didn't get their flying tractors, either. No jet-propelled John Deeres hovering over the "Vineyard of Tomorrow," spraying swaths of chemical herbicides, hoovering up streams of grapes with robotic tentacles and returning to the suborbital winery mothership.
What's more, "better farming through chemistry" turned out to be a pound of cure worth a ton of consequences. A few futurists may still accuse organic and biodynamic farmers of taking a step back into the past, but it might be more illuminating to see it this way: Organic growers are replacing fuel-intensive mowing operations with rediscovered, ancient ovine technology. To see the bright future of North Coast viticulture, we need look no further than the bonnie green hills, dotted with fluffy white solar-powered tractors.
One February afternoon, rubbernecking drivers zipping by on Highway 101 caught a fleeting glimpse of a small flock of reluctant sheep being unloaded from a truck. Gently herded onto the wind-blasted vineyard south of Cotati, the woolly ruminants were fanned out over the hillside by the next day, dutifully chewing the turf. The new way of mowing a vineyard is the old way.
Lou Preston has been thinking deeply about what sustainability really means. His Dry Creek estate vineyards are certified organic, but some organic practices like crop rotation aren't feasible for grapes. To explore alternative ways of maintaining balance and fertility in the soil, "I began reading materials outside of my bailiwick," Preston says. The solution: Bring the animals back onto the farm.
Preston started a flock of Katahdins, a breed of African "hair sheep" that leave a trail of hair hanging from the vines, as well as a menagerie of chickens in mobile pens, a couple of pigs and some goats. "Sometimes the wine industry is a little too sophisticated," he muses. "It's really rewarding to have the animals. They're just the cutest little critters." While the farmyard shenanigans of the lambs, the guard dog and the ram provide rustic entertainment, they are doing real work, and they are doing it efficiently.
Once we burn up the 50-million-year-old sunlight stored in fossil fuel, it ain't coming back anytime soon. But when sheep graze on the weeds and grass that thrive on today's sunlight, they essentially become solar-powered mowing machines. At the same time, sheep disperse efficient pellets of fertilizer as they go, recycling the soil and replacing synthetic nitrogen.
North Bay sheep pioneer Debra Walton runs a successful service renting her flock out to notable properties, including McEvoy Olive Ranch and Fetzer Bonterra. Walton's Olde English Babydoll Southdowns are a diminutive breed, particularly useful for summer weed duty: standing just two feet high, the sheep can't reach the grapes to eat them. Some vineyard managers say that their sheep bill is from one-half to one-third the cost of mechanized options. That's a future anyone can believe in, one more reason that taking a step back is rocketing in popularity. Look again at those sheep effortlessly grooming that steep, green hillside. Who would have thought we'd have flying sheep in the 21st century?—J.K.
Best Place to Simply Stay
Need a little more than food to satisfy you? Cuddle up to the menu at ZuZu for some fun, fun, fun. At the bar or at an intimate table, only kissing is more exciting than tasting tapas in this cozy cafe-sized restaurant across from Napa's new riverfront park. Sip a glass of Sigura Viudas "Aria" (Cava Brut) for $7 and let the bubbles go right to your head. While strains of South American music serenade, little plates of wonder arrive as if by magic. Waitstaff are friendly and competent, and unless you recognize owner Mick Salyer, he doesn't mind being mistaken for a server in this pretension-free zone. From a $7 salad of chayote squash and pickled rhubarb with mint and Champagne lime vinaigrette (una tapa fria) to a $14 Moroccan barbecued and glazed rack of lamb with mint and red curry oil (una tapa caliente), it's all good. Sherry, port or cider are available, and the stout-hearted can navigate a geographically adventurous beer menu, with brews from Brazil to Berkeley, ranging from pale to black. Don't want the night to end? Linger over ZuZu's private blend of organic, free trade coffee from DuVall. I never want to leave this place. But when I do, I leave happy.
829 Main St., Napa. 707.224.8555. —J.P.L.
Best Use of  Old Money
It's said that the best way to make a little money in the wine business is to start out with a lot of money. Banknote Wines has an eclectic new spin on that old saw. When Napa graphic designer Pete Nixon started his new wine brand, some of the cash he put up went right on the bottle—as reproductions of the old banknotes that he collects for fun. In the 19th century, states, banks and even railroads could print their own money. In theory, a note enjoined an institution to "pay the bearer on demand" its value in silver, and to show that they were serious, notes were stamped with stolid visages of presidents, endowed with buxom goddesses of liberty and prosperity, and festooned with swirls, dingbats and ligatures. These typographical details attracted Nixon as a graphic designer, but he couldn't decide which one to put on the bottle. Enter the manic moment: Each bottle in a case of 12 has its own unique label. While Banknote has no brick-and-mortar presence, the wine is custom made by winemaker Bill Knuttle of Dry Creek Vineyard. A Napa Valley red blend, the 2006 "The Vault" is warm, rich and smooth, and won double gold best of class in the 2009 San Francisco Chronicle Wine Competition. And you know where you can take that, right? Straight to the bank. www.banknotewines.com. —J.K.
Best Bartender Who Probably Knows Where You Live
Ron Morgan has been a professional bartender for about 10 years, first mixing drinks at the now-vanished Acre Cafe and currently holding down the bar a few nights a week at the B&B Lounge. About a year ago, he added an additional job title to his list of current jobs: mailman. He now delivers mail to Healdsburg residents by day and serves up adult beverages and casual conversation by night. He makes a mean martini, cold and crisp (with three olives, but you have to ask for them), and has a light, casual way of engaging his customers using just a few well-chosen words to say a lot. By the end of an average evening, his customers feel more than the buzz of alcohol and jukebox music; they feel cared for, looked after and often highly entertained. Presumably, the residents he delivers mail to feel the same way (though probably without the buzz). Asked if there is anything about being a mailman that helps him as a bartender, or vice versa, Morgan thinks for a moment before smiling and offering, "Well, I know where everybody lives." It is a quiet Tuesday night in the B&B Lounge, but Morgan still stays busy. In between pouring drinks and opening bottles of beer, he manages to answer a few questions with short, succinct responses. What's the most important quality to have as a bartender-mailman? "Adaptability," he says, making change as he talks. "It takes a while to learn, but the very first time you are under the gun, you realize that you can't stop, you're not going to die if things get busy—you have to just keep moving to get through it." What are the most popular two drinks at the B&B? "Beer, and beer and a shot." What's most important for a bartender to know? "When to cut people off," he says, "and how to do it in a fashion where there's no backlash." Has he ever been bitten by a dog while delivering mail? "Yes, a terrier." Ever been bitten on the job in the bar? "Not by a dog." Which of his many skills is best preparation for working in a bar all night after delivering mail all day? "I think it's important," he says, "to be very personable, on the route and in the bar. It's important to be genuine, and when you can't be genuine, it's important to know how to fake being genuine." Finally, since it's important for bartenders to be knowledgeable and aware of the world around them, does Morgan have any predictions for the future of bartending? "Sure, he says, grinning, as a pair of newcomers sit at the bar and begin to wave Morgan over. "I predict I'm about to make another drink." 420 Healdsburg Ave., Healdsburg. 707.433.5960. —D.T.
Best Countertop Mess
Burgers are meant to be sloppier and uglier than a Lindsay Lohan paparazzi photo. Carl's Jr. tries to capitalize on this impulse with TV commercials of fake CGI ketchup splotching on people's shoes, but c'mon, those burgers are weak, and everyone knows you can't use those dainty tissues they give you out of a napkin dispenser to wipe up a real burger mess. At Superburger, owner Bill Cordell leaves plenty of things out on his horseshoe counter to both create and eliminate slop. In the creating department, he's got a slather-it-yourself bevy of mayo, mustard, ketchup, onions, relish—the works. There are also mammoth jars of jalapeños, ready to tantalize your tongue and accidentally fall half-chewed out of the side of your mouth. You gotta love the cleanup, though, as at every few seats on the countertop, Cordell's got huge, thick rolls of paper towels, ready for the sopping. He knows it gets messy. He refers to grease stains as "burger pride." He's keeping the spirit alive. 1501 Fourth St., Santa Rosa. 707.546.4016. Also now in Penngrove, 10070 Main St., Penngrove. 707.665.9790. —G.M.
Best Hangover-Inducing Drink
Pick your poison. Will it be vodka, rum, gin, blue curaçao or tequila? Good news! The AMF cocktail includes them all, and the Yacht Club in Cotati serves an especially mean one. Meant for those who love their liquor and come equipped with an iron liver, AMF stands for "Adiós, Motherfucker," a moniker evoking a crazy night in Tijuana. This dangerous concoction tempts many a bargoer with its neon-blue siren call. They know that despite its sweet tinge, it's little more than a hangover in a bottle. Such danger makes it even more appealing. For those too timid to take a dance with the blue devil, here is how a tango with an AMF usually goes down.
"That blue cocktail is so pretty, I want one!"
"Damn, this is strong, but I look so sophisticated drinking it."
"Why is the room spinning?"
"Hey guys, look at me, I can dance like Beyoncé!"
(Fast forward to the morning after the tryst with the Chuck Norris of drinks. Wake up in a blue haze. ) "I am never drinking again. I feel like crap." (Eight hours later.) "Let's go get another AMF tonight!"
The blue devil strikes again.
8099 La Plaza, Cotati. 707.795.1417. —H.S.
Best Freaky Fruit
Your nearby grocery store probably offers, at most, half a dozen varieties of apples; Phil Pieri grows 20 on his modest farm outside Petaluma. And even that is but a tiny slice of the 5,000 known kinds of apples. "We try and keep the varieties that do not end up in the stores from becoming extinct," explains Pieri, who is also President of the Redwood Empire Chapter of the California Rare Fruit Growers. Like many of his counterparts, Phil also grows multiple types of peaches, pears, plums and apricots. There's even a small up-slope area where he's found that citrus trees—oranges, lemons, even grapefruit—can flourish. Other rare-fruit growers in the North Bay take advantage of their local microclimates to cultivate avocados, macadamia nuts and even bananas. Some of them share their small harvests at nearby farmers markets, which are often a good source for less familiar cousins of all kinds of produce. When they get together, chapter members share and compare what they have grown, but more importantly, they often share cuttings for grafting, so that other growers can "cross-pollinate" testing their own land for additional rare and exotic variations.
The Redwood Empire Chapter's Festival of Fruit is slated for Aug. 12–16 this year. www.festivaloffruit.org. —B.R.
Best CFO in the Hospitality Sector
His workday starts at 4 in the afternoon. He stays out all night. Sometimes, guests seduce him into their rooms, and he comes out a bit ruffled. The CFO at MacArthur Place, Sonoma's historic 64-room Victorian hotel, knows that in the hospitality industry these days, it's not enough to just hand guests the key, yet his genius is for intuiting that guests don't always want to be pampered. Sometimes they want to scratch him behind the ears. Meet MacArthur's Chief Feline Officer A.J. , a gray shorthair with his own business card. "We think of him as . . . well, he runs the place, basically," says general manager Bill Blum. A.J. makes the rounds once a day to check up on staff via office cat doors. Blum is allergic, so A.J. just pokes his head in, says "meow," and moves on, just one example of his executive skills. But A.J.'s career path to the top wasn't easy. Nine years ago, he was a skittish, feral rescue from Pets Lifeline. He wouldn't come out from under the desk for months. Now, he strides in promptly when the check-in desk opens at 4pm to hop up and greet guests as they enter. The four-legged hotelier is so popular, he gets emails and letters from all over the world. "We go through his business cards faster than our own," Blum admits. 29 E. Macarthur St., Sonoma. 707.938.2929.—J.K.
Best Place to Find Fruit Other Than Apples and Oranges
Dried longan, vudi banana, taro root and starfruit are just a few of the culinary delights available at Santa Rosa's Asia Mart. Walking into the bright interior is an uplifting experience in itself. Tiny Buddha statues and painted ceramic pots holding lucky bamboo line the front of the store. Flower-painted parasols hung across the ceiling contrast nicely with the fuchsia fabric orchids next to the sake selection. Featuring a range of ethnic staples from Vietnam, Korea, Japan, China, Hawaii and India in frozen, fresh or canned versions, it is nearly impossible to walk out without something enticing for dinner. But truly, the fruit is the best part. On a recent visit, a box of starfruit settled near the cash register—the sweet, tangy yellow delight tempting tropical fruit lovers. Braver souls can pick up a durian ice cream bar, made from the oft-banned Southeast Asian import that one customer was overheard saying, "Smells and tastes like sweaty socks." If that isn't appealing, then stick with one of the hundreds of savory sauces, noodles and spices or maybe pick up some of the dried goods, like lotus seeds, stored in tall mason jars behind the counter. Learn how to say "Thank you" in Cantonese to the friendly proprietors and watch the smiles go round.
2481 Guerneville Road, Santa Rosa. 707.542.3513. —L.C.
Best Snack Bar in a Legitimate Theater
The concession stand inside the lobby of Mill Valley's Marin Theatre Company has a rousing assortment of snacks that go way beyond the usual offerings—and sometimes includes fresh pie! Astonishingly—and this sets the MTC lobby apart from every other theater north of the Golden Gate—there is also almost always a bar, serving basic hard drinks, often themed to the even of the night (Irish coffees and shots of Irish whisky were offered for last December's Irish-themed Seafarer). The lobby is carefully constructed to include a cozy corner crammed with little tables, and patrons have been known to show up early to hang out, just to soak up the ambiance—and a glass or two of wine.
397 Miller Ave., Mill Valley. 415.388.5200. —D.T.
Best Napa Valley Escape—as in, Escape from Napa Valley
For some, a pleasure drive through the world-famous valley of vinous plenty is experienced more like Attack of the Zombie Winetasters. For those poor souls not bitten by the wine bug, juiced-up villas studded with leering cherubs and packed with sodden tourists can lack quaint appeal. And frankly, there are times when all of us just want to find some humble watering hole that tourists aren't swarming like flies on Brie-and-tapenade-stuffed prosciutto—a crack in the wine-space continuum, a portal to another world, one containing cold beer and chips. The portal to that world is right off of Calistoga's Main Street. It's not a big mystery: there's a sign. Follow the trolley rails embedded in the concrete down a narrow hall to Susie's Bar. Inside, it's a dive all right, but an airy, spacious dive. Racing memorabilia share the walls with beer and sports banners, and a jerry-rigged pole-dancing setup lends an implied air of seaminess. Smokers, chafing in the ascetic air of the vinosphere, can drag their butts outside. It almost seems like the kind of place where, when things get a little wild, someone's bound to take it out back—except that what's out back is Calistoga's cop shop. 1365 Lincoln Ave., Calistoga. 707.942.6710. —J.K.
Best Burrito to Airlift to Boston
How good are the burritos at Taqueria El Favorito? So good that Thor M. of San Francisco told his sister to bring him a couple of the tasty wraps when he was studying law in Boston, or so he wrote on Yelp. For less than it costs to roll across the Golden Gate Bridge ($4.78 regular, another $1 or so for super with cheese and sour cream), you can get an immensely flavorful burrito with grilled beef, chicken or pork and stuffed with beans, rice and salsa. The salsa bar ranges from hot tomatillo to fresh tomato to sizzling spicy blends, and of course the chips are free. The quesadilla suiza, a thick tortilla sandwich with meat, cheese and guacamole, is another standout. But it's the burritos at Favorito (formerly called El Farolito) that make the trip to Roseland worthwhile. The meats are hot and fresh, grilled with just the right spices, and the portions are more than generous. The restaurant depends on volume so you may have to wait a few minutes; drive-through can take longer than going in and ordering. But when that steaming roll of savory goodness with your number on it emerges from the kitchen and you peel back the foil, you'll know you're about to experience one of the North Bay's epicurean delights, one that's hard to beat at any price. 565 Sebastopol Road, Santa Rosa. 707.526.7444.—M.S.
Best Tutorial in Dry-Aged Beef
Napa's Oxbow market is an über-window shopping experience for the food-idler like me, where I can dally a while at the Olive Press, talking olives. At Five Dot Ranch, it's much the same—but different. The Northern California ranch runs free range, grass-fed Angus cattle, with a strong bias toward sustainability. A former vegetarian, I used to pass by such places without curiosity, seeing the cuts of beef as victims, accusations dripping with blood. Five Dot beef doesn't drip blood, because it's dry-aged and holds its texture—just one of the fun dry-aged beef facts I've learned in my continuing conversations at the concession. Every time I pass by, I stop to ask questions, and the butcher is never unwilling to answer in detail. I consider the rib-eye with furrowed brow; I hem and haw, vacillate, dither and grab a brochure. I move on, this time because inside the soy-constructed architecture of my brain, there's still a voice crooning, "It's not natural, normal or kind . . . Meat is murder," while a competing voice cuts in, "It's natural, hormone-free, family-farmed . . . Filet mignon is excellent with chimichurri." I buy a Moroccan spice rub at the Whole Spice Company, recommended for the grill. For next time. Inside Oxbow Market, 610–644 First St., Napa. 707.224.5550. —J.K.
Best Place to Safely Feed Your Inner Child
Our inner child is a spoiled, little brat. She's the one who craves pizza, candy bars, burgers and any dessert she can get her hands on. She won't take no for an answer. She wails and cries until she has gorged herself on at least three pieces of any pie. She doesn't care how much she eats, because she believes she has the metabolism of a 10-year-old. She loves to play hide and seek; as soon as we think she's gone, she's back and screaming that she wants fries. There is, however, a way to give the brat what she wants and keep our bellies from ballooning: Sift Cupcakery. Your own personal cake, a Sift concoction fits in the palm of your hand and doesn't skimp on sweetness and delight. Names like "Pinking of You" and "Over the Moon" intrigue the child and distract her from noticing that she is eating only one. Small yet piled high in creamy, fluffy frosting and filled with chocolate or crème, these sparkly and colorful desserts make the child happy and keep her from sneaking down to the kitchen at night to pick at leftover lasagna. So when that inner child comes out of hiding and starts throwing a tantrum, forget a Powerbar. Reach into your arsenal and pull out a cupcake.
7582 Commerce Blvd., Cotati, 707.792.1681, and 1000 Main St., Ste. 100, Napa, 707.240.4004—H.S.
Best Magical Land of Singing Animals (and Damned Good Yogurt)
Located on Healdsburg's main square, Snowbunny's earth-conscious aesthetic is a far cry from the chemical-laden fro-yo joints of the 1980s. Green (and vanilla and chocolate) energy abounds in this eco-friendly shop showcasing that tangy yogurt all the health nuts are craving. Even the most stalwart Earth mama would have a hard time finding fault in the recycled plastic resin counters, bamboo floors, compostable cups and spoons, locally sourced yogurt made from Strauss Organic Yogurt and Clover Organic Milk, and all-natural, trans-fat-free toppings. Don't bother asking for malted-caramel-mocha-crunch; the selection is simple and features only four flavors at a time. Toppings range from graham crackers and fresh fruit sourced from the Sonoma County Growers Exchange to house-made sauces concocted from real fruit and low sugar. If that's not enough, order up a frappé made with tasty Flying Goat espresso or a cup of tea, and sit down to soak in the ultracute and clean interior, which feels like being transported to a Tokyo boutique where wide-eyed bunnies lead the way to a magical land of singing animals and endless rivers of cold, sweet deliciousness. 312 Center St., Healdsburg. 707.431.7669. —L.C.
Best Example of When Life Gives You Grapes, Make Salsa
One of a handful of Mexican-American family-owned wineries founded by one-time field workers, Ceja recently opened a sleek new wine salon in sleepy downtown Napa. Twenty-something wine scion Ariel Ceja, already general manager and no slouch, found that the new salon gave him the unique opportunity both to showcase his side passion for dance and to spice up the Napa night with "Salsa Saturdays." Every Saturday, Ceja tops off the week with a group salsa lesson followed by an open dance party. It's an unexpected lark for anyone found wandering the restful streets of Napa after dark. Visitors may first fortify themselves with a flight of wine. Then the lanky, bespectacled Ceja splits tourists, business trippers and local salsa-hounds into opposing ranks of men and women and leads them en masse through the steps with good-humored efficiency. Sidestep, sidestep, backstep-and-turn. Got it? 1248 First St., Napa. Lessons at 7:30pm; dancing till 10pm. Free. 707.226.6445. —J.K.
Best Convert-to-Fanatic Transition
Resuming consciousness, flat on your back with a grateful smile on your lips? At Ubuntu, this could either mean the last asana in the yoga studio or the first bite of vegetarian cuisine in the restaurant. I first approached Ubuntu as a connoisseur of yoga, sampling from an online menu of courses color-coded to indicate exertion levels (cut-to-the-chase guidance far more practical than squishy adjectives and Sanskrit). In the upstairs studio with spongy flooring, I indulged in fabulous yoga experiences at just the right level of sensation (that's a yoga euphemism for pain) and became a true convert. Then I tried the restaurant. When I took my first bite of a $14 signature dish, cauliflower in a cast-iron pot, the precise moment that my taste buds connected with the coriander and vadouvan butter over roasted, puréed and raw cauliflower, something in my brain switched from convert to fanatic. The food cannot be described. It's a must-experience, even if you don't care for vegetables. If the veggie appears in bold on the menu, it came from the Ubuntu biodynamic garden that day. Upstairs or down, it's a transcendent experience. 1140 Main St., Napa. 707.251.5656. —J.P.L.
Best Place to Pass the Seasons
In the springtime, I go to La Dolce Vita Wine Lounge to sit alone in the tall bar chairs at a table, and watch the goings of my little hometown while enjoying a glass of Viognier and a panini. The floor-to-ceiling windows fronting the courtyard fountain make the perfect companion for solitary nights. In the summer, I sit on the patio with a glass of chilled rosé and a salad as my companion while the courtyard becomes alive with passersby. Fall brings love and the change of leaves, lush Pinots and hearty soups. My love and I share the sofa as the courtyard empties by early evening. In the winter, I watch the little courtyard twinkle with lights, drinking Bordeaux and late harvest Zin. Friends wander in, have a glass, a smoke on the patio, a plate of cheese. We watch an old movie on the screen above the bar, we talk about life. Seasons have come and gone, and I've continued to spend those delicious moments with a glass of wine and good company, or no company at all, at this little place. Owner Sahar Gharai is always there, and her list of wines by the glass changes often. If I'm feeling uninspired, Sahar brings me what she recommends. For birthdays, for elections, and even for death memorials, I have gathered there with the ones I love, to pick a bottle from the "wine wall" and open it in honor of living, loving, winning and losing. Few places I know are such a reminder of how sweet life can be. 151 Petaluma Blvd. S., Petaluma. 707.763.6363. —L.P.
Best Lichen in the Service of Wine, Queens and Presidents
The hills of Napa Valley are so riddled with caves, one might almost envision them as some vast organ that inhales rough, new fermentations and exhales fine, mellowed vintages. The best temperature for the élevage of wine just happens to be that which history's original wine cellars and caves maintain, and which modern cave-digging machines and spray-on concrete have nary improved. Visitors to Schramsberg Vineyards learn that the extensive caves were hand-dug in lamplight by Chinese laborers in the 1880s. The dark, diaphanous lichen that floats on the hand-chipped rock walls invests the caves with a moldering, forgotten-by-the-ages ambiance. But it's not for lack of a good sweeping: the lichen serves to cleanse the subterranean air, and is even said to be more effective than the AC systems in modern concrete-lined caves, where it cannot grow. Schramsberg first gained recognition when Robert Louis Stevenson reminisced about his stay there; later, the Davies' family's bubbly was served during Nixon's 1972 trip to China. It was the first domestic sparkling served at a U.S. state function, and it's been a standby ever since—Queen Elizabeth II is said to be fond of the Blanc de Blancs. 1400 Schramsberg Road, Calistoga. 707.942.4558.—J.K.
Best Place to Contemplate the  Pun-Worthy Possibilities of the Word 'Crêpe'
The Crepevine restaurant in San Rafael is a rare breakfast and lunch spot that is actually fun to step into, order food in, and chat with the servers of while eating your breakfast, lunch or dinner. Part of a Bay Area mini-chain with branches in Oakland, San Francisco and San Mateo, the Crepevine boasts mostly organic ingredients, and portions legendary for their size and splendor. Enormous menus float over the counter as patrons peruse the possibilities, and with cleverly named dishes aimed at teasing our desire for world travel as much as they tickle the palate, most everything on the menu appears to have been named with an atlas in hand: try a savory Milano (grilled eggplant, roasted garlic, spinach, mushrooms and tomatoes with melted cheddar, mozzarella, cottage cheese and marinara sauce) or a dessert-oriented Riviera (lemon, sugar, butter and a squirt or two of orange liqueur). For something less crêpelike, the menu includes a variety of "Bendictions," something like an eggs Benedict only crazier. The New Orleans serves up spicy crabcakes on an English muffin with poached eggs and a Cajun hollandaise sauce, while the El Paso is sautéed corned beef hash mixed with bell peppers, onions and potatoes, all covered in melted cheddar and a pair of eggs. Reasonably priced, and addictively tasty, the Crepevine is among the best recent additions to the Marin County restaurant scene. 908 Fourth St., San Rafael. 415.257.8822. —D.T.
best Deli, Honorable mention: Aioli
To merely be reminded of aioli, the classic southern French garlic mayonnaise, conjures up tastes of mouth-watering meals eaten at a sidewalk cafe in Nice. Far from the Riviera, Aioliin Forestville nonetheless creates delicious food, making it your honorable mention pick for Sonoma County's Best Deli. The small red and yellow building on the main street invites you in to sit at the counter, a table or, in sunny weather, the rosemary-bedecked patio outside. The menu is small but varied, offering breakfast or lunch. Sandwiches are the main bill of fare, fresh soups and daily specials broaden the selection, and the deli case holds assorted salads to round out lunch. A kids' menu is also available for a recessionary price of $3.50.
Co-owner Autumn Opitz, a Forestville native, met husband and co-owner Nicholas at a culinary institute in Vermont, and they've been cooking together ever since. The deli and catering business has occupied the tiny storefront since October 2007. "The menu changes by seasonality and availability of products," Nicholas says. "A local favorite are the hockey puck-sized Dungeness crab cakes offered on Wednesdays during crab season." Aioli is the perfect place to stop before or after exploring the Russian River, Armstrong Woods or any of the many area wineries. Consider it a trip to a little touch of France. Bon appétit! 6536 Front St., Forestville. 707.887.2476.—S.D.
Photograph by Michael Amsler

Best Way to Turn the Tables
Steve Rose is committed to biodynamic farming and food practices for 2009. What is biodynamic farming and food? According to Rose, proprietor of Rose Ranch and the Vineyards Inn restaurant, both located on Adobe Canyon Road in Kenwood, biodynamic methods "take organic farming to a new level." Rose has been farming organically since 1983 and received official Demeter certification in 2007. Chickens and goats graze on Rose's vineyards, providing natural fertilizer, soil tilling and pest control; crops are interplanted to attract beneficial insects; horses and solar-powered vehicles will soon replace tractors. Rose Ranch clients include the biodynamic-certified Benziger Winery in Glen Ellen and the fancy Gary Danko restaurant in San Francisco.
At the Vineyards Inn, Rose applies the biodynamic philosophy to a hometown "soil to table" style, selling his own seasonal vegetables and using those crops to create flavorful dishes such as Warm Sweet Pepper Poppers and Bodega Bay Red Cod Rosarita. The restaurant also adheres to eco-friendly practices like composting straws and napkins, recycling unused water, and providing recyclable to-go boxes. More importantly, the selections are not only all organic, but all locally sourced. "By buying only local and supporting local food producers," Rose emphasizes, "any profits are in turn spent locally." This sustainable food economy will also reduce dependency on excess food processing and transportation. "If avocados aren't in season locally or simply not grown locally, then you just don't eat them, instead of flying them in from Chile."
Rose advocates that farmers develop "a passion to steward the earth," and details how biodynamic work reflects ancient methods that can reduce carbon footprints today. His own passion is bringing organic products to the mainstream. "Supporting locally supplied organics on a restaurant scale will eventually lower the prices of these items at local grocery markets," he says, pointing out that restaurants can offset higher prices of organic inventory by being creative with presentation and preparation. As restaurants and consumers continue to embrace organics, farmers will also find increasing incentives to use eco-sensible biodynamic methods. "It's a matter of training," Rose says, for managers at all levels of the food business to begin understanding this new model. "What's new can easily become mainstream," Rose says with no trace of doubt. "Big restaurant chains can do exactly what we do here."
8445 Sonoma Hwy., Kenwood. 707.833.4500. —K.B.
Best Bartender, Honorable mention: Frank Dice
Is it because of his snappy shirts, his dapper hats or his fine European shoes? Is it because he puts honey on his pesto pizza or because he is a certified minister who marries his customers? Is it because he straps on a headlamp to fish out credit cards that have fallen behind the bar or blares the Faith No More version of the Commodores' "Easy" to drive people out of the bar at closing time? No, not at all. The essential reason you chose Frank Dice from the Underwood Bar and Bistro as honorable mention for the Best Bartender in Sonoma County is because that cozy, thin strip of real estate between the bar and the bottles is the most natural place in the world for Dice to be.
Dice is incessantly amusing because he is so incessantly amused; with a huge grin, he delivers a constant banter of pure entertainment. But unlike other bartenders who subject patrons to a lousy standup comedy act, Dice is able to engage everyone from Les Claypool to Ron Rodgers in his nightly shifts. Don't get on his bad side, though; should you insult the waitresses or loudly accuse other customers of dealing drugs you will soon find yourself face-planted in the proverbial Graton snow. But hey—you can always brag that you got kicked out by one of Sonoma County's best bartenders!
9113 Graton Road, Graton. 707.823.7023. —G.M.
Photograph by Michael Amsler

Best Cultural-Collision Cuisine
There's nothing more 21st century than the collision and collusion of cultures. Our president's father came from a Kenyan village, and some of the best writers in the English language (Rushdie, Vikram Seth, Ishiguro) were born far from English-speaking shores. So perhaps it shouldn't be surprising that a Sebastopol greasy spoon metamorphosed a few months ago into a hybrid of California turkey burgers and Nepali curries. It's still called the Pine Cone, and there's still a Basic Breakfast on the menu (eggs, home fries and toast, $6.50), but now there's a global twist.
The new Pine Cone is the spawn of the Santa Rosa Himalayan restaurant Annapurna and Sonoma County's Willie Bird Turkey. Naturally, there are lots of poultry options with nary a beef dish. The décor retains some elements from the original Cone, and the place maintains the comfortable diner feel, now more retro than authentic.
So far I've only been to the new Pine Cone for dinner, choosing among three appetizers, five Himalayan specials and six turkey or veggie burger choices, along with a couple of soups and salads. I thoroughly enjoyed the somosas, crispy on the outside with a savory mixture of potatoes and veggies within. The dinner specials are reasonably priced ($8.95–$11.95) with plenty of choices for vegetarians, from the nut burger made from ground cashews, almonds, rice, garlic and jack cheese, to the chana masala of simmered garbanzo beans in a tomato and garlic curry sauce.
The breakfast and lunch menus have plenty of foreign influences: curry potato cakes, Spanish and Greek omelettes and mushroom-pesto scrambles are just some of the dozen-plus dishes. For lunch, sandwiches and burgers come with a choice of soup, salad or a generous serving of the thick-cut fries. Prices range from $8.50 for the Pine Cone club with turkey bacon to $12.50 for the shrimp tacos.
No, this isn't the classic Pine Cone diner tended by Dee Franklin for almost two decades. That place had its eye on the idyllic past. The new Pine Cone looks to the future, a place where you can get eggs Benedict for breakfast and sag paneer for dinner.
162 N. Main St., Sebastopol. Open daily, 8am to 9pm. 707.823.3102. —M.S.  
Photograph by Michael Amsler

Best Place to Pay What You Please
Free food? At Worth Our Weight, that's up to you. Since settling into its new quarters between Montgomery Village and Montgomery High School, chef Evelyn Cheatham's informal hands-on culinary training program for what she calls "underserved" young people has been serving lunch and brunch Fridays, Saturdays and Sundays. But they don't offer a menu—you partake of whatever is being served that particular day—and nothing has a set price.
"The meals we serve are a by-product of our education," she explains, "so we invite the community to come in, join us for our meals, and then we ask for a donation for what we serve." It's left to the customer to decide what the food is worth.
For the youthful apprentices ages 16 to 24, who are not charged tuition to participate, the experience gained in creating those meals is priceless, no matter how they apply it later. Whether they come referred by probation, school counselors, family members or court-ordered community service, at Worth Our Weight they've got "a place to find family, a place to develop skills for later in life," Cheatham says. "It's experimental, but we're hoping the community will support it."
1021 Hahman Drive, Santa Rosa. 707.544.1200. —B.R.
Best Way to Laze Away the Afternoon's Dapple
Thank Buddha for Sonoma's Sunflower Caffe. While guidebook-toting tourists flock like lemmings to nearby patios, I'll take the fresh salads, sandwiches and sunshine of the Sunflower's leafy patio any day. Nothing against the Fig, but I'd rather linger al fresco at Sunflower over chicken salad on a baguette, split pea soup with salted ham or a salad with veggies so fresh they taste like they were picked that morning. Order at the counter and servers (some admittedly a bit airy) bring your platters of food. They don't hassle you if you end up staying for hours, as I did on a recent afternoon. The cappuccino is organic, the wi-fi stands at the ready and the lush back patio is expansive, with both sun and shade. If you want to splurge a bit, try one of the local wines by the glass or amp up your morning with a mug of Mexican chocolate. Right on the famed Sonoma plaza, two people can have a satisfying lunch for $20 to $25 (breakfast also available starting at 7am, seven days a week), not cheap, but a fraction of what you'd spend with the tourists. The Sunflower Caffe, 421 First St., Sonoma, 707.996.6645.—M.S.
Best Food-Service Opportunity Waiting to Happen
In an area marketed as Petaluma's "Theater District," one of the few spots in the city that can be guaranteed to have high numbers of families and young folks hanging out in packs, there are surprisingly no restaurants that are (a) family-friendly (not focused on alcohol sales); (b) truly inexpensive; or (c) open late enough to serve as an after-movie hangout. How is it that no clever small-scale chain restaurants have set down roots in the theater district? Our choice, were we called upon to offer it, would be a Mel's Drive-In, obvious for Petaluma since Mel's are themed around the movie American Graffiti, which was largely filmed in Egg Town. With a menu that features everyday food at reasonable prices, a guy could actually go there for a piece of pie and a cup of coffee after a show, or go on an inexpensive date right across from the theater. Families could even eat there, together, just before a movie. And here's the best part—there's certainly plenty of room for such an establishment. With a bunch of new retail space still unoccupied three years after opening the new Theater Square complex, all that's waiting is a call to the people at Mel's. Petaluma needs a friendly late-night restaurant—and needs it now! Petaluma Theater District, at First and East D streets and Petaluma Boulevard, Petaluma. —D.T.
Send a letter to the editor about this story.