03.18.09
home | metro silicon valley index | features | silicon valley | feature story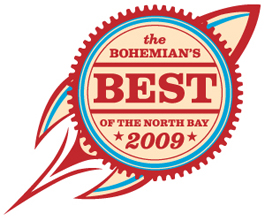 Greetings from Todayland!
By Gretchen Giles
During an interview last fall, Handcar Regatta cofounder Spring Maxfield explained the festival's steampunk aesthetic by saying, "It's the future that never happened." That collection of words arrayed itself into an intrigue that lodged, ticking away as our Best of the North Bay planning began back in December. Steampunk—whose look we've merrily borrowed for this issue—is a wondrous amalgam of the 19th and 21st centuries.
But when, we wondered, would the actual 21st century truly begin? When Mr. Obama became president? We've become less optimistic about that naivete since Jan. 20, but all of this thinking led us to consider people and entities that are already envisioning, enacting and living the future, one that does exist exactly today. Thus, those showcased in our Writers Picks and section starters were chosen for their exciting commitment to Todayland (a phrase you'd never hear them use), the idea that fresh, new innovations—even those that draw from past centuries—will keep us all moving forward towards, well, Tomorrowland.
Our annual Best Of the North Bay Readers Poll and this resulting behemoth issue is an unabashed yearly shout-out to all that makes life in the North Bay so forward-thinking and remarkable. The stellar and dedicated writers contributing to this issue are Karl Byrn, Leilani Clark, Suzanne Daly, Beth Hall, Molly Jackel, James Knight, Cassandra Landry, Juliane Poirier Locke, Gabe Meline, P. Joseph Potocki, Lindsay Pyle, Bruce Robinson, Michael Shapiro, Hannah Smith and David Templeton. Here's a big Todayland boogie to them all.
Send a letter to the editor about this story.