03.18.09
home | metro silicon valley index | features | silicon valley | feature story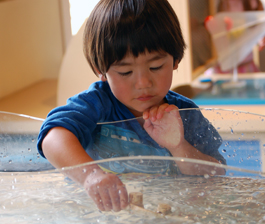 Best of the North Bay 2009
Kids
Writer's Picks
Best Place to Treat Your Kids to an Underwater Excursion
The Bay Area Discovery Museum in Sausalito has so many fun things to see, do, touch, react to and experiment with that it's arguably ludicrous to focus on any one thing as the enterprising nonprofit's most interesting installation. Still, there is nothing anywhere else quite like the museum's eye-popping Bay Hall. Within the cleverly designed building—one of several in the museum complex at Sausalito's historic Fort Baker—some very imaginative engineers have created an "interactive simulation" of the San Francisco Bay, with miniature ports of San Francisco and Oakland. There are fishing boats to climb on, bells to ring, baskets of crabs to crank up from the depths of the carpet and even an "underwater" crawl-through, with windows containing little dioramas of life beneath the waves. (Warning: Kids have a habit of crawling in there and never wanting to come back out.) Just when the little explorers have had their scientific appetites whetted by their hands-on experience with the fake Bay, you can take them into the Wave Room, where they—and you—will learn things you never knew about the science of wind, waves, tides and tidal activity. After this, you may even have to take your kids to the beach. Fortunately, it's right around the corner.
557 McReynolds Road, Sausalito. $8–$10. 415.339.3900. —D.T.
Best Place to Farm Without Buying the Farm
Let your kid roll in the mud, pick some zucchini, hug a pig and balance a hen on her head, all before wolfing down a bag lunch near the barn at Connolly Ranch. Napa's down-in-the-dirt teaching facility is the next best thing to a family farm, without the washing-up part. Your kid will be sent home smelling rank, smiling broadly and intimately more knowledgeable about the environment from the dirt on up.
3141 Browns Valley Road, Napa. 707.224.0104. —J.P.L.  
Best Place to See Your Tot in a Tutu
Everyone smiles at the sight of a child dancing in a leotard, none more than the parents who enroll their children in the Rohnert Park City Ballet's (RPCB) dance program. From the chubby tot trying to master the art of skipping to the advanced dancer with years of training, RCPB takes dancers to the next level. Tamara Grose is founder, artistic director and choreographer, and shares the show with Gabrielle Thompson, who functions as jazz instructor, and Anna Bribiescas, ballet instructor. Each year, RPCB student dancers get to display their hard-earned dance moves in a recital performed to a full house. Slated this year is Mother Goose Village at Sonoma State University's Evert B. Person Theatre. Cameras click, families cheer and everyone is happy for the sparkling dancers just learning to use their twinkle toes or those graceful young teens destined for dancing greatness. 607 Martin Ave., Ste. 105, Rohnert Park. 707.585.1137. www.rpcb.net. —B.H.
Best Place to Puzzle Over Trees, Spills and Police
Your child can discover the joy of bouncing falls, the pain of monkey-puzzle trees and the perplexing aspects of law enforcement in one mere square block of Napa. Diving off the play structures at Fuller Park, my eight-year-old son landed happily on the resilient ground cover, only to learn—on a walk through the park's century-old specimens of exotic trees—never to step on a monkey-puzzle branch in bare feet. But his most unusual learning experience at Fuller Park was about what to do when people drive their cars up over the curb and across the grass, just to hop out and talk to loungers at the picnic tables. The stunt pushed my mama-bear rage button. How dare they drive into this park where kids play?
"We're making a citizen's arrest," I said, grabbing my son's hand and marching over to the offending driver.
"What's a citizen's arrest?" he asked.
"That's when there aren't any police around, and you have to just arrest the person yourself."
I actually had no clue how to arrest anyone, but this macho driving stunt was so over-the-top disrespectful that I intended to at least make them feel really, really bad. I reached the car just as the couple finished their conversation and were getting back in. "What do you think you're doing?" I demanded. "You can't drive your car in this park. I'm calling the police." I held up my cell phone as proof.
They one-upped me by holding up badges.
"We are the police," one man said quietly. "Napa police detectives."
Fuller Park—use the play equipment, fall on the bouncy playground, visit the trees with your shoes on, but stay off the sidewalk when there's detective work to be done. Jefferson Street between Laurel and Oak streets, Napa. 707.257.9529. —J.P.L.  
Best baby gift store: Heller's for Children
For Marin's Best Baby Gift Store, you chose Heller's for Children. There's been more than enough time to consider this choice. Decades, in fact. Herbert Heller opened the store in 1958, and those of a certain age with a certain long and horrible capacity for memory who possess hugely oversized feet remember Heller's well. It was the only place that carried shoes that fit me as a child, and then only in the saddle-shoe style. While my friends flitted about in red patent-leather Mary Janes or slouched coolly in sparkly flats, I clumped about in well-made, sure-to-damnably-last white-and-brown bucks constructed far away in some nightmare land where all the little girls evidently wore double wides. My mother would gamely try every other store in Marin first but we always ended up, sometimes both of us crying, at Hellers, where the shoes were sure to fit and, unfortunately, sure to last. Strangely, what I most remember now about the place was how good it smelled—of leather and fresh cloth and new toys.
514 Fourth St., San Rafael. 415.456.5533. —G.G.
Send a letter to the editor about this story.