April 25-May 1, 2007
home | north bay bohemian index | news | north bay | news article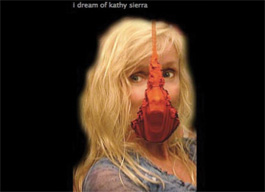 It's a shocker: A-list blogger Kathy Sierra found herself Photoshopped with a thong on her face in a hate post by another blogger.
You've Got (Hate) Mail
To censure or censor as misogyny blooms on the Web
By Richard Koman
Last month, a strange little episode of grown-up cyberbullying surprised tech culture, the blogosphere and the Internet as a whole. Kathy Sierra, an author and speaker whose special focus is "creating passionate users" for websites, announced on her blog that she was canceling a speaking engagement at the prestigious E-Tech Conference run by Sebastopol-based O'Reilly Media, which is also her publisher.
The reason, which she documented in excruciating detail on her blog, was that some particularly raucous attacks on her had escalated to death threats--in both words and images--which led her to literally fear for her life. A Photoshop image, posted on another site, of Sierra with a noose next to her head along with a user comment that "the only thing Kathy has to offer me is that noose in her neck size." The last straw, she wrote, was a Photoshop image of Sierra, a striking blond, being suffocated by a pair of thong panties. The image contained the text: "I dream of Kathy Sierra."
Announcing her cancellation, Sierra went out swinging, naming a number of "A-list" web personalities as responsible or culpable. There were recriminations that she was engaging in character assassination. Hundreds of women spoke up on her blog that they too had also been harassed, humiliated and threatened.
"She could have done more homework. Perhaps she overreacted," Tim O'Reilly, a leading technology voice and Sierra's publisher, said in a recent phone interview. "But it's good that it came out. It pointed out that there's a misogynistic thread in our society--much more than people realize. It's not just online. There are zones of nastiness in our society--talk radio, Howard Stern, Rush Limbaugh and the blogosphere. Maybe the difference is just in the code of conduct."
If the blogosphere's organic code of conduct is proving insufficient, perhaps a more explicit one could be created. O'Reilly's impulse was for the blogging community to come together and agree to a code of conduct. It would not be a code to censor, he said, but one of censure. "Shame's gotten a bad rap in recent years," he says. It's not a popular idea. It's associated with a right-wing attitude, but we need to figure out where is the room for shame."
Out of this idea--that problem behavior could be solved by the assertion of a group morality--a group of E-Tech attendees discussed what could be done. "The idea that came out was that we have the ability to set standards," O'Reilly said. Among the precepts: Own your own words and the words you allow on your site. Don't feed the trolls. And most contentiously, discourage anonymity.
Troubling to many was the fact that O'Reilly created a cute little "Civility Enforced" badge that sites in agreement with the code could post. O'Reilly's badges, which even look like Western sheriff's badges, rankled many as Uncle Tim riding into Dodge to bring some law and order to this town and make it safe for honest women. Even A-list blogger Robert Scoble, whose own wife was viciously attacked by trolls, worried that O'Reilly's status in the industry would exert a subtle pressure to get on board. "Will I still be invited to his conferences if I don't sign on?" he wondered.
Women being harassed online is no news at all to those who have been there all along. Erotica writer and online personality Violet Blue said in a phone interview, "It definitely happens to lots of women. It's pedestrian and ordinary at this point. When you provide an opportunity to comment anonymously, it will bring out the worst in anyone. People are saying, 'Kill the women and fuck them after they're dead.' It's a way of emasculating women."
Tara Hunt, a blogger who was an earlier target of the same people who threatened Sierra, emphasized in an IM conversation that misogyny on the web and in tech circles goes deeper than such obvious brutality. She points to an online video for startup company Ning, in which CEO Gina Bianchini--a very attractive woman in her 30s--demos the company's service. Among the user comments: "David: That is one sexy CEO/Demo. She can Ning me anytime!!" "Ed: I thought this was well-done, informative demo."
Hunt asks, "Is it misogyny? Or just the fact that the technology industry is still so young and clueless about how these comments damage a woman's ability to function in this space? And these comments further go towards making it 'OK' to push women to the edge of this space."
As a young woman, Hunt has had to make changes to prosper in the tech world. "I was advised by another woman to be less 'feminine' if I wanted to be heard--and it worked. Now I'm [seen as] a bitch to some, but it's a better position, because I'm taken seriously."
Blue takes exception to Hunt's willingness to become less feminine to get ahead. "We should be cautioned against thinking that people saying others are sexy is wrong. Celebrations of sexuality should be encouraged. If we don't, it gives people who threaten others online more power to do so. I don't see any reason to be less feminine. The more we desexualize ourselves in order to obtain power, the more we allow our sexuality to be used against us. So I'm going to own it."
Whatever the good intentions of O'Reilly's proposal, Blue adds, "There's no add-water instant solution until our wider media culture, including mainstream media, changes its attitudes toward women. We can lead a change to the wider culture, but there's no magic button."
Send a letter to the editor about this story.