05.07.08
home | north bay bohemian index | features | north bay | feature story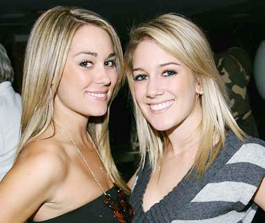 eh Girls: Lauren Conrad, Heidi Montag, yeah yeah.
Heidi Who?
Diminishing name value in celebrity fashion
By Gabe Meline
I want my own fashion line. If someone like Heidi Montag gets her own fashion line, then c'mon. Me too.
I know what you're thinking. Who's Heidi Montag?
You can be forgiven for thinking this, because Heidi Montag isn't actually famous. Oh, she's known in some circles, certainly, but not for anything like talent, skill, smarts, accomplishments or gifts. She's known, to borrow the phrase, for being known, and in Orange County, where Montag is based, being known is a Very Big Deal.
How big of a deal? Big enough that her fellow Orange County socialite Lauren Conrad has her own fashion line, too. Who's Lauren Conrad, you ask? Ah. And so it starts all over again.
For the uninitiated, Montag and Conrad are both reality-show "stars," having lived together in the same apartment on The Hills, an MTV reality spin-off of Laguna Beach: The Real Orange County, which itself was an MTV reality series riding the coattails of The O.C. That both girls, on such flimsy credentials, have struck clothing deals is evidence of the celebrity clothing line ballooning into a completely wheezing heap of narcissistic saturation.
Of course, no one expects that these fake famous people do any of the actual designing of clothes; most just nod approval and lend their name value. But the names are getting weaker, and if trends continue, the "anyone can have a clothing line" idea will force the post–Project Runway fashion industry, like the music industry of the last 10 years, to rethink its model. Whereas the dominant consciousness in the music industry now favors the underdog, fashion is still elitist, because fashion is, by its nature, for the elite.
That's all changing.
Remember how completely absurd it seemed when, in the cultural innocence of 1997, Puff Daddy announced his own clothing line? Now the idea of Sean John seems perfectly normal—stylish, actually (disregarding for the moment Sean John's current hit: a printed T-shirt bearing the phrase "No Bitchassness" for $30). Same thing for millionaire No Doubt frontwoman Gwen Stefani, who iconized the bare midriff while preaching girl power for those size 4 and under, and who launched her line, L.A.M.B., in 2004. The latest from L.A.M.B. features pseudo-uniform items priced up to $425; a separate line, Harajuku Lovers, named after Stefani's subservient entourage of doting Japanese preteen girls, offers slightly less expensive attire.
There're the hip-hop enterprises. The Wu-Tang Clan started a line, though Wu-Tang's Method Man later condemned the decision ("I never rocked that shit," he said of the group's Wu-Wear in 2003). Jay-Z followed suit with Rocawear, 50 Cent with G-Unit and Eminem with Shady Designs, most of them your basic baggy hood gear. Of rappers-turned-designers, only OutKast's Andre 3000 seems to have the vision for a truly unique brand; his line arrives in the fall.
M by Madonna debuted at H&M stores last year as a surprisingly wearable collection, with items ranging from $20 to $350. And although Third World sweatshops are fashionably vilified, homogeny blossoms: Sheryl Crow and Victoria Beckham use the same Canadian clothing manufacturer, Western Glove Works, for their separate lines. Crow's Bootheel Trading Co., launched last month, offers rugged-looking jeans, halters and vests. Beckham's virtually unwearable DVB jeans, which run from size 0 to 8, with smaller thighs than any other brand, retail at an average of $250 per pair.
Mary Kate and Ashley Olsen recently augmented their namesake line of tween clothing sold at Wal-Mart with an upscale line, the Row, wishfully named after London's Saville Row, with pieces ranging from $200 to $850. Jennifer Lopez has cracked the tween market with JustSweet, the sequel to her popular and extinct J.Lo line, and Daisy Fuentes continues to sell big at Kohl's stores, despite a sweatshop flare-up last year. Paris Hilton's got a shoe line. "I have shoes from, like, every top designer," she said, unveiling her collection earlier this year at Macy's, "but I love that my shoes are not, like, $800, like most of my [own] shoes."
Justin Timberlake, he of the Midas touch, owns a red-hot jeans line with best friend Trace Ayala called William Rast, an anagram of their respective grandfather's names. Lance Armstrong has his 10//2 collection with Nike—named after the day in 1996 when he was diagnosed with cancer—and Queer Eye for the Straight Guy alumnus Carson Kressley sells his line, Perfect, on the QVC shopping channel.
Sarah Jessica Parker, bless her soul, has the right idea. Her Bitten line is both inexpensive and accessible, with sizes from 2 to 22 and no item priced over $20.
Sometimes all it takes is a speculative mention of a clothing launch to attract attention. Ludacris' line, announced as C.P. Time, never came to light, and Kanye West's announced line hasn't either. Other celebrities who've made announcements but haven't delivered: singer Amy Winehouse, Lost star Michelle Rodriguez, rapper Juelz Santana, R&B singer Usher and sex-tape fake celebrity Kim Kardashian.
Which brings us back to Orange County, to reality shows and to Lauren Conrad. Looking at Conrad's eponymous fashion line for uniqueness is like looking at a wet pile of flour for interest. Manufactured largely with Modal, a textile used by Old Navy, the line is interesting only in its comprehensive blandness, slipping at times into unforgiving chintz.
The "Lindsay Dress" is advertised, in all seriousness, as "a muumuu with a V-neck front and thin spaghetti straps," and Conrad's most expensive outfit, the "Julie Jumper," is a grotesque bunched top that sags downward and inward to unite with a pair of skimpy shorts. If the Michelin Man wearing Daisy Dukes is the girlish look you've been pining for, you're only $180 poorer toward your goal. And if you've still got some Franklins to blow, why not go for the "Cheryl Tank," a generic, 100 percent cotton tank top priced at $100?
Heidi Montag, Conrad's ex-best friend and ex-co-"star" on The Hills, has publicly slammed Conrad's line, calling it "overpriced" and "not necessarily something I would wear." Her comments are part of a long, prosperous feud that has kept the two girls squarely in the tabloid limelight. (At press time, Montag's Wikipedia entry had been altered so that her occupation read "whore.") "When we were in school," the 21-year-old said of her former fashion school classmate, "I was the designer, and she was in, like, product development."
Launched last month at a Hollywood mall, Montag's line is called Heidiwood and is characterized by those skanky design elements that befit someone 21 years old with a boob job. Someone like, say, Heidi Montag. Ever the entrepreneur, she's also released a song on iTunes with exorbitantly processed vocals, and recently entered the political arena with an endorsement true to her Orange County roots. She's planning on voting for John McCain as soon as she gets around to registering to vote.
Send a letter to the editor about this story.