May 10-16, 2006
home | north bay bohemian index | features | north bay | feature story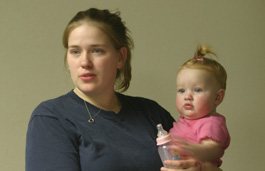 Photographs by Robbi Pengelly
Taking a Stand: Clean for 20 months and counting, Carole Kidd tells her tale about fighting meth addiction.
Rocking the Cradle
What happens when a mother's need for drugs trumps her love for her children? Sometimes true love triumphs
By Patricia Lynn Henley
This is the second in a yearlong Bohemian series on methamphetamine's impact on life in the North Bay. --Editor
Two tiny pink socks are pinned to a cork bulletin board in the reception area of Women's Recovery Services in Santa Rosa. They once belonged to a baby girl born to a meth-addicted mom who decided she just couldn't stay in the residential treatment program even a minute longer. "She said, 'I need to leave now,' and she just walked out and left that baby, and left these little pink socks," recalls Cheryle Stanley, the center's executive director. "It shows how powerful her addiction was."
A few years earlier, another mom also found the road to recovery too difficult, and abandoned her young son at the center. "That two-year-old boy was taken off in a police car, by himself. That's what methamphetamine does," Stanley says. It isn't that these women didn't love their children, she adds. They simply needed the drug more.
Even in the best of circumstances, familial interactions are a tricky path to navigate. Toss in a meth addiction, and what should be a delicate dance of the generations inevitably turns into chaos. Youngsters are neglected, abandoned or abused by their addict-parents. Older parents become alternately anxious about or distrustful of their meth-infused teen-aged or adult offspring, who typically lie, steal or do what it takes to get the drug. Grandparents raise grandchildren because the middle generation has fallen into the black hole of methamphetamines. Occasionally, one age group introduces the next to the drug, perpetuating the addiction cycle.
But the news is not all bleak. People do make it out. There are success stories of mothers who have turned their lives around, faced the consequences of their past actions and rebuilt their families. However, those familiar with recovery say it takes time, determination and proper treatment on a long-term basis for users to free themselves of meth dependence.
Moms & Meth
For more than 20 years, meth has been a fact of life in the North Bay, and when the addicts are mothers, the impacts are magnified. Meth is a cheap, easy-access drug that can be "cooked" up from common household chemicals, including over-the-counter cold medications. Some women try methamphetamine because they want to lose weight, and it acts as an appetite suppressant--one which can also lead to malnutrition and anorexia. Others want the extra energy boost that meth appears to provide, but it can exhaust the body, leading to major health problems. And many give it a whirl because meth stimulates the pleasure centers of the brain, providing a high that can last eight to 10 hours, sometimes even longer.
But continued and excessive use can lead to unpredictable mood swings, overwhelming anger, compulsive sexual urges, difficulty in cogent thought, as well as memory loss, paranoia, hallucinations, delusions, and other personality changes--none of which create a nurturing environment for children.
This problem is not just in poor neighborhoods, across town or somewhere "out there." According to officials in Marin, Napa and Sonoma counties, methamphetamine--also known as speed, chalk, crank, meth, crystal-meth and glass--is here, affecting North Bay communities at all socio-economic levels, from hotel maids to soccer moms, from fast-food clerks to corner-office professionals. Perhaps meth's biggest impact is on families, particularly the mother-child bond.
"Once addicted to a substance, your relationships and your life are with that substance, not your children or your family or your friends," Cheryle Stanley says. "Your primary relationship is with that substance."
Most likely, the two women who walked out the door and left their babies behind fell back into a vicious downward spiral. Most addicts use drugs in an attempt to fill a void inside themselves, Stanley says. Women who abandon their children, of course, create an even bigger void, along with feelings of remorse and failure. "These women will have children again. They'll try to fill that emptiness with another baby," she predicts.
Meth as Mother's Milk
The furniture in Carole Kidd's Santa Rosa apartment is sparse, but photographs of her one-year-old daughter and two-year-old son abound; they hang prominently on every wall, they fill the entire fireplace mantel, they're everywhere. When her kids are off at daycare, the pictures remind Kidd of what she nearly lost because of her addiction to meth.
Raised in Lake County, Kidd grew up caring for her younger brother and cleaning up after her "cluttery drunk" mother. Kidd herself began drinking when she was about eight, sneaking sips from her mom's beer bottles. At age 11, she found her mother's meth stash. She loved the burst of energy and the sense that she could do anything and everything. Before heading off to school the next morning, Kidd cleaned every inch of the family's single-wide mobile home. "I enjoyed that because I got a lot more stuff done," she remembers. But the following day, she was exhausted.
The only way she could think of to fix how awful she felt was to use meth again. Soon, she talked her way into selling meth. She was still only 11, but dealing meth provided enough money to buy food for herself and her brother, and to pay her mother's bills. No more having the power turned off every couple of months because PG&E hadn't been paid.
When she was 14, Kidd got involved with a guy who drank and smoked dope but didn't approve of meth, so she stopped selling speed and only used it when her boyfriend wasn't around. She eventually moved to Santa Rosa to be with him, but after three years together they broke up. At 17, she jumped full-force back into doing meth. "As soon as I left him," she says, "it got ugly."
Kidd lived on the streets, stayed with one man after another, sold meth, stole from people's cars, wrote bad checks. "Meth made me do a lot of things I wouldn't even think about doing sober." The first time she got sent to jail, she cried like a baby. After that, she says, getting locked up was "like a family-reunion-type thing. All the same people were there." At one point, she checked into a residential treatment center as an alternative to jail, but she kept using meth, and in the end simply walked away from there.
By the time she was 21, Kidd was living with her dealer boyfriend and selling up to two pounds of the drug a day. "I was carrying a lot of meth around," she says now, seated on her comfortable sofa, her children's photos hanging behind her. "A lot of meth, a lot of money, guns--everything. I was doing the whole shebang and thinking I was invincible, that I was totally invincible." She ended up in jail, where she discovered she was 23 weeks pregnant.
The fact that she was arrested, Kidd says, is what saved her son's life. She pleaded for placement in a Marin County treatment center, and got it. "I didn't really work on myself too much in that program, because I was kind of faking it until I made it," she admits. "So I kind of came out thinking my kid was going to keep me sober. That's not what happened at all."
Instead, Kidd fell right back into the drug lifestyle, taking her infant son with her. Within 12 months, she was in jail again. "Child Protective Services took my son away, and that's the biggest eye-opening experience in my life. I pleaded to go into a treatment program." She was given another chance because, once again, she was pregnant.
Kidd went through residential treatment in Marin County, then completed the Drug Abuse Alternatives Center's Perinatal First Steps outpatient program in Santa Rosa.
"I did not want to put my kids through the lifestyle that I had growing up, so I figured I needed to do something," she explains.
Kidd has been clean and sober for 20 months, working hard to learn ways to beat her addiction as well as the ins and outs of being a good parent. Her daughter was born drug-free, and her son was returned to her after 10 months in foster care. She's a full-time mom, but she's also taking a class at Santa Rosa Junior College, and hopes to go on to become a drug and alcohol counselor. She got an A+ on her first paper and a B on her first test.
Kidd accepts responsibility for what she did while on meth. "I didn't have a good upbringing, but still the choices were mine. I knew. I was a very bright girl. [My upbringing] played a key factor in my life, but I made the choices. Those were my choices, and I had to deal with the consequences. The choices I make from here on out are what's going to best serve me and my kids."
Kidd is determined to give her son and daughter a much better chance at life than she had. But she admits her wild meth lifestyle still calls to her sometimes.
"I can't say that I don't ever have any cravings. I can't say that I don't ever get triggered, but they're few and far between now. Things get tough, you know, and of course the easier way always looks better. What I do is just turn around and look at my kids. If they're not there, I look at a picture of them."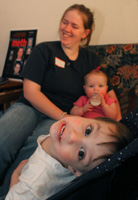 Little Silly: Carole Kidd's son mugs happily for the camera.
Zero to Three
"When people are addicted to drugs, a lot of their focus is taken away from their children," says Nancy Schultz of Napa County Health and Human Services Department. "We get calls about children who maybe are dressed inappropriately for the weather or children who haven't bathed for awhile or children who are always hungry. When it impacts children in a way that parents aren't able to care for their children, there are all kinds of secondary costs."
Twenty years ago, there was a lot of public worry that so-called crack babies exposed to cocaine before birth might suffer permanent physical damage similar to fetal alcohol syndrome. Fortunately, studies have shown that there are no significant long-term effects for infants who were born addicted to cocaine if they are immediately put into a stable, nurturing environment. After a few years, they look and act just like their nonexposed counterparts.
Research is still underway, but it appears this may also be true for "meth orphans," according to an article in the March 2006 issue of Zero to Three, a scholarly journal on early childhood development. This doesn't mean there aren't problems. According to the journal story, meth "is the only illicit drug that does not have a lower use rate for pregnant women than for nonpregnant women, and its intrauterine effects may be more potent than those of cocaine."
Using meth during the first trimester produces signs of stress in the infant; in the second trimester, it is related to infant lethargy; and babies born to mothers who used meth in the third trimester show poorer quality of movement and greater physiological stress. Children living in or near a meth "lab" absorb the drug through secondhand smoke and are exposed to the toxic chemicals used by meth "cooks."
But preliminary research indicates the effects are not long-term. Rather than placing meth-exposed babies and young children into a series of foster homes, the authors of the journal article recommend providing meth-afflicted families with treatment, parenting support, medical care and counseling. "No distinguishing features can identify a baby as [methamphetamine]-exposed," say the authors. "What we do know is that harm will come to children if pregnant women avoid the healthcare system because they fear detection of their [meth] use or manufacture, incarceration and placement of their children in foster care. We know that labeling children as 'meth babies' or 'meth orphans' can harm them."
Learning to Live
Each weekday morning, two nondescript vans follow different routes around Santa Rosa and surrounding towns, picking women up, some with children. It looks like a field trip, with the youngsters carefully belted into safety seats and the mothers lugging tote bags full of baby supplies. When everyone's on board, the vans head back to the Drug Abuse Awareness Center in Santa Rosa. The children are dropped off in the childcare room, a bright and cheerful space with lots of toys. Their mothers head down the hallway to join a roomful of other women--some of whom haven't yet been reunited with their children--for the Perinatal First Steps program, nicknamed "Peri."
It's an intensive outpatient program for addicts who are pregnant or raising young children. A few are there by choice, because they know they need to change. Others were referred through the Drug Court program, Child Protective Services or the Sonoma Works welfare agency. Although some have problems with alcohol or other substances, most are addicted to meth.
The program is based in part on Alcohol Anonymous' 12 steps. Every workday morning, as many as 30 women come to Peri to learn the scientific details of their addiction and how to manage post-acute withdrawal symptoms. They are schooled in relapse prevention, stress and anger management and communication skills. They take twice-weekly parenting workshops and even a child-related car-safety demonstration by the CHP.
There are both one-on-one and group counseling sessions, and the women do a lot of homework, writing essays which they later read aloud to the group on their drug history, their values, their hopes and dreams, and how their addiction has affected the people they love.
"We deal with all parts of their lives," explains program manager Chandra Slavonic. "We try to get them into stable housing. If they have relationship issues, we try to get them into couples counseling."
To complete the Peri program, each woman must attend 180 days of treatment; if they show up five days a week, that takes about nine months. Then there are another 24 sessions of aftercare, which they attend about three times weekly. All told, it takes a dedicated commitment of at least 12 months to graduate from Peri.
On a Tuesday morning in April, about 20 women settle into the assortment of padded office chairs that line the walls of the Peri meeting room. The facilitator strikes a Tibetan prayer bowl, and the day's session begins. The participants are dressed in jeans and T-shirts or sweatshirts--the room's a bit cold--and most appear to be in their early 20s, a few in their 30s. One woman nurses a tiny baby, and several other infants snooze in child carriers set carefully at their mothers' feet. The childcare program in the other room handles children from two months to five-and-a-half years old.
The talk ranges from turning down painkillers offered after dental work to the range of emotions one woman is feeling because her child's father is about to be sent to prison. During the session, women come or go quietly, stepping out to care for a fussing infant or to take a turn helping out in the childcare room, which is a cooperative effort.
The group continues without interruption, talking about relationships, self-esteem and toddlers who behave for everyone except their mothers. Several women speak about the shame they feel because of what their children went through when they were using, and one woman role-plays listening to the anger of her 11- and 12-year-olds, who don't trust her and don't want her back in their lives.
Motherhood's Privilege
Assisting the group's facilitator is Meesha Williams, 29, once a Peri participant herself and now an intern studying to become a counselor. When she was 13, Williams was given meth by her stepmother, who told her it would help her lose weight. Her stepmother was 20 years younger than Williams' father, and only nine years older than Williams. "She gave me meth because she didn't like the fact that I was so overweight. I wanted to do anything I possibly could to keep peace in the house, because her and I were always kind of going at it. If it would have made the relationship between her and I better so we weren't fighting, I was willing to do anything."
By the time she was 17, Williams was using meth daily. Eventually she had two sons, now ages eight and three. She managed to stay clean while she was pregnant with the first, but she used meth intravenously all throughout her second pregnancy. When the baby was born, he tested positive for drugs and was placed in a foster home. Her oldest son went to live with Williams' mother.
Williams went through the treatment programs at both Women's Recovery Services (WRS) and at Peri. She took a hard look at her life and her choices. She acknowledged her deep anger toward her former stepmother, then let it go and forgave that deeply troubled woman. "I know I would never do that to somebody, but I know she didn't have a great life growing up, either. I'm just glad my life didn't have to stay like that," Williams says.
Through the programs, Williams began learning how to live as a responsible adult and how to care for both herself and her two sons. Her oldest boy was five by the time Williams got clean and sober, and the kindergartner hated her and the way she had neglected him all his life.
"He'd wake up in the morning, and I wouldn't be there," she recalls. "I'd wait until he was asleep to leave, and then I wouldn't come back for days. I have no doubt that I love my son to my fullest. When I was out there using at my heaviest, I loved my son, but my love for my drug was more intense. That's all I thought about."
Mother and son went through intensive therapy, where she let him express his distrust and his anger. "I had to be ready to hear what he had to say. If he says that he's mad at you and he hates you, you have to let him vent that. He had to say, 'Mom, I'm scared that you're going to get high again.'"
Clean and sober for three-and-a-half years, Williams has custody of both her sons and her life's back on track. She's looking forward to Mother's Day, when she plans to have lunch with her two boys and her mother.
"Mother's Day now has taken on a whole different meaning, because I get to be a mom now. Now I treasure both my sons, through the good times and the bad," she says. "Being a mother is great today. I get to learn with them."
Not Fade Away
Shame can stop a lot of addict-mothers from getting help, says Stanley at WRS. "The biggest problem is the stigma that comes along with admitting that they need help," she explains. "They clearly have the mindset that if they admit that their addiction is greater than their ability to parent well, surely they will lose their children."
An independent nonprofit, WRS is one of the few nonsmoking residential treatment programs in the Western region where mothers can keep their children with them, if possible. The center has a capacity for 20 women and 12 children (from birth through age 11), and currently houses 15 women and 12 children. The problem is funding. There just isn't enough money to pay for every woman who wants to beat her addiction. The state of California contracts for 6.75 beds; the criminal justice system pays for a couple others; two are earmarked for mothers who need to kick their drug habit before they can get a job through the Sonoma Works program; and some families have the money to pay for the treatment. It costs WRS $125 day to house and treat one mother and her child. Welfare only pays $25 of that and demand far outstrips the available financial support.
"We turn away probably five women a day," Stanley estimates. "If we could put them in a bed today, on any given day, they would come into treatment. The hard, sad thing about these women is that if you tell them you won't have a bed available for two weeks, they go away. They reach that point where they want treatment, they know they're a step ahead of the law or a step ahead of Child Protective Services, and if we tell them there's no room at the inn, they just fade away."
Sometimes it takes extra effort to find the money for a woman who desperately needs treatment. "We really, really, really do our best to provide a place for pregnant women, because a mom who's addicted is not able [to care for her child]," Stanley adds. "We think of her baby as being the primary goal for our treatment, so that baby can be born clean and sober and free from addiction. We have about 12 clean and sober babies born here every year. Those babies are our future. Those little children don't have a voice, and they need sober moms. Giving those children a voice and speaking up for them is a huge, rewarding part of this job."
In the yearlong program, the women first go through 90 days of highly structured residential living where they're in a school-like setting from 8am to 3pm. The curriculum covers everything from substance-abuse issues to stress management, domestic violence, parenting, health education, even how to buy groceries and cook. Many of these mothers got addicted at such a young age that they never learned basic life skills.
Next come nine months of weekly outpatient aftercare. Of those who complete the entire course, about 40 percent to 50 percent will stay clean, Stanley says. The organization also owns a transitional house, where graduates of the program can live for up to two years with extremely low rent and the assistance of a case worker. Many of the program's alumni have gone on to earn college scholarships.
"We really teach them to reach for a higher level; not to be satisfied with just going back into the community, but going back to make a change," Stanley adds.
The Disappeared
Victoria would give anything to be able to help her 24-year-old daughter Emily get treatment for meth addiction. The problem is, all Victoria knows about Emily is that she's somewhere in Santa Rosa, living on the streets or in cheap motels with a man almost twice her age. Victoria rarely hears from Emily and doesn't know much about her daughter's life. Because the situation is so painful, Victoria asks that real names not be used.
A college graduate, Victoria has a good job. She's divorced. She was married twice, once for a few years when she was quite young, and a second time for 13 years. She's always tried to maintain a comfortable, stable environment for her two kids. "[Emily] acts like she's some ghetto ho' or something," Victoria says. "She couldn't be more middle-class."
Victoria's 16-year-old son is doing well in his junior year of high school; he's on the top honor roll. Victoria also has an eight-year-old granddaughter, Emily's child, who is being raised by her father in Texas. Victoria talks to her granddaughter on the phone on a regular basis, and sends packages and gifts every couple of months. But the girl hasn't heard from her mother for more than a year.
"[Emily] didn't call her daughter on her birthday. She didn't call her at Christmas. She hasn't talked to her for a year and a half," Victoria says with quiet intensity. "It tears me up what it's doing to this child."
Something of a rebel as a teen-ager, Emily seemed to settle down after the birth of her daughter, and was a good, attentive mother, Victoria says. Because of the high cost of living in Sonoma County, about four years ago Emily and her family moved to Texas. A year later, Emily and her daughter's father broke up. Victoria suspects that's when Emily started using meth.
The year before last, Emily called her mother and said she was coming back home--alone--to go to college. She never enrolled. Instead, she got a job, but quit after a few weeks. "I told her, 'You need to do something, you need to get your life together,'" Victoria remembers. "She just couldn't deal with it, so she moved out. But she would still come back and make herself at home and take what she wanted, take things that I had bought. I finally had to take the key away from her."
Victoria learns about Emily's whereabouts from her daughter's old friends and from her mail, which still gets delivered to Victoria's address. There have been several official notices from the sheriff's department, and Emily and her boyfriend appear to have an ongoing account with a local bail bondsman. Recently, Victoria received a bill for more than $2,000 for a visit Emily made to a hospital emergency room. Victoria pores over that multiple-page statement, looking for clues about what happened to her daughter. She figures the "butterfly bandage" listed must have been used to bind a wound. Drug testing was done, but the multiple-page statement doesn't show the results.
And, over and over again, Victoria reads the line that says, "Ultrasound, 1st trimester."
Victoria doesn't even want to think about the fact that she's going to be a grandmother again. She believes the child doesn't have a chance, growing up with two meth-addicted parents. This Mother's Day, Victoria will celebrate with her son, but doesn't expect to hear from her daughter.
Her goal for Emily?
That she gets arrested.
"What I really hope for is that she is incarcerated for awhile," Victoria says. "Because then she'll be forced, I hope, to give up meth. And then maybe, just maybe, she'll start coming around.
"Maybe. I don't know." She shrugs sadly.
"I don't really expect her to ever do it."
Next month: Generation Meth--keeping teens clean.
Send a letter to the editor about this story.