June 6-12, 2007
home | north bay bohemian index | features | north bay | feature story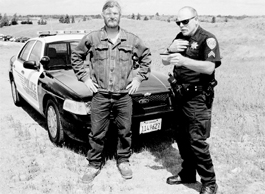 Photograph by Dave Kennedy
Berm: Worker Dave Kennedy has his driver's license examined by an officer when he returns to the Green Music Center building site to photograph what he and colleague Kevin Hoyt charge is unacceptable work overseen by construction manager R&S.
Concrete Complaints
Contractors charge shoddy work at new Green Music Center
By David Abbott
Envisioned as a magnet for a grateful public to celebrate the art of music, Sonoma State University's burgeoning Green Music Center (GMC) is being constructed under decidedly disharmonious conditions. Not only is SSU president Ruben Armiñana sitting under a vote of no confidence passed by fully half of his faculty--a fact that is not unrelated to the GMC--but matters at the construction site apparently aren't very rosy, either.
Problems with construction were first made public at the beginning of April, when two local carpenters were laid off, ostensibly because their contracts had expired. Dave Kennedy and Kevin Hoyt, carpenters contracted by construction manager Rudolph and Sletten (R&S), have been in the construction business since the mid-1970s. They were both happy to find work at the GMC, but after a while decided that they didn't like the quality of the work being done or, as Kennedy explains, "the use of unskilled labor to do jobs that require higher levels of skill.
"[There were] no professionals, and they expect [subcontractors] to do all the work," he charges. "I've never been on a site where so many mistakes occur."
A perceived problem in a concrete pour in the main wall of the structure led Kennedy and Hoyt to engage in a standoff with the site manager. The men took a photo of a concrete pour on the bottom 10 feet of a wall that will eventually be 57 feet tall that they felt was particularly unsafe. Rather than fix the bad pour before they poured the next layer of concrete, the men charge that R&S went ahead and poured more concrete, intending to later fix the problem. (Hoyt and Kennedy also believe that R&S routinely "wastes" vast amounts of taxpayers' money by having to go back and X-ray their own work and redo bad pours as well as wasting vast amounts of rebar and other material.)
At the end of April, Kennedy and Hoyt arrived at the job site wearing homemade chartreuse T-shirts emblazoned with pictures of the offending portion of the wall, replete with an R&S logo. They were immediately let go.
The two also charge that the GMC is being constructed on a decidedly wet area of the campus, and that R&S is not sufficiently prepared to pour so much concrete into what has turned out to be so much mud.
"They are just disgruntled employees," says site manager Frank Baroni who has worked for R&S for 18 years. "We were cutting back a couple of guys, and [Hoyt] was asked to do some other stuff as their job was winding down."
According to Baroni, Hoyt and Kennedy "had an attitude." Baroni told Hoyt he could get his check the following Monday. Kennedy says that he was told to leave, too.
Both men were escorted off the property. When they returned a few days later to take pictures of the wall from the berm that surrounds the construction site, SSU campus police were notified and Kennedy and Hoyt were issued a restraining order banning them from the campus for seven days. The problem with the concrete was "no big deal," according to Baroni, who says that R&S pours thousands of yards of concrete in "vertical pours" and occasionally there will be a "slump," an air pocket that leaves holes in the concrete.
The concrete is poured from the top, and then the forms are vibrated in order to get the concrete to fill the form. "Very often there will be air pockets, but 99 percent of the time you will get an excellent wall," Baroni assures.
Kennedy has filed a grievance over his layoff with Carpenters Local Union #751; R&S has postponed the hearing until June 13. A union representative has refused to comment, calling it "internal union business."
The GMC is expected to be completed in September 2008. The cost and scope of the project has expanded from the initial vision of a humble $22 million, privately financed concert hall that the university would share with the Santa Rosa Symphony. Its current version is a $100 million, 105,435-square-foot entertainment complex and hospitality center replete with indoor and outdoor dining.
Funding for much of the construction is coming from California State University revenue bonds. The most recent piece of the financial puzzle is in the form of a $12.9 million bond approved in February, which has infuriated many members of the SSU faculty.
In order to create revenue streams to pay for the bonds, both Sonoma State Enterprises--the entity that includes SSU Dining Services--and the School of Extended Education have been placed under the charge of the University's Administration and Finance. This means that the revenue from those programs can be utilized to pay off debt accrued by the GMC.
The current costs of the project include $87.7 million for construction and financing, although an additional $12 million is still required for such finishing touches as bathroom fixtures, a lobby floor and enclosures for the mechanical systems necessary before the concert hall can open.
Costs aside, construction is moving forward as quickly as the concrete can be poured. Kennedy says that he is frustrated with R&S and no longer works for them, but is just waiting for his grievance to be heard.
"I'm back to work," he says. "I think that proves I'm not a 'disgruntled employee.'"
Send a letter to the editor about this story.