June 13-19, 2007
home | north bay bohemian index | news | north bay | news article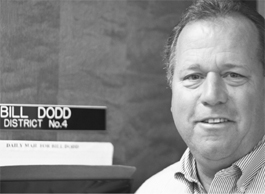 Photograph by Brett Ascarelli
Transit chief: Napan Bill Dodd, new head of the MTC, ironically lives in one of the transit system's biggest 'holes' in public transportation.
Detours
Why getting from point A to point B in the Bay Area also requires passing through points C, D and E
By Brett Ascarelli
One would hope that the folks running the Bay Area's Metropolitan Transportation Commission (MTC) would often take public transit as a kind of a vote of confidence in the system. Overseeing the Bay Area's nine counties, the MTC is responsible for financing, planning and coordinating transportation--including some two dozen transit operators and seven state-owned bridges--in the region. But the MTC's new chairman, Bill Dodd, typically scoots around in a Cadillac that gets roughly 20 miles to the gallon. (By July 1, he hopes to start driving to MTC meetings in the county's new hybrid.)
It's not as though Dodd, who lives in Napa, hasn't tried taking public transportation to frequent meetings at MTC's Oakland headquarters.
He has. It's just that the public transportation system has some holes, and Dodd happens to live in one of them. While it makes sense for his colleagues in San Francisco or Alameda to ride BART, it doesn't for Dodd. To him, the closest station is almost 40 miles away, and there's no way to traverse the distance quickly, except by car.
"It would be a lot easier," Dodd admits, working at his Napa office one morning, "for me as chairman of the MTC to be able to walk the walk and talk the talk, but it just points out some of the challenges we have for public transportation."
For all that, Dodd does enjoy taking the ferry to San Francisco. But even then he prefers driving himself to the dock. "If I were to take the VINE," says Dodd, referring to Napa's public transit system, "to the ferry, it'd probably be one more hour that I could be working or doing something else." For this reason, Dodd says he is looking into an express bus service that might get people from Napa to the ferry or BART efficiently and on time.
Dodd, 51, sits on the Napa County Board of Supervisors and is the first representative from the Bay Area's smallest county to serve as MTC chair. His background is in water. For 20 years, he was the president and general manager of Diversified Water Systems, better known as Culligan Water Company. After selling the company in 1998, he had some free time and started learning about local government. After a successful run for Napa's Board of Supervisors, Dodd was first appointed to the MTC in 2001, and this February, the other commissioners elected him unanimously to the chairmanship.
As MTC chair, Dodd hopes to improve the region's spotty connectivity. The trouble with Bay Area transit is that there are so many different transit operators to coordinate. "We're doing the best job we can, I think, with 26 transit agencies," he says, estimating the number of operators--there are so many that he can't keep track without double-checking. "But the reality is, if you look at the way it is in New York, Boston, Philadelphia, D.C.--they all have less than four [transit agencies]; it's just a lot easier when it comes to dividing a pie. It's absolutely crazy, all the different allocations of funds [here]."
During Dodd's administration, he will push some of Bay Area systems, like BART and CalTrain, to merge. "But there's a lot of push back," he says, anticipating resistance from unions, management and plain old politics.
Some seven years ago, Napa County managed to merge its six small transit agencies into one, the VINE. Solano County is now following suit, and Dodd hopes that Sonoma County will overcome its own reservations and eventually merge its systems together, too.
Another project Dodd hopes to advance is the TransLink program. TransLink will connect the Bay Area's transportation providers through one fare card that will be programmed to understand each provider's rate structures. Rolled out last November, TransLink cards can currently be used with some providers getting to and from Alameda, Contra Costa and San Francisco; by 2010, it will be accepted by more than 20 transit providers. That, paired with the MTC's 511 route planner (www.511.org), may make for less hassle.
But until the Bay Area can whittle its transit system down to fewer providers who can go to more places, Dodd agrees that it's still going to require extreme fortitude to ride public transportation from the parts of the North Bay into the city. For example, a quick 511 query about traveling from Napa to the Mission District without a car predicts a three-hour-and-45-minute trip that would require four transfers.
Dodd, a Republican straight shooter, hopes that his legacy at the MTC will be one of extending communication throughout the Bay Area. Already, he has set out to attend board meetings for each and every one of the region's 26 transit providers and listen to their expectations. No other MTC chair has done this.
At the end of the interview, Dodd excuses himself to make a phone call. It's summer and he has five kids between the ages of 19 and 25 who have co-opted his Cadillac. Speaking into the receiver, Dodd puts himself at the mercy of a pal, "Can I get a ride to Rotary tonight?"
Send a letter to the editor about this story.