11.21.07
home | north bay bohemian index | features | north bay | feature story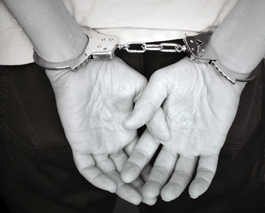 Lockup: David initially blamed the Aryan Brotherhood for his beating. Then the small matter of a meth deal was introduced. Who to trust in this tale of woe?
Torturous Geometry
Snapshots from a life self-pinned under the triangle of justice
By P. Joseph Potocki
Four skinheads nearly beat a man to death. Four bystanders—two women and two men—watch the violence unfold. The victim goes to the emergency room with a broken neck, a flattened skull, a broken scapula and a broken hand. Doctors drive 40 staples into his head in order to patch it back together. Two alleged perpetrators are apprehended and charged.
A year passes. Six of the eight persons present at the assault have not yet been questioned, including the man who reportedly lured the victim to his home. Neither have three of the four assailants.
And while the two men charged in the beating face hard time, their victim may wind up in an adjoining cell.
Visualize violent crime justice as an inverted triangle. In the top left corner, alleged perpetrators await trial. Tracking parallel to these defendants, the prosecuting attorney crouches in the triangle's top-right corner, pointing fingers and tallying investigative discoveries. The judge and jury settle in to decide things from the middle. Meanwhile, the victim hunkers down at the triangle's pointy bottom—beneath, between and pinned down by dueling antagonists above him. The victim lies on the bottom, at the very nadir of this inverted triangle. Simple gravity demands that all shit slide downward.
Late the night of Nov. 11, 2006, David, who requests that his last name be withheld, says that he entered a converted garage apartment in Santa Rosa. He'd come to sell a power washer to a man named Eli. Two women were in the apartment with Eli. David was told to help himself to a soda from the refrigerator. As he turned toward the fridge, four men burst in through the door. The men beat David with pipes, their fists and their boots.
David, who calls himself "Mestizos, or a half-breed of the Blackfoot Nation," claims that they taunted him, calling him a "prairie nigger" and a dog while they beat him. David says that they attempted to bind him with duct tape and carry him from the apartment. David says that he fought them off, broke away and made like Indiana Jones through the window, then bounced off a table and a car before hitting the ground outside. He says that he managed to get to his feet and run to a neighbor's home, screaming for someone to call 911.
That's the last David recalls of the incident. An emergency vehicle rushed him to urgent care. He remained at Santa Rosa Memorial Hospital for five days before being discharged for breaking hospital regs. He'd sneaked outside to smoke a cigarette.
David was in no shape to camp in the streets, but he had no place to go. A friend offered David her spare bedroom until he recovered. A few days later, on Thanksgiving eve of last year, two Sonoma County deputy sheriffs came to the woman's home with an arrest warrant for David. They removed his neck guard, his shoulder and hand brace, then handcuffed him and drove him to county lockup.
In a piece ironically titled "The Power of Laughter" and published on TheHuffingtonPost.com and Counterpunch.com, writer and '60s counterculture icon Paul Krassner describes David's travails this way: "At the Sonoma County jail, the guards kicked him . . . refused him all medical attention, placed him in solitary confinement, forced him to sleep on a concrete bed without a mattress and did not allow him to shower for six days. They eventually brought him to court, chained to a wheelchair."
But why arrest David?
Because he'd missed a previously set court date. Instead of standing up in court, he'd been flat on his back, recovering from a severe beating, a registered patient at Santa Rosa Memorial Hospital. Until, that is, he sneaked that cigarette.
Sonoma County deputy district attorney Bob Waner is the latest prosecutor to head up David's case. He's politely asked David to testify against the two men charged in his assault, and seems confident that David will. Why? Perhaps because this victim, should he refuse to testify, stands to have his probation revoked.With leverage like that, Waner can afford to be polite.
A week prior to his assault, David made an illegal purchase. A short time later, he was arrested for possession of methamphetamine. Not much meth, but any meth is grist for the system. David's fateful purchase would complicate his life no end. David claims he bought the drug from one of the guys later charged in his assault, though he says this guy took no physical part in the beating. He just set David up.
Waner told David that since this defendant witnessed but did not participate in David's beating his conviction would be less than a lock-job. Which means that even should David testify against him, the perp might skate. David fears that, once the trial ends, this gentleman and his friends may come calling.
Testify, and face payback on the outside. Refuse to testify, and get locked up with associates of the accused on the inside. And you just know they're all dying to hear your side of the story.
Afew months after David's 2006 Thanksgiving surprise, the district attorney's office threw him a bone. If he'd agree to testify against the two guys they'd charged with his assault, they'd set him up in the state's witness protection program. That's right, they'd even give him his very own room at Santa Rosa's Flamingo Hotel. Thing is, David didn't know about the tattoo convention taking place at the hotel the very same weekend he moved in. The Flamingo crawled with hundreds of bikers and shaved heads sporting all nature of inked Teutonica. David freaked, retreating to puff a nervous ciggie in his nonsmoking room. An alarm went off. That cigarette accomplished two things: It got him evicted from the hotel, and it definitely got him booted from the witness protection program. David went back onto the streets of Santa Rosa, homeless and broke.
Not one to miss an obvious lesson, David says that he has since quit smoking and using drugs.
Every prosecuting attorney wants convictions. Every defendant wants to walk. Victims may desire restitution, they may fantasize revenge, they may even plot self-righteous vendettas, but when sober reason sets in, what crime victims really want is simply to have their lives returned to them.
I asked David what he wanted out of any potential deal. Curiously, he wants the district attorney's office to sell his small business as recompense for his testimony. Not surprisingly, he wants to feel safe again. That might take a while.
On Nov. 13, the guy David claims set him up pled guilty to felony assault, drug charges and being a felon in possession of a firearm. His sentence is eight years and four months, eligible for half-time parole. He goes back for formal sentencing in December. David says that one charge this gentleman pled to stems directly from his attack. David didn't have to take the stand. Nonetheless, that this man heads to prison expecting that David would have testified against him greatly concerns David.
Meanwhile, the district attorney has served David yet another subpoena. It must be David's anniversary gift—he's to take the stand in the second defendant's trial the week after Thanksgiving.
Send a letter to the editor about this story.