12.05.07
home | north bay bohemian index | features | north bay | feature story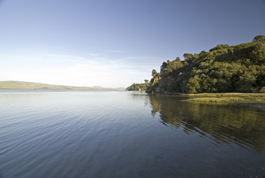 Pristine Problem Oyster farmer Kevin Lunny claims to run an environmentally sound mariculture operation. No one disputes that. But should it go back to wilderness in five years?
Aquaculture Upset
Flap between Drake's Bay Family Farms and the National Park Service raises the question of what it means to protect the wild
By Joy Lanzendorfer
It's a familiar scenario: an environmental group and a business fighting over the same piece of land. One wants to preserve the land, the other wants to use it for its resources. This time though, instead of a nameless corporation, the business is Drake's Bay Family Farms, a local sustainable oyster producer that owns acreage that has been operating in the Point Reyes National Seashore, formerly as Johnson's Oysters, for decades. Furthermore, Drake's Bay claims that it wants to preserve the land while using it for resources.
Supporters of Drake's say that if the oyster farm is closed down and the 1,050-acre ranch converted to wilderness, as mandated by a 40-year lease with the National Park Service (NPS) that comes due in 2012, Marin will not only lose one of its most ecological food producers, it will lose a piece of its history as well.
In 1976, the Point Reyes Wilderness Act created 25,000 acres of wilderness and an additional 8,000 acres of "potential" wilderness in the national seashore, land that is treated as part of the park even though something else—a road or a farm, say—is located in it. Part of that potential wilderness includes Drake's Estero, the estuary where the oyster farm operates. If the Drake's Bay Family Farm's lease is not renewed by the NPS in five years, the business will shut down and the land will officially be converted to wilderness forever.
"It has become an environmental crossroads," says Drake's Bay Family Farms co-owner Kevin Lunny, who bought the ranch in 2005 with his two brothers. The family are third-generation West Marin ranchers who also raise cattle on the Historic G Ranch near Inverness. "Most of us in the environmental community spend a lot of time fighting for wilderness. It's an important and valuable thing. But here the community is saying, 'Wait a minute, we love wilderness, but slow food production is not harmful to the environment.'"
Drake's Bay Family Farm annually produces some 300,000 pounds of oysters and a million clams, accounting for 85 percent of Marin's shellfish industry and 50 percent of California's mariculture. It is also home to California's last oyster cannery. The operation's cessation could have a significant impact on shellfish availability in Northern California.
This past year, the fight to keep that from happening turned ugly, with accusations flying in all directions, city council meetings, coalitions forming to support both sides, and even the involvement of Sen. Dianne Feinstein, who gathered park and government officials together to discuss the situation.
In the end, the law is clear about one thing: Whether or not oyster production will be allowed to continue after 2012 is up to the NPS.
"The National Park Service has told us that they don't plan to renew the lease," says Lunny. "There's the issue. The law apparently tells us that this is a choice the National Park Service has. It is their choice, so they can choose."
The NPS insists that Lunny knew from the beginning that the oyster farm would close down in 2012. Park officials claim operations were always supposed to shut down so the land could revert to wilderness.
"The intention was for the oyster farm to basically sunset in 40 years time," says John Dell'osso, chief of interpretation for the Pt. Reyes National Seashore. "And in 2012, the area would become a wilderness area. We've always managed that area as wilderness, even though it's called 'potential.' Wilderness is wilderness. The only differentiation here is that this impediment will be removed in 2012."
Although the NPS calls the oyster farm an "impediment," Dell'osso is quick to point to the many other ranches and dairies that have leases within the park. The difference between those operations and the oyster farm is that the ranches are zoned for agriculture and the oyster farm is zoned as wilderness.
Environmentalists are concerned about the impact the oyster farm is having on the estuary, citing possible effects on such wildlife as endangered eelgrass and harbor seals during pupping season. In May, the NPS blamed Drake's Bay Family Farms for an 80 percent decrease in harbor seal pups in 2007 compared to 2005. At the time, staff scientist Sarah Allen called it a problem of "national significance."
The claim was proven false. According to the NPS' own numbers, while there was a significant drop in seal pups on one sandbar, there was an increase on another nearby sandbar, meaning that the seals just moved to a different place to pup that year. And it was disturbances like hikers and predators that caused them to move, not the oyster company.
"That's something I can't comment on until some issues are better documented," says Dell'osso.
"It's irrelevant whether he has disturbed the seals or not, he needs to keep [the oyster harvesting] boats away from the seals," says Gordon Bennett, conservation chair of the Sierra Club Marin Group. "The way he runs his business, it is disturbing the seals, and we believe it is significant. So it doesn't matter whether it has happened or not."
Lunny would be the first to admit that it's impossible to run a business without having some impact on nature. For him, it's a matter of how significant that impact is, especially considering that the oyster farm also has beneficial impacts on the environment. Oysters improve water quality, and their shells are almost pure carbon.
For others, it's not worth risking even the slightest impact when you're talking about the only estuary on the West Coast south of Canada.
Johnson's Oysters, the original ranch owner, first opened in 1940, but oysters have been commercially harvested in Drake's Estero for at least 100 years. Losing the farm would be losing a piece of the park's history.
Of course, nature was there even before that.
"It depends on how you define history," Bennett says. "The canning operation is basically a one-truck container. It's a high-tech situation, not some elegant Victorian factory that's been there a hundred years. The fact of the matter is fairly clear here, which is that the Lunny family wants to make money from it. That's what business people do. But the wilderness is not about money."
Still, it's hard to argue that the Lunny family hasn't displayed devotion to the land. Drake's Bay Family Farms has the first certified organic pastures in Marin, the only certified beef cattle and the only salmon-safe certified farm in California.
"They did a fabulous job of cleaning up a horrible mess," says Dell'osso, who perhaps unintentionally voices the equivocation this situation has evoked. "Well, they haven't made anything worse. So, yes, they've done a good job since then."
Send a letter to the editor about this story.