12.10.08
home | north bay bohemian index | features | north bay | feature story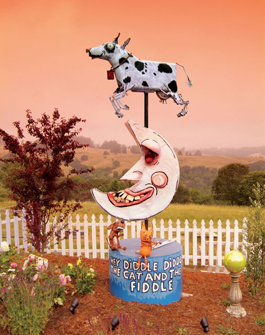 Class Act
Patrick Amiot and Brigitte Laurent's funk art reaps thousands for schools
By Bruce Robinson

Hub caps, vacuum cleaners, clocks, mailboxes, gas cans, tail lights, old tools, carriage wheels and innumerable other castoff odds and ends take on new life, even new personalities, in the hands of Patrick Amiot, a self-described "junk specialist," and his wife, Brigitte Laurent (he does the building; she, the painting). Since arriving in Sebastopol from Montreal a little more than a decade ago, their strange, colorful creations have become an increasingly visible presence in and around their new hometown.
And for the past five years, images of Amiot and Laurent's sculptures have also graced the pages of an annual fundraising calendar, a homespun project in conjunction with photographer and publishing maven David Fetherston that benefits a west Sebastopol charter school and three other area elementary school districts.
"It was Patrick's brainchild," says Diana Rich, one of the founding members of the 'Folk Art for Schools Calendar' committee, the volunteers who mange the yearly project. "He wanted to do something for the community," also initiating the idea of using the calendar to support local public education.
Starting near the bottom of the learning curve, the committee published its first calendar in 2004. "The first year, we printed 5,000 and sold 4,870," Rich recalls. "The very first year, our profits were $40,000." That 80 percent profit margin is possible, she adds, because their only cost is printing; everything else is donated. In addition to Fetherston's gratis photography and publishing skills, young graphic artist Kevin Gilfether designed the calendar for free. Even though the calendars are displayed prominently and sold at myriad shops and other locations around western Sonoma County, "none of the retailers take a cut at all," Rich marvels.
A list of those retail outlets is posted at www.folkartforschools.com, where you can see all the images from the current calendar, order by mail or simply buy one online while you're there.
Over the past five years, the size of the print run has ranged up as high as 10,000, and the net proceeds have fluctuated accordingly. But the cumulative benefits from sales of the $12 calendars have added up impressively. "We'll either hit or go over $200,000 this year," Rich says. "It's been quite a phenomenon."
This fall, the calendar committee has branched out with a second project, a full-color folding map that locates 81 of Amiot and Laurent's works on public display throughout Sonoma County, complete with thumbnail images coded to each site. It's mainly available as a bonus item this season, in a trial run to determine whether there is an untapped market awaiting the conveniently foldable Patrick Amiot sculpture tour and guide.
Send a letter to the editor about this story.