December 27, 2006-January 2, 2007
home | north bay bohemian index | news | north bay | news article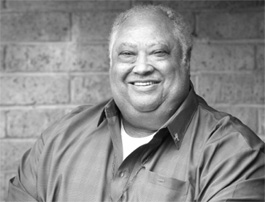 Photograph by Michael Amsler
Civil servant: Dr. James Coffee has spent his life fighting for civil rights for all peoples.
Justice Warrior
As he eases into his seventh decade of life, the Rev. James Coffee's vision hasn't dimmed
By Lois Pearlman
The Rev. James Coffee's office at Santa Rosa's Community Baptist Church is jammed with every manner of book, letter, file, souvenir, framed photograph, poster and writing implement. His desk is piled high with a jumble of paperwork and his bookshelves groan under the weight of keepsakes representing people, places and events that have punctuated the minister's long and demanding career.
"I preach here at the church, but I pastor the community. That's why my desk is so crowded. I never get to do anything when I'm here," he says, explaining that he performs most of his work at home where he can avoid the constant ringing of the telephone.
Even for a man as busy as Coffee, this time of the year is unusually hectic. There's been Christmas and all the events, civic and religious, leading up to it. The first week in December brought the annual James E. Coffee Human Rights Awards, named in his honor; a week later, Coffee participated in the holiday dinner his church hosts every year with the Rotary Club for patients at Sonoma Developmental Center. In mid-January, he will preside over the annual Martin Luther King Jr. birthday celebration.
At 73, Coffee is a large, handsome man with an accent flavored by his Oklahoma childhood. Since 1960--when the southeastern part of the United States still had segregated schools and separate bathrooms for "colored" folks--he has served as the church's pastor and Sonoma County's most visible African-American leader. But he was initially reluctant.
"This church called me to be its pastor," he recalls. "I didn't want to come. I didn't see any need. I didn't see any black folks. I refused for three years."
At that time, Coffee was living in the East Bay, "teaching and preaching around," he says, after graduating from Golden Gate Seminary, now Mill Valley Bible College. The youngest of 13 children, he lost both his parents by 13 and moved to Alameda to live with relatives.
He remembers Alameda as "a racist little town" where he was one of two blacks on his high school's athletic teams. It was a drastic change from his close-knit early years in a large black community and his first experience with integration.
"I started learning how to relate to a lot of people," he said. "You put on the [athletic] uniform, and you become like one until you take it off."
Raised by a Methodist minister father and a Pentecostal mother, he has always had a deep religious faith, but at 18 he says that he "got really serious about God" and returned to the church.
Santa Rosa's Community Baptist Church was the denomination's first black church, but it has changed with the times and now counts whites, Hispanics and Asian Americans among its members.
"I get to preach to the United Nations every Sunday," Coffee says. But preaching in the church is only a small part of his job. He also participates in a dizzying array of programs, including Race Equality Week, a celebration of the racial and ethnic diversity of Santa Rosa; "Guess Who's Coming to Dinner," where everyone is invited to share a meal with people they might not otherwise meet; Cool Kids Camp, for children who have witnessed domestic violence; the Diversity Forum, a discussion group for racial and ethnic understanding; and Hate-Free Santa Rosa.
He is also a long-standing and award-winning member of Kiwanis International, an honorary Rotarian for his work with that group, a participant with 100 Black Men of Sonoma County and a Paul Harris Fellow. Social Advocates for Youth in Santa Rosa named its teen shelter the Dr. James E. Coffee House in honor of his work with young people.
And he is the one that law enforcement, judicial and government officials turn to when they find themselves facing racially charged issues. During the Rodney King trial, Coffee helped Santa Rosa officials organize a rally and speak out. It diffused the potentially violent response to the not-guilty verdict, he says.
To illustrate his philosophy about serving the community, Coffee has adopted the symbol of the starfish. It comes from a story he tells about a bunch of beached starfish and a little boy who was trying to rescue them by throwing them back into the ocean as fast as he could, one at a time. A man comes along and asks the boy how he thinks he can save them that way. The little boy just throws another starfish into the water and says, "It makes a difference to that one."
"We can't change the whole world, but we can make a difference where we are," Coffee says.
He also likes to make the point that change and the work that brings about change is not a 100-yard dash. "It's a marathon," he says. "It goes on and on because it's handed down. Hate and prejudice is learned. Nobody is born a bigot. It is usually learned from someone we care about, so it's generational. We are working on trying to stop the cycle."
Another of Coffee's longtime friends and colleagues, Camp Meeker activist Mary Moore, doesn't always agree with Coffee's moderate approach, but she honors his even-handedness.
"He has shown respect to the activist community, even when these issues weren't popular or well-developed," she says. "He gave us a place to meet, and he was open when we wanted to make coalition with him."
It was with Moore and her organization at that time, SONOMoreAtomics, that Coffee and the Community Baptist Church organized its first Martin Luther King Jr. birthday celebration in 1982. The church became the second one in the country to celebrate the slain Civil Rights leader's birthday, years before it was declared a national holiday.
Moore said Coffee has come through for her time and time again. When 12-year-old black girl Georgia Moses was killed in Petaluma not long after the much-publicized kidnapping and killing of middle-class white child Polly Klaas, Moore and others were appalled by the apparent lack of concern in the community. So Coffee helped to organize a memorial for the child at his church. A photograph of Moses, with an explanation of what happened to her, still hangs on a wall near the church's social hall.
"When any kind of milestone happened, where did we go? To the church. There would be no place else to go if that church wasn't there," Moore says.
Coffee's hallmark is his ability to engage with different kinds of people--everyone from elected officials to anarchists.
"I don't always agree with what people think or believe," he says, "but I honor all people. I believe that God created all people equal. There is a difference between equality and sameness. I believe everyone should have equal rights to do or believe what they want."
Some say Coffee derives too much pleasure from the limelight and the hob-knobbing with politicians, but Moore concedes that he probably couldn't accomplish all the things he does if he didn't enjoy it.
"He's what I'd call a justice warrior," Moore says. "It will definitely be the end of an era if and when he retires."
Send a letter to the editor about this story.