01.02.08
home | metro silicon valley index | news | silicon valley | news article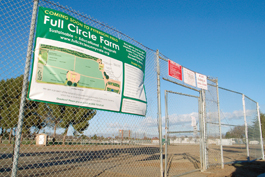 Photograph by Felipe Buitrago
FUTURE FARMS OF AMERICA: This 11-acre site next to Peterson Middle School (in the background) will soon be rows and rows of fresh produce that will be served at local schools.
Food Fight
Sunnyvale joins the grassroots movement to save kids from the Department of Agriculture with a farm-to-school revolt
By Crystal Allen
IT'S a beautiful day in Sunnyvale –crisp, cool and bright. I have finally found Full Circle Farms. In fact, I had driven right by it, but the grassy 11-acre field adjacent to Peterson Middle School was so huge, I had barely noticed the handful of people pitching mulch into wheelbarrows and wandering over to dump it onto what will one day be rows upon rows of tomatoes, beans, peas, lettuce, spinach and a cornucopia of other fresh veggies.
  There will be an orchard of nut trees, citrus and stone fruits as well, I am told by the sparkling-eyed volunteers. While most of the fresh, organic produce will be served up at local school salad bars, some of it will be canned by volunteer school kids and sold to raise money that will go toward funding similar farm-to-school projects in the Silicon Valley area.
Full Circle Farms is a collaborative effort of several nonprofit organizations devoted to farm-to-school programs. Rather than fight each other by submitting competing proposals for plot that the Santa Clara Unified School District wanted to put to use, they decided to pool their efforts. Together, they proposed that a community farm used as both an educational program and a source of fresh produce for school lunch programs would be the best use for the land.
School district officials agreed, and they're not the only ones. Ten years ago, Bob Gottlieb, a parent at the Santa Monica –Malibu Unified School District, kicked off the first farm-to-school program in California and one of the first in the nation. Five years later, there were six such programs in the state. Today there are 85.
Californians have enthusiastically embraced farm-to-school programs as locals become increasingly aware of a broken agricultural policy that hoodwinks taxpayers into subsidizing our nation's obesity, heart disease and diabetes epidemics.
At the core of this deception is the federal farm bill, which allocates billions for subsidized crops that are transformed into artificially cheap value-added products like high-fructose corn syrup (HFCS), bleached flour and hydrogenated fats. These products are further transformed into artificially cheap soft drinks and commercial foods that are leading culprits in America's obesity epidemic.
Fat of the Land
The decline and fall of America's nutritional standards is hitting young people particularly hard. According to the Centers for Disease Control and Prevention, the rate of overweight and obese children in the United States has tripled since 1980. Results of a study recently published by the American College of Cardiology shows that while deaths from heart disease among the general population have been dropping steadily over the past 25 years, they have leveled off among young men between the ages of 35 and 44, and among women of that age group, deaths from heart disease have actually slightly increased. Leading cardiac experts are indicating that these shifting statistics may be the shape of things to come —the ultimate destiny for a generation raised on supersized fast food and HFCS-sweetened soft drinks.
"Children's diets are influenced from two primary sources," says Full Circle Farms' Liz Snyder, "the food marketing media and parents and schools. The media have parents and schools beat, largely because their message is an emotional appeal. It tells kids they will be cool, loved and automatically accepted by their peers if they embrace the product being advertised."
Snyder believes that the problem parents and teachers face is winning the battle of hearts and minds in the nutrition wars.
"The whole prospect of getting kids to eat better is all about the farm experience," she says. "When a child plants and tends a row of tomatoes, that child will have an emotional attachment to those tomatoes, and that will likely reshape his emotional attachment to his entire food experience."
Getting children to reconnect with the source of their food is generally a big part of most farm-to-school programs. In classes formed for these programs, kids are taught that food and nutrition are part of a life cycle that generally starts with planting seeds in the soil, nurturing the little shoots, harvesting, food preparation, and then, as the final reward, partaking of a meal they have created from those first tiny seeds.
Farm Aid
At the East Palo Alto Charter School, kids as young as 6 bustle about chopping carrots and cabbage, whisking a dressing of honey, olive oil and herbs, plucking and washing lettuce leaves and setting the table. The day's special is lettuce wraps, and the concentration, cooperation and deep sense of satisfaction the children derive from their collaborative effort is charmingly sincere.
Not all schools are fortunate to have their own farms, and not all school farms are large enough to feed the number of kids at their schools. So farm-to-school programs rely heavily on locally grown food obtained from small farmers in their area. This goes a long way toward helping economically beleaguered small farmers to stay in business.
One of the great ironies of our broken food-production system is that the richest farmers produce the cheapest (in every sense of the term) food, and the poorest farmers produce the healthiest but most expensive food. That's because small family and organic farmers receive virtually no support from the government and are forced to compete with heavily subsidized factory farms which virtually squeeze them out of the market.
According to the Community Alliance With Family Farmers, schools that order produce and other food products from local farmers are helping to build the local farm economy. Five years ago, CAFF's Central Coast Growers Collaborative launched the Buy Fresh Buy Local campaign. A recent evaluation shows that participating farmers' produce sales have increase by 25 percent.
According to Heather Fenney, program director for the California Food and Justice Coalition, farm-to-school and similar grassroots programs are beginning to have an effect at the federal level, despite heavy resistance to change.
"When we look at the more innovative programs adopted by the federal government, they are usually initiated at the community level," Fenney says. "When teachers, parents and students work together to change the dynamics of the lunch room, they are creating models that the government can replicate."
Federal Pork
The 2007 Farm Bill is a perfect example of how ag policy is broken at the federal level. Significant reform measures that made it to the Senate floor were thwarted by political shenanigans. An amendment sponsored by Sens. Byron Dorgan, (D-N.D.) and Charles Grassley (R-Iowa) would have put a hard cap of $250,000 on payments to wealthy commodity farmers, closed loopholes and shifted the savings to beginning and minority farmers, rural development, conservation, nutrition and anti-hunger programs.
     In a bizarre twist of fate, the amendment won a majority of votes with a 56-43 tally, but went down in defeat nonetheless due to parliamentary maneuvering brought on, ironically, by the Democrats. Apparently, Sen. Blanche Lincoln (D-Ark.) threatened to filibuster the bill, if this amendment, or any like it, was passed.
The Democratic leadership caved and allowed one special-interest-driven legislator to take control of the entire process. Senate Majority Leader Harry Reid (D-Nev.) ruled that all of the reform amendments would be subjected to a 60-vote supermajority hurdle.
A measure sponsored by Sen. Amy Klobuchar (D-Minn.) would have cut off payments for farm households with annual incomes exceeding $750,000. The Klobuchar amendment also received a majority of votes, but fell under the ax of the supermajority rule. The other reform amendments lost as well.
The bill is now headed to the conference committee, where the House and Senate will quibble over minor details and then give it a final vote. Unless President Bush makes good on his threat to veto this $286 billion, pork-stuffed legislation, for the next five years the fattiest, most sugar-laden and generally most unhealthy foods in America will continue to be lavishly subsidized by the very taxpayers who suffer ill health from their effects. Meanwhile, small family and organic farmers, who walked away virtually empty handed, will continue to struggle to stay in business.
Bearing Fruit
One of the few concessions legislators have made in the upcoming farm bill is allowing schools to list geographic locations as part of their criteria for food. In other words, schools will have the option of buying the most reasonably priced local food, as opposed to the most reasonably priced food on the national market. Schools that exercise this option could go a long way toward helping out their local farmers, not to mention providing their kids with fresher and healthier options.
The Senate is also set to expand the Fresh Fruit and Vegetable Snack Program to include all 50 states. Initiated as a pilot program in the 2002 Farm Bill, the FFVP provides free healthy snacks to school children and has been credited with improving student's cognition and attention spans while reducing behavioral problems. On the downside, the House bill is set to fund this program to the tune of $25 million, which, while far more generous than the funding provided in the 2002 Farm Bill, will still only reach less than one percent of the nation's schools.
It is cold comfort to small and organic farm advocates that several farm bill reform measures won a majority of Senate votes, considering they lost in the end because of political mischief. But the fact that a slim majority is there is a sign that the scales are tipping. There is hope that the Farm Bill of 2012 could herald a tipping point that initiates a new era of farm policy that focuses on the nation's health rather than on huge profits for politically well-connected agricultural cartels.
In the meantime, farm-to-school advocates will continue to lead kids toward a more enlightened relationship with food.
"A big part of what we're doing is cultivating a new generation of environmental leaders," Liz Snyder says. "My hope is that showing our community and children what a beautiful, sustainable, locally grown food supply looks like can inspire folks to eat more locally, shift their lifestyle, and support polices and programs that lead us toward a more sustainable future."
Send a letter to the editor about this story.