January 3-9, 2007
home | metro silicon valley index | news | silicon valley | news article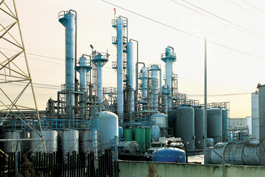 Photographs by Felipe Buitrago
Chemical warfare: Residents of East Palo Alto have been fighting this toxics plant for 15 years.
Silicon Valley's Dirty Secret
Are chemical burns and toxic leaks the price of high tech? East Palo Alto residents say the waste plant in their neighborhood is not just dangerous, but a clear-cut case of environmental racism.
By Raj Jayadev
FROILAN Chan-Liongco didn't hear the explosion that incinerated his clothes and left him with second and third degree burns on the lower part of his body. As a welder at Romic Environmental Technologies' hazardous waste recycling facility in East Palo Alto for 16 years, he'd seen his fair share of chemical fires at work, but he never thought he'd be on the receiving end of one.
His 11-day hospital stay after the explosion last March wasn't the end of the story. The company's negligent handling of his injury led him to resign in indignation. After months of recovery, Chan-Liongco feels burned in more ways than one.
And he's not alone. For the past 15 years, Romic has been embroiled in a fists-up fight with residents of East Palo Alto, who claim the company has been polluting their community with toxic waste and avoiding closure of its plant by holding regulatory agencies at bay.
One of those agencies, the Department of Toxic Substances Control (DTSC), slapped Romic with 28 violations from 1999 to 2004—everything from mislabeling chemicals to storing them in unauthorized places—resulting in a 2005 settlement of $849,500 in penalties. Another, the California Occupational Safety and Health Administration (CalOSHA), discovered 57 violations at the plant from 1988 to 2004, totaling $163,360 in fines.
Incredibly, Romic's DTSC permit expired in 1991; despite some extensions, it has been operating with a provisional permit for the last 11 years.
Nor has the company's East Palo Alto plant been assessed with an Environmental Impact Report to determine its environmental and health impact on the surrounding community. But after years of mounting pressure from local community groups, the DTSC is in the process of finalizing the EIR and investigating whether or not to approve Romic's operating permit.
Chan-Loingco's accident is one of the factors the agency will consider in its deliberations. Suddenly, the 64-year-old Filipino immigrant finds himself working with protesters he once considered a threat to his livelihood. And East Palo Alto residents who oppose the plant believe they've found the whistleblower whose testimony could shut it down for good.
High Tech's Dirty Laundry
Underneath the controversy over Romic is a larger story about one of Silicon Valley's least-talked-about exports. Toxic waste may not fit into this area's sleek, futuristic image, but much of Romic's business has come from the dirty side of high-tech manufacturing. The company specializes in industrial recycling of liquid waste—solvents, inks, acids and other dangerous chemicals that are involved in the production of computer parts. While Romic's director of Community Education and Government Relations, Chris Stampolis, would not say specifically who Romic's current customers are, he does say that the company has had "substantial" business from Silicon Valley firms. Its previous customers are a "Who's Who" of industry giants such as Hewlett Packard, Intel, and National Semiconductor, according to the Santa Clara Center for Occupational Safety and Health.
But the waste that brings in the business for Romic is the same waste that has local East Palo Alto residents worried.
"Romic feels that since it is located in a community of color that they don't have to abide by regulations," says Annie Loya, an organizer for Youth United for Community Action, an environmental justice organization based in East Palo Alto. "But also it is the regulatory system that is failing. The result is that there is a blind eye cast upon how businesses operate in communities like ours."
A group like YUCA can be a public relations nightmare for companies embroiled in controversy. At a time when some teenagers are busy Myspacing themselves into cybercomas, these East Palo Alto youth spend their evenings sifting through almost unintelligible state regulatory reports. They have been at it for over 12 years, and have waged an effective campaign, drawing other community organizations, legislators (most recently U.S. Rep. Anna Eshoo) and environmental advocates into their fight.
Loya—a veteran YUCA activist at 22, having worked with the group since she was 13—says the chemicals Romic works with are polluting the city and increasing the risk of cancer and asthma. Her group even went so far as to conduct their own health survey of over 700 East Palo Alto residents; they say one out of every four 13-to-21-year-olds now have asthma, and that they found cancer rates for all ages to be well above the rest of San Mateo County. They believe it is no coincidence that Romic's plant is allowed to continue operating in an area whose residents are primarily people of color, 97 percent according to the last census.
In 1995, YUCA's cause got some media attention after the injury of Rodrigo Cruz, also a Filipino immigrant, who suffered permanent brain damage while trying to clean out a tanker. According to CalOSHA reports and depositions, duct tape had been wrapped around the coupling connecting the air hoses and the breathing apparatus, which resulted in oxygen deprivation once Cruz was inside the tanker. Romic fought Cruz's worker's compensation insurance claim, but eventually was forced to settle with Cruz. Romic was hit with 25 citations from CalOSHA, including failure to provide adequate breathing equipment, and "failing to provide a way to rescue" Cruz from the tank.
YUCA organizers say there are some telling parallels between the incidents with Cruz and Chan-Liongco, which point to bigger systematic problems.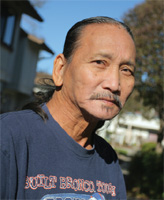 Burned: Froilan Chan-Liongco was a welder at Romic's plant for 17 years, until a chemical explosion left him with serious burns. Now he's working with an activist group to close the East Palo Alto facility.
Tragedy of Errors
Sixty-four-year-old Chan-Liongco has trouble sitting for long periods of time since his injury. He received burns on his buttocks and upper-back-leg areas from the explosion. He shifts in his seat as he tells the story in his Union City apartment.
"I don't know why it happened," he says. "I had worked on five tanks the same way with no explosion just before tank 104."
Romic has over 100 tanks containing mostly flammable or combustible liquid, according to Chan-Liongco's OSHA report. The last tank, which had previously contained solvent-contaminated wastewater, was the one that ignited as he was cutting a hole on the top. He had conducted all the required safety precautions, but there was one reading that had raised his suspicion before the accident.
"I noticed the CO (carbon monoxide) levels went up to 45 ppm [parts per million], so I went to our safety manager, Eric Fuller, to see what I should do. He said to just go ahead, that it was safe." After the go-ahead, according to the OSHA report, Chan-Liongco then climbed back up on top of the 26-foot-high, 12,000 gallon steel tanker to begin his work.
As soon as Chan-Liongco brought his lit torch to the tank, the explosion rocked him back. He was trapped, strapped by his harness to the tank itself.
"I felt my body burning, and saw my work clothes burned off," says Chan-Liongco. Willis Ulam, another Romic employee, rushed to shut off the oxygen and acetylene valves. Chan-Liongco says he heard a number of workers yelling to call 911. But this is where an unexpected accident turned even more bizarre when his manager decided not to call 911.
Chan-Liongco says he then went to the locker room, where another worker gave him some underwear and he put on his street clothes. While changing, Chan-Liongco says he heard another manager, Chris Erickson, ask Fuller, "Are we calling 911?" to which Fuller replied, "No, we are under control."
According to Chan-Liongco, he was instructed to wait in the lobby by Fuller, where he sat for close to two hours.
"I remember how long the time was because I couldn't really even sit because of the pain, and wanted to go to the hospital already," says Chan-Liongco.
In a phone interview, Mary Kilgo, the plant's director of operations, denied that Chan-Loingco waited in the Romic lobby at all, saying that "he must have meant the hospital lobby," and that he was taken to the hospital immediately. At a press conference, Stampolis, who was not there at the time of the incident, also stated that Chan-Loingco was taken "straight to Stanford," but in a later phone interview he did not dispute that Chan-Liongco waited in the lobby, saying that "he was taken to the hospital well within an hour." Fuller is no longer with the company and could not be reached for this story.
Chan-Liongco says he remembers asking himself, "Why are we waiting here?"
"I'm thinking, I could have almost been dead now, and was surprised they didn't call 911," he says.
When asked why he thinks Romic did not call 911, or at least request an ambulance, Chan-Liongco pauses, leans forward and says, "I think they were trying to cover their ... you know."
Fuller then drove Chan-Liongco in the company car to a hospital without a Burn Unit—Stanford Medical Center. Unable to receive treatment there, Chan-Liongco was put on morphine and an ambulance took him to Santa Clara Valley Medical Center.
According to OSHA compliance officer Vajie Motiafard, Romic should have known which hospital to go to, because they'd made the same mistake two years earlier.
"The employer found out in May 2004, when there was another burn incident that had to be transferred to Santa Clara Valley Medical Center," says Motiafard in her investigative report. In the 2004 incident, Romic employee Patrick Samson was burned on his legs and left arm while cleaning a tanker.
In all, from the time of the incident, it took over six hours for Chan-Liongco to receive the needed medical attention.
The Aftermath
As soon as Chan-Loingco got home from his 11-day hospital stay, he started looking for help.
"I didn't know who to call. I wanted to talk to a lawyer, but I didn't know anybody," he says.
He eventually found Alex Bravo of Sacramento and Bert Vega of Vallejo, both Tagalog-speaking attorneys. Together, they are filing a willful-misconduct claim against Romic. Chan-Liongco returned to the East Palo Alto plant one last time in August to submit his resignation letter.
In November 2006, Chan-Liongco got a call from YUCA organizers.
"We had heard about Froilan from a community member, and just wanted to support, but ended up really finding a friend in him," says Loya. Although Chan-Liongco and Loya had never met, chances are they had seen each other while Froilan was working at Romic.
"I remember seeing the protesters outside, but we were always told to not pay attention to them and drive right by them," says Chan-Liongco.
Now, they're working together.
"He is direct evidence of the monster allowed to live in our backyard," says Loya.
Not only is YUCA concerned about the location of the East Palo Alto plant, it also sees a pattern in the placement of another Romic facility—its plant on the Gila River reservation in Arizona is just as controversial. YUCA has been working with a collective of mainly Indian elders called the Gila River Alliance for a Clean Environment from the reservation. Together, they have created an interracial (most YUCA youth are African-American and Latino, while Gila residents identify as indigenous) coalition of sorts, attending each other's rallies and meetings with regulatory agencies.
YUCA had been stepping up its fight against the East Palo Alto plant even before talking to Chan-Loingco. It clashed with the company in June, after a hazardous chemical accident at the East Palo Alto facility. In the late-night hours of June 6, a Romic tanker had a chemical leak that produced a vapor made up of 15 different chemicals. Police were forced to tell residents to stay indoors within a half-mile perimeter surrounding the plant. Romic claims the release did not affect residents, but community members, many of whom said they saw a large plume spanning over 200 yards coming from the facility, complained of skin, ear, and throat irritations and headaches after the release.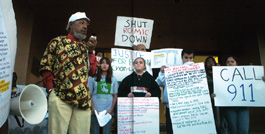 The young and the restless: Members of Youth United for Community Action have led the campaign against Romic's plant in East Palo Alto.
City Council Shift
The June leak, coupled with the Chan-Liongco incident, does not bode well for Romic. Even the East Palo Alto City Council, once a defender of the plant because of the tax revenue it brought in, recently voted unanimously to oppose Romic's permit to operate and sent a letter saying so to the DTSC. At a press conference on Dec. 19, Councilmember Peter Evans said, "DTSC is letting the company regulate itself, and Romic is taking advantage. We want Romic to leave—not tomorrow, but today." Another East Palo Alto councilmember, Ruben Abrica, says that he has gone so far as to try to meet with Romic's client companies to raise money to relocate the waste company somewhere else.
"When the day comes, we can all pitch in, get trucks and help them move out," Abrica says.
Angela Blanchette, spokeswoman for the DTSC, has been very busy lately as community groups like YUCA begin to target the regulatory agency's lack of action. Once of YUCA's most recent tactics was to send the DTSC office a "Deny the Permit" teddy bear handmade by one of the member's mothers.
When asked why the permit decision has not been made yet, Blanchette says, "The decision is temporarily on hold in order to conduct the investigations required that may have an impact on the decision."
The DTSC told YUCA organizers that it will release a new timeline for the permit decision at the end of January. And while Romic waits for the decision, it is determining what its course of action will be in regard to Chan-Liongco and OSHA. The company recently put in its "right to appeal," which safeguards its ability to challenge the penalties imposed on it after the accident.
Chan-Loingco is still recuperating from his injuries, and will have his hands full with the lawyers, courts and regulatory agencies over the next year. While the constant activity seems to have given him some peace, one cannot help but wonder while he lifts his shirt to show his wounds: What if the DTSC had made its decision on the permit to operate in a timely manner? Would Chan-Loingco have these burns? Would the residents of East Palo Alto have been witness to a chemical plume in their neighborhood in June? And will the lowest-income parts of Silicon Valley continue to be the dumping ground for high tech's dirtiest secrets?
Send a letter to the editor about this story.