01.07.09
home | metro silicon valley index | features | silicon valley | feature story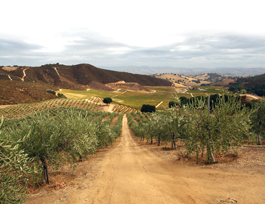 In the Red
Once the money flowed freely, but economic struggles and shrinking distribution are becoming a huge buzz killfor this region's acclaimed wine country
By Jessica Fromm
Photos by Felipe Buitrago
RIDING HIGH on a surging economy, the outlook for Calera Wine Company never looked better then it did in the boom of the late 1990s. Vineyards were in vogue. Josh Jensen, who had been producing internationally recognized pinot noir in the Gavilan Mountains outside Hollister since the 1970s, had finally gained a reputation as one of the premier winemakers in Northern California. Thousands of new customers were flooding in, spending tons of tech money on the high-quality varietals Calera was producing.
It was a culture of 25-year-old multi-millionaires learning to enjoy the good life, and Jensen was reaping the benefits, expanding his brand and his business. But when the dotcom bubble burst in 2001, Calera, along with the rest of the California wine industry, hit a brick wall.
Sitting in his immaculate, modern office perched in the hills between Cienega Valley and his Mt. Harlan vineyards, Jensen recalls upgrading from a construction trailer to these posh surroundings—right before everything imploded.
"We built this before the stock market went to all hell in 2001," he recalls. "Fortunately, I guess, we got a nice office out of it."
When the market went south, tasting rooms around California were suddenly empty. Small California wineries were on their knees.
"The recession that started in 2001 was just brutal for wineries," Jensen says. "People basically stopped buying wine."
During that recession, several venerable California wineries, like Deloach Vineyards and Louis M. Martini, went bankrupt, leading to quick-and-dirty sales and absorption by big conglomerates like Gallo.
"It was a meltdown," Jensen says. "It was a very tough time. I was scrambling. I said to myself, 'You know, I'm never going through this again.' It put the fear of God in me."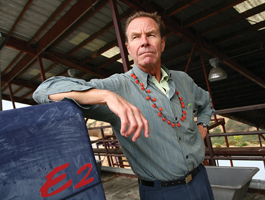 POUR ECONOMY: Calera Wine Company owner Josh Jensen, decked in Halloween beads. He says the small size of his operation can have some advantages in a recession.
Just seven years later, another economic downward spiral has hit California's wine industry, and small wineries, especially new ones, are working hard to stay afloat. With restaurant sales slowing, distributors shrinking and costs going up, smaller, quality-focused wineries, like those located in the hills surrounding Silicon Valley and up in the Santa Cruz Mountains, are caught in an even bigger economic downturn than the one they survived just a few years ago.
Robert H. Smiley, noted wine economist and director of wine industry studies at the graduate School of Management at UC-Davis, sees California's celebrated boutique wineries—especially the newer ones—facing mounting challenges in today's economy.
"I do a survey of somewhat larger and more established wineries, and one of them made the statement to me this year, 'I'm sure glad I'm not a small winery starting up.' It's just because of the hits, the combination of the distributor challenge, and the timing of the difficulties of the financial sector."
Ellie Patterson, co-owner of Mount Eden Vineyards in Saratoga, says she has seen the effects.
"It's defiantly more competitive," she says. "I had a broker, who sells in San Francisco, and he basically said, 'I'm starving out here.' I think there are a lot of buying freezes going on."
Axel Borg, also of UC-Davis, agrees that times have gotten much tougher in the wine industry. "These guys, especially the smaller wineries, they're right on the edge financially. The fact that any of these guys are succeeding is remarkable to me."
Think Global, Drink Local
Now home to more than 70 small, family-owned wineries, the Santa Cruz Mountains Viticultural Appellation has grown dramatically in recent years. It was recognized as its own appellation, or American Viticultural Area (AVA), in 1981. Stretching from Mount Madonna, in the hills above Gilroy, all the way to Half Moon Bay, the region is known for its highly concentrated fruit, and the wineries have built a reputation for their handcrafted wines.
The nation's top wine producer by a long shot, California produces 90 percent of all wine in the United States. Its 2,687 wineries earned $51.8 billion in 2007, and generated millions in wine tourism. Still, all the quality product in the world can't make people buy luxury goods like wine when the economy is bust.
Karen Hibble, co-executive director of the Santa Cruz Mountains Winegrowers Association, says the bad economic news creates a kind of vicious cycle.
"When all you read is bad news, it causes people, even people who are still employed, to feel like 'Oh dear, I'd better stay home just in case.' That has a very bad effect on everything," she says. "We're trying to encourage people to buy locally in their own communities, to help support their local businesses, wineries, restaurants, stores, that sort of thing."
To Hibble, buying Santa Cruz Mountain wine is as much an ethical choice as it is a financial decision for Silicon Valley residents. She fears that with all the talk of doom-and-gloom, consumers who used to purchase local wines are now opting to buy cheap "plonk" at supermarkets and big box stores.
Her association is trying to get customers to understand the importance of supporting regional wineries. The challenge, she says, is "getting the local people to understand that if you go to Costco, or you go to Trader Joe's and you buy a Two-Buck Chuck, what you're saying is that agriculture and wine growing in your own region aren't important to you."
Hibble says what makes wine-growing regions like the Santa Cruz Mountains a destination is the personal touch. To show that stuff off, the Association will host its 15th annual Winter Passport Weekend on Jan. 17 and 18, bringing people out to the vineyards to meet the winemakers and get a real taste of the place.
"The public seems to enjoy getting to know the different people who make the wines," she says. "We have a lot of hands-on winemakers. They can go to any of our wineries and see the grapes, and see wine being produced."
Randall Grahm of Bonny Doon Vineyard, a man celebrated for both his talents as a winemaker and for his marketing savvy, says he's experienced some significant hurt recently. He has even had to switch his selling strategy.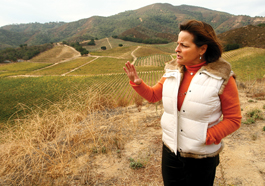 TASTE OF THE VALLEY: Jaime Nunn, owner of Pietra Santa Winery, says the geology of the Cienega Valley contributes to the uniqueness of the wine produced there.
"He or she who claims there is no significant slow-down is basically not telling the truth," Grahm says. "Everyone is impacted. Certainly restaurant business is significantly slower, and half of our business is with restaurants. It's tough out there, it's really tough.
"Getting out and selling direct to consumers—that aspect we're really focusing on. The closer you can get to your end consumer, I think, these days, the better. The less diluted your message becomes, the more intimate that connection is, and the more long-lasting it is."
Grahm is more worried now then he was after the dotcom bubble burst, because the wine industry and the world have changed so much so fast.
"I have to say that this particular downturn is more frightening to me, for a number of reasons," he says. "For one, the market is just far more competitive then it was 15 years ago. And, there's just more uncertainty. Maybe there was more naiveté back then, we just didn't imagine things so catastrophic. But today there's a lot more negativity out there.
"It's just a little bit like a wild bronco right now, we're just not clear exactly where it's going."
Going Sideways
In recent months, wine tourism in the Santa Cruz Mountains, as well as Hollister and the wider Bay Area, has slowed down significantly, and accordingly, direct retail sales are down.
"We've definitely seen a drop in traffic," says Jaime Nunn, owner of Pietra Santa Winery, located down Cienega Road from Calera's offices in Hollister. Nunn and her family purchased Pietra Santa in 2005. Though her family had been farming in the Bay Area for almost 50 years, Nunn admits that trying to run a successful winery has presented some surprising challenges.
"It's such an expensive business," she says. "Its very labor intensive and very cash intensive. It's also highly regulated, which creates many layers of bureaucracy you have to work through.
"I think for us, being so remote, it's been even harder."
Located smack dab on top of the San Andreas Fault, Hollister's Cienega Valley is known for its rugged terrain and rich limestone deposits. Tucked away in the Gavilan Hills, the area's vineyards thrive in microclimates warmed by the morning sun and cooled by ocean winds from nearby Monterey. Cienega Valley enjoys a lengthy growing season and moderate temperatures, ideal for producing premium wines.
Split between two moving tectonic plates, the valley also boasts some fascinating geologic features that wine growers believe add special characteristics to wine produced in the area.
"All that shaking has done a couple of things," says Nunn. "We have a lot of very interesting mineral contents to the soil, which of course gives some very interesting flavors to the wine. The rockiness, the limestone and the shale that's in our soil, that all stems from being on the San Andreas Fault as well. So, it adds a lot of good characteristics to our wine here."
Wineries in the Cienega Valley banned together after the dotcom bust, and formed the San Benito Winegrowers Association. In the shadow of already well-known wine regions like the Santa Cruz Mountains, Hollister wanted to draw attention and tourism to the area.
"There's a sense that a rising tide is going to raise all ships," Jensen says.
The San Benito Winegrowers Association's biggest accomplishment has been the institution of its own Passport Weekend, similar to the one in Santa Cruz. Every May, wine growers go all out, holding banquets, events and open houses to show off their vineyards and wares. The 2008 passport weekend drew more than 800 people.
The Winegrowers Association's efforts helped Hollister become recognized as a Bay Area wine growing region, greatly increasing wine-tasting traffic to the Cienega Valley. Yet, business has been down substantially in 2008, and now the area's wine growers are worried.
Though Josh Jensen notes that the Winegrowers Association played a part in helping Cienega Valley wineries get back on their feet, he credits a very different event as the saving grace of both his business and the California wine industry.
"Believe it or not, there was an enormous event that really ended the recession and very quickly brought good times to our business, and that was the release of the movie Sideways," Jensen says. The quirky comedy, released in October of 2004, was a love song to the pinot noir grape—a varietal that flourishes in Jensen's neighborhood.
Four years later, pinot noir still reigns at the supermarket and in the tasting rooms. In 2008, red wine outsold white wine, a trend that has continued since 2006. Before that, red wine hadn't outsold white wine since 1976.
"The Sideways effect has really carried on for quite a while," says Bill Cooper, owner of Cooper-Garrod Estate Vineyards in Saratoga. "It got people saying, 'Wow, this really is sort of fun, I enjoy wine and food and friends.'"
Statistics show that following the film's release, sales of pinot noir went up by more than 50 percent. Then they went up another 40 percent or better. "The economy was getting stronger, so it isn't 100 percent due to Sideways," Jensen says. "But it's probably at least 90 percent due to the movie."
To Ashley DuBois, director of operations and assistant winemaker at Black Ridge Vineyards in Los Gatos, wine business is about being at the right place at the right time, and the surge that Sideways caused was one of those big timely trends.
"Just like the economy now, there's ups and downs in every type of wine and the type of grape you plant," DuBois says.
Right now, Black Ridge's timing appears to have been unfortunate.
"We're a fairly new winery," DuBois says. "We've only been out on market for a year. So, the problem for us hasn't been getting placement at retailers, its actually been getting the customer to experiment and purchase a high end bottle of wine."
"We're one of the most boutique wineries in the Santa Cruz Mountains, so it's been hard having the customer take that leap and try something new. They like to stick with things that they already know."
Glass Ceilings
According to Smiley, another thing affecting the industry is the shrinking number of wine distributors in the last few years. Large California wine markets like Sacramento and San Francisco are now only served by two or three large distributors. The challenge for small wineries is getting their wines picked up and sold, because distributors carry thousands of brands and aren't necessarily interested in acquiring new ones.
"It used to be very few wineries and a lot of distributors to get your stuff out," says Bill Cooper of Cooper-Garrod. "Now there are just two or three distributors, and they divide up the state. If you've got big distribution, they'll get in there and talk to you. But they don't talk to little guys—they couldn't care less.
"They want to protect their monopoly, and I can't fault them for that. But, I also can't think they're really being fair about it."
Patterson said that she's also seen a consolidation of wine distributors within the last few years, and that's why Mount Eden Vineyards tries to work with smaller ones whenever it can.
Richard Alfaro of Alfaro Family Vineyards & Winery in Corralitos, agrees.
"The thing about the big distributors is that a little company like mine would get lost in their portfolio of wines, because we're so tiny," Alfaro says. "I can see some companies having issues with that."
At Black Ridge Vineyards, where current releases range in price from their $25 2007 Viognier to $49 2006 San Andreas Red, keeping up with bargain-barrel, jug wine makers presents an extra challenge in the recession.
"People that go into a wine store that usually buy a $25 bottle of wine are now buying $4 to $5 bottles of wine," DuBois says. "That's why in order for these distributors to stay in business, they need to carry some of the somewhat lower end brands."
Nunn acknowledges that trying to build a brand for her small winery in today's conditions has been an uphill battle. With cutbacks from distributors, Pietra Santa has had to spend ever-increasing amounts of its own funds on advertising and marketing, just to keep up.
"We just don't have enough money to make enough impact, so the bulk of our dollars are public relations oriented. ...We can't really compete with Napa from a tourism standpoint, but we're trying to support people who are selling our wine on a retail level.
"This is a beautiful place, a little hidden gem, and it requires some effort to get here."
"It's challenging," UC-Davis' Smiley says, "Because some of the costs that [wineries] would normally cut would be marketing costs, and if they cut marketing costs they're not going to get represented by anybody. So, they are doing what they can themselves. Their own marketing, their own events, not using any hired help or contracted help.
"They're working very hard to get their product out at locations they can deliver to personally, because they can't get distribution. So, they'll go around in their pickup truck and drop off cases at the local restaurants."
Rosé-Colored Glasses
Looking out at his spectacular view of the Diablo range, Josh Jensen says that he learned seven years ago not to put all his eggs in one basket. He believes this knowledge will help Calera stay alive as things get tougher in 2009.
"We sell to distributors in 46 of the 50 states, and to about 24 other countries. So we have a very broad distribution network, and that's a good thing in questionable economic times," Jensen says.
And he points out that not being a gigantic wine conglomerate does have its upsides in a challenging economy.
"If we made 5 million cases of wine, then it probably would affect us more," he says. "I'm a believer that small is beautiful; small wineries are smarter, are more flexible and nimble then these super monster corporations. They're like the Queen Mary: it takes three miles for them to turn around or stop. Small businesses can stop on a dime."
That might hold true for newer, even smaller wineries like Black Ridge.
"For us, we're really small—only about 1,000 cases—so we're actually doing better then a lot of the larger wineries are doing at our price point," DuBois says.
Still, for many other wineries, it's getting to be more of a struggle to keep things flowing.
"We're working twice as hard as we've ever worked to make the same amount of wine," Nunn says. "If I seem tired, I am. I'm really only 30, I just look 50."
Hibble says the future of local wineries rests on community support.
"If you stop drinking, I'm worried," she says.
Cooper says he's confident that the local wine industry will never be completely crushed.
"As long as civilization has been around, wine has been around. It's just that the United States has had a few fits and starts," he says. "We're doing our best by providing a service to keep our valley happy, and so that people have something to see and do."
Jensen has his own uniquely optimistic perspective: "If our sales slow down more, I think our wines will just be patiently ageing and getting better in the bottle."
Send a letter to the editor about this story.