01.07.09
home | metro silicon valley index | features | silicon valley | feature story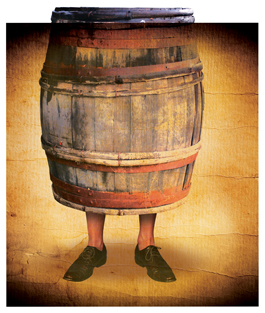 Support Your Local Winery
How local drinkers help local vintners stay in business
RICARDO AND LINDA RIVERA, owners of D'VINE JAZZ & WINE in Morgan Hill, recently attended a "super Tuscan" party. A group of their wine-enthusiast friends  had just come back from Tuscany bearing bottles, and wanted to celebrate with a blind tasting of the region's remarkable blends, along with a few locals. After all the bottles had been uncorked, votes were taken to see which one was the best of the bunch. To everyone's surprise, a Seducente from Gilroy's Solis Winery was the unanimous winner.
This is just one example of how local wine should not be underestimated, says Ricardo Rivera. When the Riveras opened up their brand new wine bar and shop in Morgan Hill last September, they made a conscious decision to feature as many great local wines as possible.
"We're in a region where we have some wonderful wines," he brags. "We're trying to reach people and say, 'Hey, this is another region you have to experience. It isn't just about Napa anymore.'"
KAREN HIBBLE, co-executive director of the SANTA CRUZ MOUNTAINS WINEGROWERS ASSOCIATION, believes it's important for local restaurants, wine bars, wine merchants and consumers to support the local wine industry.
"Winemakers live and work in the same communities as everybody else," she says. "With every bottle of wine they purchase, consumers should make supporting the local economy an important factor in their decision-making. What we're trying to do is educate and help the consumer to be aware that if you care about local agriculture, and you care about local winemakers, then you should buy local wine."
SETH SUTHERLAN, assistant manager of the renowned PLUMED HORSE restaurant in Saratoga, says that they choose to stock local wine not just because it helps native business, but because it's just plain good.
"The Santa Cruz Mountains are in our back yard, so they're a near and dear thing for us," he says. "But, the wines that we choose are world-class wines. They are, in our opinion, some of the best."
From Mount Eden Old Vine Reserve to Thomas Fogarty Blanc de Blanc Champagne, the Plumed Horse offers a wide variety of local vineyards' products for its decidedly sophisticated clientele.
"They are expecting not only a fantastic wine list," he says, "they're also expecting to have the best representations on that wine list. We have local wines on the list, and that might be surprising to some people, but not to us."
Local wines, he says, possess "wonderful characteristics that define what and where they're from."
PATRICK RUPERT of Saratoga's UNCORKED! wine shop and tasting room says that Santa Cruz Mountain wines have a personality all their own, very different from the "big, bold, over-the-top styles you get from Napa."
"Since the wineries here are so much smaller," he adds, "it's very important for retail shops to support them and keep them in business."
VINTAGE WINE MERCHANTS on Santana Row stocks wines from more than a dozen local producers. JOE CANNISTRACI sees his stock of local wine only going up as the quality and standards of local wine increase.
"Ridge Monte Bello, I could go as far to say that it is the most respected domestic wine by European wine critics," he reports. "It's one of the most famous American wines, much to the chagrin of Napa Valley producers. Around that, a bunch of smaller producers are trying to rise to the occasion."
Hibble hopes that local wines will continue to be part of local shoppers' lists.
"People should enjoy all the great things our area has to offer, and that includes great wine," she says. "We all have to work hard at maintaining our own economies. We have to matter to each other tremendously."
Uncorked!  14500 Big Basin Way,  Saratoga; 408.741.9000. Mon 4–8pm, Tue–Sat 11am–9pm, Sun 11am–6pm. www.uncorked-wines.com.
Plumed Horse  14555 Big Basin Way,  Saratoga; 408.867.4711. Mon–Sat 5:30–10pm. www.plumedhorse.com.
 D'Vine Jazz and Wine 775 Cochrane Road, Suite 100, Morgan Hill; 408.779.7755. Tue–Thu 5-10pm, Fri–Sat 5–midnight, Sun noon–6pm, closed Mon. www.dvinejazzandwine.com.
 Vintage Wine Merchants  Vintage Wine Merchants, 377 Santana Row, Suite 1135, San Jose; 408.260.1115. Mon–Wed 10am–9pm, Thu 10am–10pm, Fri–Sat 10am–11pm, Sun noon–8pm. www.vintagewinemerchants.com.
Send a letter to the editor about this story.