01.07.09
home | metro silicon valley index | features | silicon valley | sports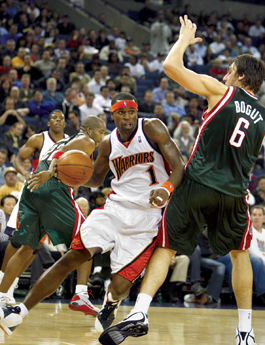 UPI Photo/Terry Schmitt
JACKED: Golden State's Stephen Jackson (center) drives against the Milwaukee Bucks' Andrew Bogut in a rare victory for the Warriors last month.
Altered State
By Felipe Buitrago
IT'S NO FUN being a bad team, even when ESPN calls you "the world's most entertaining bad team." That was even before the Warriors surrendered an unthinkable loss to the Thunder—only that team's third win of the season—and then to the Minnesota Timberwolves. You know it's bad when your home team beats a 26-4 (at the time) Boston Celtics team and nobody thinks it's a big deal. Stephen Jackson, basically the team's leader, was reportedly telling teammates it might be time for him to move on. Then he said that Baron Davis might want to come back to the Warriors, after the Clippers turned out to be even worse this year. Now it appears no one's going anywhere, but unfortunately neither is Golden State, with its record a disappointing  10-25, injuries a constant problem, tension in the front office and the heartbreaking near-misses with normalcy piling up.  Like the economy, no one seems to know when the Warriors will hit bottom and get back on track. Their biggest problem may be that former shining hope Monta Ellis remains in limbo, having injured himself fooling around on a moped, then lying about it and getting suspended without pay for 30 games in the process. Coach Don Nelson said last month he didn't expect to see Ellis fully rehabilitated until the end of January, and management has carefully avoided getting expectations up with any kind of a timetable for return. And yet, despite the fact that players accounting for 70 points per game were all injured at the same time, the team has still shown flashes of genuine game. Can they turn this into a rebuilding year in which they actually rebuild? Can things get any weirder in Warriorland?
Send a letter to the editor about this story.