01.09.08
home | metro silicon valley index | news | silicon valley | news article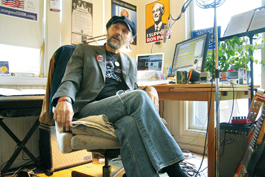 Photograph by Felipe Buitrago
DO RON RON: Steve Dore in his home recording studio, from which he has been spreading the gospel of Ron Paul with free songs that the candidate's supporters have turned into YouTube videos.
I Sing of Ron Paul
Willow Glen musician Steve Dore has taken up the outsider candidate's cause—and become a one-man YouTube revolution in the process
By Gary Singh
THE Bill of Rights scrolls across the screen while a textbook blues riff kicks in on an electronic piano. The slow sentimental opening lyrics—"Happy Birthday Dr. Ron Paul, to you/ I hope all of your dreams come true/ Sending love and best wishes for 72"—juxtapose themselves against a backdrop of Republican straw poll results in Alabama and screaming supporters waving signs. The video is kooky and surreal.
Willow Glen musician Steve Dore wrote the song for Paul's 72nd birthday last August, but he has no idea who assembled the accompanying video—only that the person's YouTube handle is gregalabama. It is only one example of how tracks from Dore's CD, Early Songs of the Great Ron Paul Revolution are spreading throughout the country to other supporters of Paul's 2008 presidential campaign, who then in turn make their own YouTube videos for them. The CD itself contains 10 songs, all completely performed by Dore and done with GarageBand on a Mac laptop.
"I posted the songs for free," he tells me, as we sit in his makeshift recording studio in the back corner of his kitchen. "There are 25 to 30 of these videos the last time I even vaguely checked. I have so many dear virtual friends right now. It's amazing. There's now a video for every single song on the CD."
In another, Dore's tune "House Call," a driving boogie woogie number, is laid over footage of Paul walking around and visiting people on the streets of Iowa. The chorus goes like this: "911, calling Dr. Ron Paul/ Our country is in need, of a health overhaul/ You inspire people, with hope for us all/ Dr. Paul, we need you, to make a presidential house call."
The popularity of the video for "Critical to Get Political" has made the song seem rather prophetic. "Youtube subscribers, bloggers and Myspace agree," Dore sings. "Internet discussion beats all on TV."
Dore is not technically involved with Paul's campaign, other than they know who he is and they support what he's doing by using his songs at rallies and to spread the word via the Internet. The campaign focuses on old-fashioned legwork, and they see Dore as one example of the many creative Ron Paul supporters out there.
"The grassroots operates apart from the campaign the way Dr. Paul advocates for a free market," explained Holly Clearman, the California state coordinator of Paul's campaign. "Things happen not from central planning, but from the creative action of individuals. That's what goes on in the grassroots of this campaign. Someone has a great idea and works with others to make it happen. Dr. Paul's message has inspired the kind of support most of us have never seen before, and that support unleashes creativity in people to get the word out."
Paul, of course, spent all of last year riding that unusual support like a tiger, pretty much blowing away everyone's expectations. A bizarre cross-section of Americans—left, right and sideways—have jumped onboard, from home-schoolers to aging Libertarians, all of whom apparently agree with his condemnations of the IRS, the Federal Reserve System and big government, as well as his all-out antiwar stance. On the flip side, haters on both the left and the right have launched smear campaigns against him, making for quite a sideshow.
Paul in the Family
Dore, 62, also plays piano for the San Jose/Morgan Hill–based Shane Dwight Blues Band. As we sat and talked, his passion and animated behavior were, admittedly, contagious. He waved his hands in the air to the rhythm of his speech and his eyes constantly bugged out of his head—not in a specimen-pinned-to-the-board way, but like an ex-hippie from the '60s who's finally found his political calling in Ron Paul. Campaign posters preside over his studio and a few Paul stickers grace his guitars. He says that Paul inspires almost everything he does and believes, whether it's abolishing the Federal Reserve and restoring the gold standard, ending America's perpetual military interventionism or just plain old peace and prosperity.
Someone's video for Dore's song "Hope for America" features an image of Ron Paul physically restoring the Constitution with a pair of cardiac jumpers, then a tombstone with the words, 'Habeas Corpus 1776–2006,' and then C-SPAN footage of Ron Paul criticizing Wall Street fatcats.
"I can't believe that I would write a song called 'Hope for America,'" Dore says. "That's the most presumptuous-sounding title for a song. But then I found out that people love this stuff and like the idea—that when they're home at night, or with their families, that their hopes and dreams really are, sort of, being reflected in this music."
Decked out in a Ron Paul shirt, a gray blazer, a slick fisherman's cap and a large silver medallion hanging from his neck, Dore tells me that for the first time in his life he's doing a cover tune, a version of "The Liberty Song," written by John Dikinson in 1768—pretty much the first patriotic American ballad, the one that gave us the line, 'By uniting we stand, by dividing we fall.'
"I took a few liberties with the words," he says, flipping through some lyric sheets. "I threw in a few 'Ron Pauls' here and there."
All Ron, All the Time
Dore says that after 45 years of playing, singing and song writing, everything in his life has now come to a magical union through the inspiration and influence of Ron Paul. Writing lyrics is no longer a struggle for him. "Since I began writing specifically for the Ron Paul Revolution in April of '07, I've written nothing else but Ron Paul tunes," he says. "The songs have rolled out of me consistently and each one has moved me to know they were saying something important. The message is now the focus. ... A perfect storm of creativity, purpose and fulfillment is blowing over me at a time in life I could never have imagined."
The only reservation Dore has is that he finds it hard resisting the temptation to go out on the road and perform at all the political rallies, which would mean temporarily bailing on the Shane Dwight Band, the gig that pays his salary.
"I've received requests from all over the country to perform at fundraisers and functions for Dr. Paul," he says. "The campaign, I think, has given up asking me because they know I have a day job. It's very difficult, because I would just love to go on the road and play for the choir. It would be the dream of any musician to have such a captive, enthusiastic and passionate audience. I joke that I will save it all and play at the inaugural ball."
But he begins, finishes and ends by reiterating that as he approaches his rocking-chair years, nothing has ever meant more than the stir he has created for the Ron Paul campaign.
"I wouldn't trade it away for anyone else," he tells me. "If could give all this up and go back and write songs for somebody else, I would never do it. Everything about how I'm involved with this campaign gives me chills. Even if it all ends tomorrow, which it won't."
Send a letter to the editor about this story.