01.16.08
home | metro silicon valley index | news | silicon valley | news article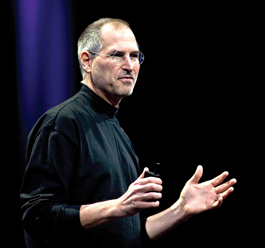 WHEN APPLE BITES BACK: Leaks about Apple's new products that appeared on the Think Secret fan website led to a lawsuit from Steve Jobs' company. Above: Jobs at last year's Macworld Expo. This year's event runs through the week.
Secret's Out
As Macworld Expo hits, there's something missing this year: the überfan whose inside information drove Steve Jobs nuts
By Colleen Watson
APPLE FANS weren't quite as prepared for this week's Macworld Expo as they've been in past years. That's because they didn't have Nick Ciarelli's website to look at.
Ciarelli was the brains behind Think Secret, the Apple insider site that broke the first news about the Mac Mini, the iPod Shuffle and the iWork productivity suite before they were unveiled at the 2005 Macworld Expo, and whose ability to find leaks in the company became the bane of Steve Jobs' media strategy.
The company drew flak for launching a lawsuit against Ciarelli's fansite, but five days before Christmas, Apple fanboys were brokenhearted to read that Think Secret, perhaps the most popular Apple rumor website, was closing down. The press release posted to the website was only one paragraph long:
"Apple and Think Secret have settled their lawsuit, reaching an agreement that results in a positive solution for both sides. As part of the confidential settlement, no sources were revealed and Think Secret will no longer be published. Nick Ciarelli, Think Secret's publisher, said, "I'm pleased to have reached this amicable settlement, and will now be able to move forward with my college studies and broader journalistic pursuits."
Ciarelli certainly didn't think it would end like this when he started the website in 1998—when he was 13 years old. "It wasn't a serious site at all, it was a hobby," says Ciarelli now of Think Secret's humble beginning. "And it was really just a way for me to both launch a site—it was my first website that I started—and also was a reflection of my enthusiasm for Apple products. I had used Macs my entire life. Certainly my first computer was a Mac."
What started out as a small website with few readers grew into something much larger—Ciarelli says it was at its height receiving millions of hits per month. He began to report not only on Apple news, but also rumors, and no one was able to figure out the identity of his Deep Throat. But the rise to fame also brought the site to the attention of Apple higher-ups, and in 2005 Apple brought an intellectual property suit against Think Secret, in an attempt to find out who was leaking information.
Think Secret fought back with a motion to dismiss the lawsuit under California's Anti-SLAPP (Strategic Lawsuits Against Public Participation) statute, a law designed to stop meritless lawsuits brought to muzzle free speech. A Think Secret press release at the time said, "Apple's lawsuit is a affront to the First Amendment, and an attempt to use Apple's economic power to intimidate small journalists." Ciarelli claimed in court filings that "if a publication such as the New York Times had published such information, it would be called good journalism; Apple never would have considered a lawsuit."'
The lawsuit also led to a lot of unexpected personal publicity. He had previously been known only as Nick dePlume, but the lawsuit outed Ciarelli as the publisher of the site. At the time, he was a freshman at Harvard.
"My parents knew that I ran the site and certainly people who knew me, but the vast majority of the media, the site readers or advertisers didn't know," says Ciarelli.
Ciarelli comes across like a pretty down-to-earth guy, easy to talk to. During high school, he ran track and cross-country and worked on the technical side of the spring play. Now in college he works on the Harvard Crimson, the school paper, and plans on graduating in June. After he started college, Ciarelli brought in freelancers and a third party advertising company to Think Secret, "so that the site didn't take up my entire life."
For almost three years, the legal fate of Think Secret hung in limbo. Apple never really pushed forward on their lawsuit. Think Secret continued to report on all things Apple and Apple continued to send cease and desist letters. The lawsuit came to an abrupt end when, on Dec. 20, Think Secret and Apple came to a settlement; Ciarelli never named names, but he did agree to stop publishing.
Many in the online world felt like the end of Think Secret was bad precedent for bloggers and online journalists. Business Week called it "a dark day for Internet journalism." But Ciarelli feels that overall Think Secret was a win for online journalists, "I think that Think Secret's defense of this lawsuit is something that reflects very positively of the ability of online journalists to assert their First Amendment rights," he says. "When Apple filed its lawsuit against Think Secret, there was an uproar in the E-community, the Electronic Frontier Foundation stepped in to find a lawyer for Think Secret, Terry Gross, so we wouldn't stand alone in fighting an Apple lawsuit. We filed an Anti-SLAPP motion to have the lawsuit dismissed. At that point Apple basically took no action to move the lawsuit forward. Our motion basically stopped them, and we think it was because Apple knew they were going to lose."
Apple declined to comment on this story, but Ciarelli says he's pleased with the settlement: "I've been ready to move on for some time, and now I have the opportunity to do so."
Looking toward the future, he doesn't know what he'll do for a second act. "I do remain interested in journalism, so that's certainly a strong possibility that I will follow that path. It's possible that I might launch a new startup. I don't know these are all possibilities," he says. "I haven't set any firm plans."
Send a letter to the editor about this story.