01.16.08
home | metro silicon valley index | features | silicon valley | sports news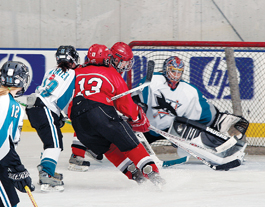 Photograph by Allen Roberts
SLAP SHOT: It's what you get when you ask a woman hockey player her age. Above: from the 2007 MLK Tournament, San Jose Jr. Sharks vs. the Pacific Steelers.
Hockey for Life
By Felipe Buitrago
The MLK Invitational Girl's/Women's Hockey Tournament will be held at the S.J. Sharks' training facility Jan. 18-21. Forty teams from 8 years of age to 20 and over from as far as Alaska will be competing in the tournament. Women's hockey has grown exponentially over the last six or six years, says Andrew Whitely, president of the San Jose Junior Girls' Sharks and Lady Sharks. "Hockey is a sport for life," and that couldn't be more true than when coaches realize that the moms watching their daughters play are also players themselves in B and C Divisions in the seniors' category. Now in its fifth year, the MLK Tournament also serves as a platform for those Pacific Division teams that want to go national, so watch out for the California Wave girls 20U team out of Huntington Beach. Formerly known as Cal Select, they have already won the tournament in '04, '05 and '07.

The FIFTH ANNUAL MLK INVITATIONAL GIRL'S/WOMEN'S HOCKEY TOURNAMENT happens Friday–Monday, Jan. 18–21, at Sharks Ice, 1500 S. 10th St., San Jose; free to spectators; 408.286.5426.
Send a letter to the editor about this story.