01.21.09
home | metro silicon valley index | features | silicon valley | feature story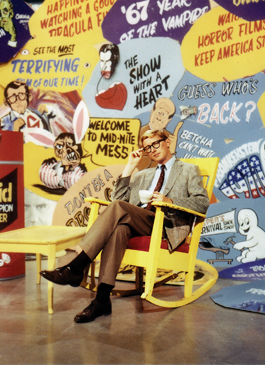 CREATURE FEATURES CHAIR MAN: Bob Wilkins on the set in his trademark rocking chair
Host Story
Bob Wilkins, of the legendary 'Creature Features' show, was more than just a horror host. He was the Bay Area's original cool geek.
By Steve Palopoli
Bob Wilkins sits in a yellow rocking chair on the set of Creature Features, the weekly show he hosts Saturday nights on the Bay Area's Channel 2. With his matching yellow shirt and tie underneath a light brown suit, he looks startlingly conservative. There is no monster makeup on his face, no costume, none of the trademark shtick one would expect from a TV horror host. He could almost be an executive for some low-rent button-down 1970s company.
And yet, with his thick glasses, his groovy haircut and his trademark cigar, he radiates cool. There's the slightest hint of a grin for a moment on his otherwise neutral face, like a prankster savoring the moment of anticipation.
At home, his fans recognize that little grin, and they are waiting for something unexpected, something different. He introduces himself and the show, and then begins to describe tonight's movie. It's all rather mundane. Could that flash of anarchist glee have been a red herring? Will there be no payoff delivered tonight?
Suddenly, he pauses. In the same deadpan tone, looking directly into the camera, he says: "Don't stay up late. It's not worth it."
Wilkins who died in Reno on Jan. 7, at the age of 76, of complications from Alzheimer's, had been retired from his job hosting Creature Features on Oakland's Channel 2 (KTVU) for 30 years. And yet his legacy as a Bay Area icon had only been cemented over the last decade or so.
Hundreds of fans around the country are pouring their memories of Wilkins into his official website, and his closest friends are prepping the recent Creature Features documentary, Keep America Strong! Watch Horror Films for DVD release next month.
From San Francisco to the East Bay to the South Bay, Wilkins will be remembered as one of the most beloved local television personalities ever. But there is another piece of his legacy that has yet gone unwritten.
Wilkins was also an iconoclast ahead of his time. In the early '70s, just a few dozen miles away from where the computer revolution was about to explode, Wilkins gave local mainstream culture its first look at geek chic.
He announced Star Trek conventions. He interviewed people who thought they were Martians. He decorated the studio windowsill behind him with skulls and movie-monster models, decades before techies throughout Silicon Valley would populate their cubicles with their coolest playthings.
And he attacked his movie-hosting deliveries not with a spooky voice or campy puns, but with brutal sarcasm.
Bob Wilkins was the coolest nerd in a region teeming with nerds who wanted to be cool.
"Bob was unique," says Mr. Lobo, a current horror host whose show Cinema Insomnia ran on San Jose's KTEH for three years, until 2007. "He was counterculture for his time. He was a person who was deliberately square, but he didn't care how he came off, so it came off as cool. He was the geek he wanted to be."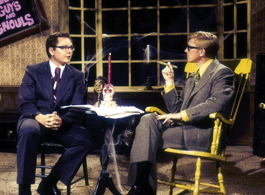 THEY CAME FROM CHANNEL 2: John Stanley and Wilkins, the two hosts of 'Creature Features.'
Wilkins didn't even really care about the films he was hosting. Unlike his Creature Features successor John Stanley, who carried on the show until 1984, he didn't have an encyclopedic knowledge of movies, or even a significant interest in horror. And yet that affected neither his delivery nor the fans' love for him.
"I don't think it mattered one way or the other," says Stanley. "I think it was Bob's attitude. Normally he had a lousy movie. And he would sit there, tongue in cheek, and he could talk about the movie, he could make jokes about political events happening, make satirical remarks about sponsors. And Bob could get away with that."
Not only did he get away with it, he made it one of the most memorable things about the show. For the worst films, he reserved the most brutal treatment: After announcing them at the top of the program, he would simply pull out a TV Guide and read aloud to his viewers what better programs they could be watching on other stations.
"Believe me, the advertisers were pissed when he first did that," says Scott Moon, a close friend of Wilkins' who oversees his website, bobwilkins.net. "They were like, 'We paid for this commercial time and this guy is saying this?' Well, then they saw the ratings, and they started taking him to lunch. He was their new best friend, because the ratings were through the roof."
Too Cool for Ghoul
On Sept. 10, 1966, Wilkins hosted his first movie on Channel 3: 1963's Attack of the Mushroom People, a mutilated and atrociously dubbed version of a Japanese fantasy film. It was an all-too-prophetic indication of the material he'd be working with for the next decade, although his programmers would at least have access to some gems, like the library of early Universal horror films. Creature Features was how many kids in the Bay Area discovered classics like James Whale's Frankenstein and Tod Browning's Dracula.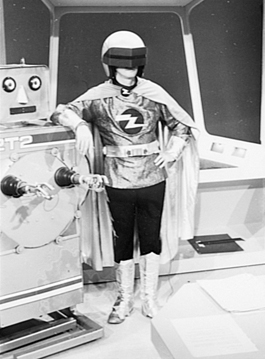 COSTUME CAPER: Wilkins' only stint as a host with a costume was Captain Cosmic in the late '70s.
Wilkins didn't get the job because of a broadcasting background, or because he'd had any experience on television at all. He got it because of a speech he made at the going away party for the station's sportscaster. He had impeccable comic timing and smart delivery, and management thought they smelled talent. With that fungal September debut, Wilkins became host of the late-night Saturday movie show Seven Arts Theater, named such for reasons mercifully lost to the ages.
"What people don't realize is that they didn't pay him for doing that," says Moon. "He was paid to be the advertising person. The time he was on the air, hosting the horror movies, he wasn't being paid for that. Channel 40 came along about 1970 and offered him, I'm sure it wasn't an incredible amount, but they offered him something to host the movies every week. And Channel 3 didn't want to match it. They said, 'Fine, whatever, we don't care." But they cared afterward, because after Bob moved his show to Channel 40, the ratings at Channel 3 sank like a rock in a pond. He took his audience with him."
With that, The Bob Wilkins Horror Show was born in 1970. It ran concurrently with Channel 2's Creature Features after he started on that show a year later. In fact, he actually hosted the Channel 40 show longer, until 1981—two years after he turned Creature Features over to Stanley.
Museum of Horrors
And yet, Creature Features is the Wilkins legacy that has endured. For one thing, it had a huge audience, which wasn't always true of monster-movie shows such as his. Such hosts had been building their fiefdoms all over the country since 1957, when horror first became huge on TV. Technically, the turning point may have been 1956, when, according to author Elena M. Watson in Television Horror Movie Hosts, a showing of King Kong was watched by 90 percent of the existing television audience in the country. Execs went nuts, and Screen Gems in particular started something big when they packaged 52 of the films from Universal's horror archives—including the aforementioned Frankenstein and Dracula, as well as plenty of schlock—in a television package called Shock! Stations ate it up, since it was enormously popular and filled a big programming hole, leading to the Son of Shock! package.
The first horror host had debuted a few years before Shock!, when Maila Nurmi took the name Vampira and began hosting monster movies on Los Angeles' KABC. Lasting a little over a year, from 1954 to 1955, she would eventually be better known for appearing in Ed Wood's legendary bad movie Plan Nine From Outer Space, and be immortalized in song by horror-punkers the Misfits.
But the flood of movies into the television market in 1957 brought the need for someone to introduce them, and that brought the crazies out of the woodwork. Horror hosts were everywhere; most famously Zacherley in Philadelphia and Cleveland's Ghoulardi.
Most of them wore some kind of campy get-up, with vampires leading the field by at least 2-to-1. The Bay Area even had horror hosts before Wilkins, including John Barclay of Channel 4 (KRON)'s Nightmare Theater, who wore a mask on the back of his head and broadcast from a set made up like a mummy's tomb.
King of the Geeks
Wilkins would have none of that. He brought a style to his shows that almost defies description. He was proper but laid-back, straight-laced but with the edge of a misfit. His delivery and interviewing technique were never hostile. Given to improv and ad libs, he seemed smarter than what was going on around him, but bemused by it all. It was truly a sort of revenge of the nerd, although ironically it was movie experts like Stanley and Channel 2's reviewer Bob Shaw who kept Wilkins up on the movies and the goings-on in the emerging geek culture.
And Wilkins championed it, not just in one oft-quoted quip. "I think horror films keep our country strong," he famously said. "First of all, it keeps people in on Saturday nights. Even though the rate of alcoholism has gone up since the show has come on, at least the people are drinking at home."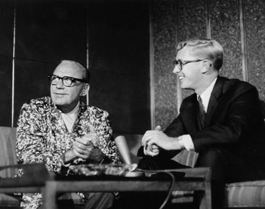 LOVING SHOULDERS: Wilkins with Jack Benny.
In fact, Wilkins emceed the very first Star Trek convention in San Francisco, in the mid-'70s. The series' stars, including James Doohan, George Takei and Walter Koening, showed up at Lincoln High School for it. Someone else who was there was Tom Wyrsch, who would later be producer of the Creature Features documentary and author of The Bob Wilkins Scrapbook.
A longtime friend of both Wilkins and Stanley, Wyrsch informally managed their personal appearances after Creature Features, produced a follow-up Stanley scrapbook and became the chief Creature Features archivist. He credits Wilkins with shepherding the emergence of science-fiction culture into the Bay Area.
"The convention as we know it today was brand-spanking new back in those days," Wyrsch says. "You wouldn't have known that stuff was even coming if Bob hadn't have told you. He kept everybody updated on every event going on in science fiction, whether it was an author who was signing books; a new movie playing that he was going to host.
"Every Saturday night he would announce one or two different events that were going on in the Bay Area. And there was no other way of knowing. Many people would have missed those things if they hadn't tuned into the show. That was a really important aspect of what Bob did. It was huge. And John carried on that tradition."
Wilkins did try one stint as a TV host in a costume. After the success of Star Wars in 1977, Channel 2 wanted a kid-oriented science fiction show, so Wilkins dressed up for three years as Captain Cosmic, showing clips from Japanese shows like Ultraman and monster movies like Godzilla. Not everyone was a fan of the new costuming, including his wife, Sally Wilkins.
"On Bob's last show on Channel 40, he brought his family on," says Moon. "And the producer of the show was asking questions of Sally, and they were talking about Captain Cosmic. The producer said 'So, Sally, wasn't there an agreement you had with Bob about his appearances?' And she said, 'Bob and I had an understanding that if he ever appeared in public in that silly outfit, we were instantly divorced.'"
Seeing is Believing
Among the things Wilkins' fans remember today is how natural he seemed onscreen. It wasn't an act; he was one of those rare television performers whose genuine personality seemed to come through the airwaves.
"Bob was no different that what you saw onscreen," remembers Wyrsch. "The thing I think everyone can cherish about the fact that they were such huge fans of Bob is that sometimes you feel you know somebody because you've watched them so many times on TV, but you realize that you really don't. But with Bob, people can feel like they did, because that was really him. When they watch the old shows, they're seeing the real guy."
Moon's website has been inundated with emails from fans since Wilkins' death, and he sees a lot of the same sentiments coming through again and again.
"There's a couple of different themes I see in almost all the email, and I've gotten hundreds of them from all over the country," he says. "One theme is a family thing, where one of the most special memories of their childhood was with their brothers or sisters, or 'I watched it with my dad, or my best friend, and we always looked forward to Saturday night and watching monster movies with Bob Wilkins.' There's this incredible sense of loss. They'd say a huge part of childhood has just died. People are really sad."
But Moon is also seeing evidence of the mark Wilkins made on popular culture.
"The other thing I see is that there are so many people in the entertainment business—whether it's special effects, producing, writing, acting, whatever capacity—whose path was formed by watching Bob. Watching those bad movies. They credit Bob: 'I wouldn't be doing what I'm doing now if it weren't for Bob Wilkins.' There's so many emails like that."
Mr. Lobo isn't surprised. "Bob's legacy is that he encouraged people to pursue their dreams," he says. "He always had local people on showing off their talent. Even George Lucas used to watch Bob in Modesto, and he was encouraged by that. He is your connection to your potential and your own dreams. He encouraged me."
The Horror Host Revival
When Mr. Lobo talks about Wilkins as a measure of potential, he means it quite literally, since what Wilkins encouraged him to do was become a horror host. When a revival of interest in Wilkins and Creature Features began kicking in around 1995, there were two now rather famous live shows held at Harlow's in Sacramento. They were planned as release parties for Moon's science-fiction magazine Planet X—Moon had tracked down Wilkins for an interview in the very first issue. Wilkins told Moon that if there was a party for the magazine's release, he would come down and host it. It turned into what Moon describes as "basically a live Creature Features show," with Wilkins' rocking chair set up onstage, psychotronic movies and guest interviews.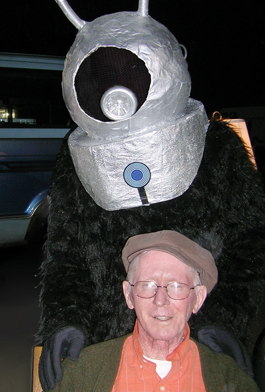 MONSTER FAREWELL: Wilkins' last public appearance, on Halloween in 2007. Scott Moon is in the robot costume.
"Bob wasn't really doing a lot of personal appearances at that point," says Moon. "Nobody had heard from him for a long time until the interview in Planet X came out. And he hadn't done any live appearances in years until he did this show in Sacramento. That kind of got the ball rolling."
Those were also the shows at which Mr. Lobo ended up writing some comedic bits with Wilkins. When Wilkins suggested he might be a natural for hosting, Lobo remembers he told him, "They don't even do shows like that anymore. I don't think that's even on the table for me."
And yet, by 2001, Lobo was working at Channel 10 (KXTV) in Sacramento. There was a 3am movie that ran 15 minutes short, and he was given a shot at hosting.
"That was the beginning of Cinema Insomnia," he says. "We were getting awesome ratings. There were like 22,000 homes watching this show at 3 in the morning."
Mr. Lobo parlayed that start into syndication, running in 30 or so small markets. In 2004, he hooked up with San Jose's KTEH.
"KTEH was running sci-fi and horror movies at midnight on Saturdays and Sunday. That was the only station showing any science fiction or horror commitment," he says.
Mr. Lobo's show ran here until last year, when the station merged with KQED and they replaced all the overnight programming with repeats of their prime time programming. But he says in that time he saw how much of an impact Wilkins had on the South Bay.
"Every week I got a letter from someone from San Jose who had watched Creature Features and felt that my show reminded them of it," he says. "That was the best compliment ever."
Certainly one of the elements that might have jogged their memory was Mr. Lobo's on-set nod to Bob: a rocking chair.
He isn't the only one taking a shot at a 21st-century horror host revival. There are new personalities all over the country, and some veterans such as "The Ghoul" from Ohio are still around or making a comeback.
Besides Keep America Strong! Watch Horror Films, the Creature Features film, there's also a documentary from 2006 called American Scary that examines the horror-host phenomenon, and a tape-trading network called The Horror Host Underground (www.horrorhosts.com) seeks to booster hosts in public-access markets all over the country.
"Definitely there was this swell in the late '90s," says Mr. Lobo. "Basically the last 10 years have been the coming of the new horror host generation. People are more hungry for it, they're aware of it."
End of an Era
Running parallel to this new generation of hosts has been the revived interest in Creature Features. It was stoked by the personal appearances of Wilkins and Stanley, including increasingly popular gatherings of the faithful at San Diego's Wondercon each year. The publication of Stanley's memoirs, I Was a TV Horror Host, generated added interest, just as his volumes of the Creature Features Movie Guide had helped to keep interest in the show alive years before.
Even so, there were troubling signs for Wilkins' friends and family.
"We've known that Bob has been slowly deteriorating with Alzheimer's—it goes back so far I'm not even sure of the exact date. Probably back to 2002 or 2003, when we were appearing at the Parkway in Oakland," Stanley remembers. "Since then, year by year we saw a little bit of deterioration. There would be times when Bob would go to write a name, and he'd keep asking the person 'What's your name again? What's your name again?' He couldn't quite formulate it, then he could."
Stanley, Moon, Wyrsch and other friends helped move Wilkins into an assisted-living facility in Reno in 2006, after which time most of his circle rarely got the opportunity to see him.
"The last time I saw Bob was a year and a half ago on the Fourth of July," says Stanley. "I was teaching in Napa, and I was doing five or six appearances all in a couple of days. I finished at three and I drove to Sacramento and went to Bob's place. There were a lot of people there—the family and all 'the usual suspects' as I call them, the Creature Features crowd. I'm talking away to Bob and he's smiling and nodding and I said 'Let's go sit down and talk.'
"We went into one of the rooms there, and I'd say something and he'd go 'Yeah, well ...' And then he couldn't go beyond that. And we just sat there for a while."
Moon remembers Wilkins' last public appearance, Halloween of 2007. Moon and Sally Wilkins brought him to a trick-or-treating event in the parking lot of the Wilkins' local church. Sally brought out the famous rocking chair, and the kids came up for candy.
"Halloween is my favorite time of year," says Moon. "And that was one of the most special Halloweens. I'm in my Robot Monster costume and I'm passing out candy with Bob and his wife to trick or treaters on Halloween."
That costume, an iconic image from the notorious 1953 film, was a link to bad-movie culture that seemed to give Wilkins a touch of nostalgia even when he seemed lost to friends and family.
"When somebody has Alzheimer's and it's at a really bad stage, they'll be sitting in a chair and it's like they're not even there. Everything is just kind of shut down," says Moon. "But if I would walk into the room in my Robot Monster costume, his face would light up. He just got the biggest kick out of it."
Since his death, the fan outpouring has disproved Wilkins' contention—made to Wyrsch when he first proposed a book about Creature Features—that the show was barely remembered. Both as geek and guide, Stanley believes, no one will have the opportunity to make an impact like Wilkins did on local television again.
"If you look at the structure of the television business back in the '70s, there were only three or four stations," he says. "There was no VHS tape yet, that sort of came into the scene about the time I took over the show. Prior to that, there were no tape machines, so you had to be home to watch the show. So it was a time when I think more people were watching on a Saturday night at 9.
"It was part of growing up with the family. It became a very strong nostalgic memory that seemed to stick—it was part of one's childhood, it was part of the growing up process. And Bob became a focal point of that."
Send a letter to the editor about this story.