01.21.09
home | metro silicon valley index | features | silicon valley | sports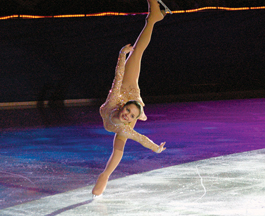 Photograph by Rich Moffitt
RAKISH ANGLE: Sasha Cohen is one of the many gliding champions scheduled for the Stars on Ice Tour at the HP Pavilion.
Ice Bound
By Felipe Buitrago
THERE IS no proof that being vertically challenged determines anyone's outcome in life. But there are plenty of examples that prove the contrary. Charlie Chaplin conquered cinema at 5 feet 5 inches; Napoleon was barely at average height for a Frenchman of his time; at 5-foot-7 Spud Webb was the shortest NBA player to ever win the Slam Dunk Contest. And please don't forget Scott Hamilton. After suffering a mysterious illness during childhood, Hamilton only grew to be 5 foot 2 1/2 inches tall, but neither that nor economic difficulties kept him from becoming an Olympic Champion figure skater and bringing us his legacy of the Smucker's Stars on Ice Tour that comes to HP Pavilion on Jan. 30 at 7:30pm.
After creating this award-winning spectacle on ice and participating in it for 15 years, Hamilton has gone on to other projects on the Board of Directors for the Special Olympics International. Nonetheless, the determination that drove him to be the world's best is still present. Performers of the quality of Sasha Cohen, who has more medals than rooms in her house; Ilia Kulik, who won his first significant title at the age of 13 and now distinguishes himself as a mature skater with classic skills and elegance; and the duo of Olympic silver medalists Tanith Belbin and Benjamin Agosto will be reunited with another dozen world-class figure skaters at the show.
SMUCKER'S STARS ON ICE TOUR happens Friday, Jan. 30, at 7:30pm at HP Pavilion, 525 W. Santa Clara St., San Jose. Tickets are $25–$120. (408.287.7070; ticketmaster.com)
Send a letter to the editor about this story.