01.28.09
home | metro silicon valley index | features | silicon valley | sports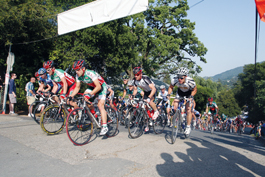 Photograph by Felipe Buitrago
OVER THE HILL: Cyclists power over the 20 percent grade of Nicholson Avenue in the Cat's Hill Classic in Los Gatos.
The Wheel World
By Felipe Buitrago
MOST superheroes prance around in skimpy spandex; cyclists wear spandex to better move their machines. And while most superheroes stick to their hometowns, cyclists are always traveling. Now that the 2009 cycling season has started, it's time to bust out the stretchy stuff. And depending on how super you want to be, you're going to be doing so much traveling you're gonna wish you could fly.  
 The Bay Area has always been a hot spot for cycling, and this year's season is the perfect excuse to get to know every inch of it. With 48 criteriums on both sides of the bay and 33 road races in between, there is no reason not to know every side street and mountain pass in Northern California. Especially when it's not hard to be so super. Most races are open to all levels; everyone from the easiest Cat 5 beginner to the experienced Elite racer is welcome.
The exception that confirms the rule is the Tour of California—the only race where the real cycling stars will come from far and wide and travel the California countryside from Davis to Escondido. But even ordinary mortals can consider competing in classic races like the King of the Mountain, which that tackles Sierra Road, the hardest road of the Tour of California; or the Cat's Hill Classic in Los Gatos, with one of the steepest climbs a crit can offer. But if hills aren't your thing, no worries, there are also plenty of flat races like the Timpani Criterium in Santa Clara or the Menlo Park Grand Prix, which aside from roots popping out through the cement and tight 90 degree turns is pretty doable, especially if you're a superhero.
Send a letter to the editor about this story.