01.30.08
home | metro silicon valley index | features | silicon valley | feature story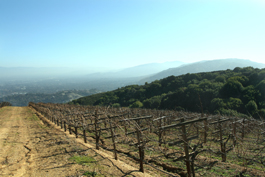 Uncommon Ground
Centered up in the Santa Cruz Mountains, Silicon Valley's wine country is anything but typical. Which is why it's no surprise that it has become well known for its distinctive pinot noir, winemaking's best-known maverick grape. Three local vineyards—Mt. Eden, Rhys and Windy Oaks—demonstrate what it takes to make great pinot here.
By Stett Holbrook photographs by Felipe Buitrago
The drive up to Silicon Valley wine country was no drive in the country.
The storm that dropped several inches of snow on Skyline Boulevard downed power lines and resulted in several road closures. As I climbed up the Santa Cruz Mountains from Highway 17, Black Road was barricaded to traffic, and I had to take a meandering back road. But as it intersected with Skyline, it too was blocked off. Screw it. I've got wines to taste. I ignored the unmanned barricade and drove gingerly down the slushy highway, passing snow covered cars left in driveways and PG&E crews working to secure arcing power lines felled by heavy winds.
As I continued on and headed down Alpine Road, low hanging, dense fog enveloped my car and slowed my progress to a crawl. Headlights were of little use in the waning light of the afternoon. But at last I made it to the black metal gate behind which rose Rhys' hillside Alpine vineyard.
Snow. Downed power lines. Blinding fog. Icy roads. These conditions aren't what most people call to mind when they think of California wine country. But the rugged Santa Cruz Mountains aren't your typical wine country. And the wines, especially the pinot noir, are anything but typical either.
The Santa Cruz Mountains are not the place you're likely to encounter tour buses filled with gulp-and-run day trippers hopping from one tasting room to the next. It's not easy to travel the steep and winding mountain roads to get from winery to winery, with or without a wine buzz.
Because of the size of the winegrowing area—it covers three counties from Half Moon Bay down to the hills above Watsonville—the Santa Cruz Mountains are suitable for growing a variety of grapes including cabernet sauvignon, chardonnay, pinot noir, syrah, cabernet franc and even heat-loving zinfandel. Yet because of its jagged topography, there are only some 1,200 acres planted to vines, a pittance for an area the size of the Napa Valley— which grows more than 45,000 acres of vines.
But it's the region's distinctive pinot noir, a wine that at its best can leave one speechless with its inscrutable beauty and depth of character, that is earning the Santa Cruz Mountains international acclaim. In an oft-repeated phrase, Wine Spectator magazine called the Santa Cruz Mountains the most underrated wine making region in the world. But don't take their word for it. March 28 and 29 the Santa Cruz Mountains Winegrowers Association will host its fourth annual "Pinot Paradise," a popular event that showcases pinot noir from more than 30 local wineries.
Standout Santa Cruz Mountains pinot noir like that made by Rhys Vineyards, Mt. Eden Vineyards and Windy Oaks Estate demonstrate the singular focus on creating wines that fully express the terroir—essence of place—of this one-of-a-kind wine country that rises above Silicon Valley.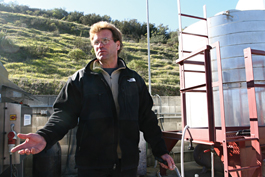 RAY OF ILLUMINATION: Jeffrey Patterson of Mt. Eden Vineyards is carrying on a winemaking tradition begun in 1943 by Martin Ray, who wanted to produce the best pinot in America.
Mt. Eden Vineyards
Driving up two miles of dirt road above Saratoga to Mt. Eden's mountain top vineyards and winery is a trip into America's winemaking past, present and future.
Maverick winemaker Martin Ray established Mt. Eden in 1943. While Martin Ray isn't a familiar name to people outside the wine business, it should be. Ray, a stockbroker turned winemaker, was a protégé of Paul Masson and spent his summers as a child learning to make wine from the Frenchman at his mountain winery that overlooked Saratoga. In time, he bought Masson's winery and then sold it to purchase land on an adjacent mountaintop that became Mt. Eden.
Ray's goal was to produce the best pinot noir and chardonnay in America. That sounds like any number of contemporary winemakers, but back then it was unheard of. Wine was cheap and not very good.
Instead of carrying varietal designations like pinot noir or cabernet sauvignon as is the practice now, wines were labeled with place names like chablis and burgundy, names that had little meaning since winemakers put whatever they wanted into their wine. Ray, described as both a visionary and an opinionated pain in the ass, was way ahead of his time as he sought to take on the supremacy of European wines by making great wines—that carried equally great prices—in California.
"In 1943, nobody put their eggs in that basket," says Jeffrey Patterson, who now owns the winery and makes its wine. "He was so far ahead of his time."
Today, Mt. Eden boasts the longest lineage of pinot noir production in America, and Patterson carries on in the tradition of Ray.
Patterson and his wife live in one of the homes Ray built atop the 2,000-foot peak of Mt. Eden, a house with a wide deck wrapped with grape vines and stunning views of Silicon Valley. When I came to visit Mt. Eden, venison stock was bubbling away in the kitchen, the savory remnants of a deer Patterson killed nearby. Sitting in the living room where Ray used to party—with guests like John Steinbeck, Herbert Hoover, Alfred Knopf, Burgess Meredith and Prince Vasili Romanoff, nephew of Czar Nicolai II—while I gazed out the window at the valley below, drinking pinot noir made from grapes grown just outside in a vineyard planted by Ray, it was hard not to be moved by the spirit of the late great vintner.
In spite of its storied past, Mt. Eden is on the cutting edge of Santa Cruz Mountains' pinot noir producers. Patterson, an energetic 55-year-old with curly blond hair, apparently knows a good thing when he finds it. After graduating from Berkeley, he developed a keen interest in wine. He took a few courses in winemaking at UC-Davis, and thanks to a bit of luck and knowing the right people, he landed a job as assistant winemaker at Mt. Eden in 1980. He never left and now owns the company. He recently purchased Cinnabar Winery's vineyards and winery, another Saratoga mountain winery.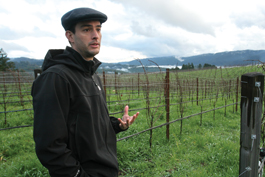 THIS MUST BE THE PLACE: 'The weather is just perfect here for pinot noir,' says Rhys Vineyards' Jason Jardine. 'I wouldn't pick any other place in California.'
Rhys Vineyards
Rhys Vineyards, a relatively new winery whose first vintage was 2004, is one of several in the Santa Cruz Mountains appellation that embody the spirit and promise of the region. The winery makes wine from five different mountain vineyards and specializes in pinot noir, but also produces first-rate chardonnay and syrah.
Kevin Harvey, a Silicon Valley venture capitalist with a deep—some might say obsessive—love for pinot noir, founded the winery with one goal in mind: spare no expense to make the world's best pinot noir. After researching climate, soil types and other factors critical for the production of pinot noir grapes, he settled on the Santa Cruz Mountains.
In a region that's already made a name for itself with its pinot noir, some say Rhys' wines have raised the bar and will attract even greater acclaim for Santa Cruz Mountains pinot. And after walking the vineyards and tasting the wines, I firmly agree.
A mountain vineyard is a beautiful sight and the Rhys' steeply terraced, 13-acre Alpine Vineyard located near Portola State Park is almost painfully gorgeous. The leafless vines stand like individual sculptures as they trail down the hill in neat rows while greenish-blue hillsides dense with redwood and pine frame the west-facing vineyards. Wisps of fog drift in deep-set valleys as Butano Ridge rises up like a rampart to keep the brunt of wind and rain at bay. In the distance, the clouds part for an instant and send a thick ray of sunshine over the Pacific Ocean as it flashes sapphire blue. While the vineyard is only 10 miles from the hubbub of Silicon Valley below, I can only see one house in the distance.
The rocky, fast-draining soils force the vines to dig deep for nutrients, factors that produce wines of uncommon complexity and expression. The vineyard is planted with 16 different clones of pinot as part of an ongoing experiment to find the best grapes for the different vineyards.
Jason Jardine, 30, lives in a house on top of the vineyard with his wife and two young children. Harvey recruited Jardine from Oregon's Willamette Valley, another winegrowing region renowned for its pinot noir.
Wearing rubber boots and a black beret, Jardine barely represses a smile as he trudges through the vineyards that have become his home.
"The weather is just perfect here for pinot noir," he says. "I wouldn't pick any other place in California." Or the world, I expected him to say.
Working with Harvey and winemaker Jeff Brinkman, Jardine says the secret to making world-class pinot noir is to do as little as possible. The popular wisdom on pinot noir is that's it's notoriously fastidious in the vineyard and in the cellar. The grape's thin skins are sensitive to extremes of temperature, and in the barrel that wine can swing through several changes that can leave a winemaker reaching for a quick chemical fix that can ultimately degrade the wine.
But Jardine's approach is to get out of the grapes' way rather than steer them in one direction or another. The grapes are farmed organically and biodynamically. He doesn't trim the leaves to increase sun exposure. Goats and sheep graze the land to keep weeds in check. When it comes time to crush the grapes, they're thrown in as whole clusters, stems and all, a typically Burgundian technique that's less common here. Because wild yeast favors pinot noir, no commercial yeast is added.
"We're looking for the ultimate expression of the vineyard," he says. "We really just throw it in a vat and let it happen and let our grapes do their thing."
And that they do.
When I tasted the 2006 Alpine Vineyard Pinot Noir, it sent me into a reverie. Because of its subtlety and finesse, sipping a premium pinot noir is like falling under the spell of a poet or philosopher who induces dreamy thoughts of beauty, lost love, fleeting time and even eternity.
The wine is built to age, so it was tightly structured yet offered flavors as deep as a well. The wine is full of chalky, earthy spice and with black fruit in the background. The wine is built around intense, taut tannins that somehow weave together a wine of finesse and graceful intensity. I could have pondered my glass for hours and continued to discover nuance and subtleties.
Currently, the winery makes only about 2,200 cases of wine each year. The wine is sold directly to a rapt group of wine drinkers through a mail order list. It's not available in stores or restaurants. They don't sell through a distributor and don't advertise. There's currently a waiting list to order their wines, so basically someone has to die for you to get a bottle.
"The only way that works is to think you can make the best pinot possible," says Jardine.
I'd say they're doing just that.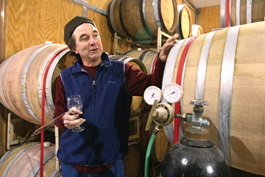 PURE AND SIMPLE: Jim Schultze of Windy Oaks Estate believes nothing should interfere with the natural expression of his pinot grapes.
Windy Oaks Estate
As a large appellation, the Santa Cruz Mountains are all about microclimates. The eastern slope is warmer and gets less rainfall, while the ocean moderates temperatures on the western side. The endless grinding and uplifting of tectonic plates mean the soils of one ridge can be totally different from the next one over. In between are all sorts of nooks and crannies that favor one kind of wine grape over another. Winemaker Jim Schultze believes he's found his slice of pinot paradise in the hills above Corralitos between Aptos and Watsonville in Santa Cruz County.
Schultze was a management consultant living in Australia and Europe, where he developed a deep interest in wine, especially those made in Burgundy. He and his family moved back to the United States and ended up buying his father-in-law's house in Corralitos. Schultze and his wife, Judy, who runs the winery's office, wanted to start making pinot noir somewhere, and when adjacent land came up for sale, they turned the former apple orchard and cattle pasture into vineyards, and Windy Oaks was born.
"We thought it would be a good place to grow pinot noir," he says. "It turned out to be."
From the entrance to the winery, the vineyards slope uphill until they reach a crest that opens to a staggering view of the ocean that sweeps all the way to the Monterey Peninsula. Sea breezes and great dirt coax layers of subtlety and finesse from the wine. Fourteen acres is planted to pinot noir and one acre to chardonnay. They also farm four acres of vines in Aptos.
Although the first vintage was only released in 1999, Windy Oaks wines now sell out weeks after they become available. There's currently a waiting list to buy them, though they are available at local restaurants like Soif in Santa Cruz and Forbes Mill Steakhouse in Los Gatos. Last year, the Los Angeles International Wine Competition awarded Windy Oaks two gold medals for its pinot noir.
Schultze, whose tightly bunched, bushy eyebrows and black beret make him look every bit the Burgundian gentleman farmer, is a strict minimalist when it comes to making wine. The grapes are grown organically. His doesn't till the soil. Wine is moved from tank to barrel via gravity rather than pumps that can degrade the wine. The wine is unfiltered and unfined.
"A lot of winemaking techniques interfere with the expression of the fruit," he says. "[My goal] is to produce a wine that's very specific to this place."
Schultze makes different wines drawn from different sections or "blocks" of the vineyard. In the case of his 2005 Henry's Block pinot noir, one of several wines I tried, his efforts produced a beautiful, feminine, well structured wine that leads with fine flavors and aromas of rocky earth and spice (fennel?) backed by delicate notes of strawberry and plum with a soft, almost creamy finish that goes on for miles. After the first sip, I started imagining this wine with grilled salmon or roast duck. Delicious.
It's clear that he's onto something here at the southern end of the Santa Cruz Mountains. While he was the first winemaker to set up shop in the area, several other wineries have followed, and there's talk of applying for designation as a subappellation to the Santa Cruz Mountains.
Schultze could try to expand and sell more wine, but he likes being able to run the winery himself and maintain the quality of the wines.
"This is as big as I want to get," he says. "I'm enjoying what I'm doing now. I don't want it to become work."
Send a letter to the editor about this story.