01.30.08
home | metro silicon valley index | features | silicon valley | sports news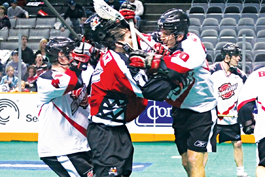 Photograph by Felipe Buitrago
BOY MEETS STICK: The Stealth's Shaydon Santos mixes it up with the Roughnecks' Jeff Shattler in the first home game of the season.
Lacrosse Training
By Felipe Buitrago
"GUESS WHAT I just bought, honey?" That's how Seagate CEO Bill Watkins greeted his wife, Denise, back in 2004 when he got home from a Sharks game. What he had bought was season tickets to the premier lacrosse season of the San Jose Stealth. Not very familiar with the sport at the time, they ventured to the Pavilion to see what they had just gotten into. They were hooked from first whistle. The Stealth soon became a family staple and lacrosse invaded their home, so much so that in 2007 NLL legend and Stealth General Manager Johnny Mouradian approached them, asking if they were interested in purchasing the team. And so in September of last year, Bill and Denise Watkins, along with Steven Luzco (Seagate's chairman of the board), became the new owners of the S.J. Stealth. In doing so, the Watkins and Luzco managed to keep the team in San Jose when the previous investors had backed out. Now a stand-alone business independent from Silicon Valley Sports and Entertainment, the Watkins want to prove that lacrosse has a place in San Jose. And not just as a sport but also as a tool for child development. Through Stick Clinics as well as the Sticks-2-Schools program, the Stealth and the Watkins will be delivering lacrosse to local schools and communities to get kids moving and fight childhood obesity that is plaguing California.

THE STEALTH VS. THE MINNESOTA SWARM happens Saturday, Feb. 2, at 7:30pm at HP Pavilion, 525 W. Santa Clara St., San Jose. Tickets $12-$20; Ticketmaster. Check out the Stealth's season schedule at www.sjstealth.com.
Send a letter to the editor about this story.