02.04.09
home | metro silicon valley index | news | silicon valley | news article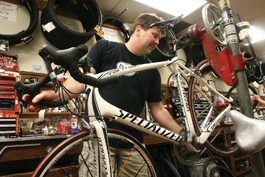 Photograph by Felipe Buitrago
NAME GAME: Jake Workman puts the final touches on a  Specialized Tarmac Pro at Wheel Away Cycle Center in Campbell. Countless bootleg versions of the bike have been showing up on eBay.
Sleazy Riders
Morgan Hill–based Specialized Bicycles fights off wave of dangerous Chinese counterfeits
By Jessica Fromm
SPECIALIZED Bicycle Components reports that it has seen a surge in counterfeit carbon bike frames mimicking the company's top-of-the-line models circulating on the Internet. Fake framesets being sold under their the Specialized brand have gotten so prevalent that the company believes a Chinese counterfeit factory must be producing the nearly identical replicas.
One of the top names in bicycles in the United States, the Morgan Hill–based Specialized began seeing an influx of the bogus bikes last year, predominantly sold on websites like eBay and Craigslist.
Though the company has long been the target of counterfeiters for its apparel and parts, a company spokesman says this is by far the largest and most aggressive operation they have seen.
"We get knocked off on plenty of other things, but this frame was pretty interesting because it's such a high-profile product," said Mark Schroeder, Specialized's director of engineering.
"In China, we're one of the biggest name brands, except we don't actually make or sell the bikes," he says with a rueful laugh. "In mainland China, our logo is really popular to put on bikes that are obviously not our frames."
To the eye, the sham framesets are near duplicates of Specialized's 2007 and 2008  S Works Tarmac SL frames, which come in red and blue. Their carbon construction and composite is markedly different, however. The knock-offs have no serial numbers on frame or fork.
James Lucas, general manager of Calmar Bicycles in Santa Clara, an authorized Specialized dealer, says the Specialized model that is getting ripped off sells for up to $7,000 in his shop.
"They are my biggest brand," Lucas says. "Any time you have a brand name that is really recognizable, it gives people incentive for fraud. It's not as pervasive as, let's say, Rolex watches, but it does happen from time to time."
Though he has never encountered a counterfeit Specialized frame in his shop, Lucas says he has seen other forged frames over the years. Fake frames often get discovered when the unsuspecting owner takes the bike to a shop to get it repaired.
Big-Time Scam
Wheel Away Cycle Center in Campbell has been an authorized Specialized dealer for more than two decades. Center manager Jake Workman says that he was surprised when he heard that people were counterfeiting carbon frames, because the process and tooling required to manufacture them is so complex.
"It's very expensive to manufacture a carbon bicycle frame today," Workman says. "It's not only labor-intensive, it's equipment-intensive. The nature of carbon—it's just a fiber like cotton; basically, it's a bunch of string assembled into a bike frame. The latest generation of technology is being applied to carbon bicycles—Specialized is at the forefront of what they can do."
Specialized, whose main testing labs and headquarters are located in Morgan Hill, has stated publicly that a Chinese counterfeiting factory is ripping off its designs. Specialized came to this conclusion after customers started contacting the company around the world, complaining of quality problems with its Tarmac framesets.
The duped customers said that their purchases were bought online, and most often shipped from China and Taiwan.
Matt Adams, co-owner of Mike's Bikes, says that any time a consumer buys a Specialized bike online and not through an authorized dealer, there is an inherent risk.
"With all the manufacturing done in China now, there's a lot of theft in design and knock-offs," Adams says. "You just don't know what the real picture is, what are the conditions, what's inside. But people can command a premium because it says 'Specialized' on it."
Workman agrees that if somebody did have the machinery to manufacture carbon bike frames, it would be pretty tempting to copy the shape of a reputable high-end frame and just slap a label on it.
"They're one of the top three bicycle manufacturers in the world, and they make great stuff," says Vance Sprock, owner of Cupertino Bikes. "Imitation is the most sincere form of flattery, I guess."
Expensive Junk
Ben Capron, Specialized's director of global marketing, says safety is an overriding issue. It's one thing to buy a counterfeit Specialized jersey, but it's quite another to purchase a bogus frame that might snap in two on a 40 mph descent.
"People are putting themselves in jeopardy if they're riding these bikes," Capron says.
Lucas agrees: "Even though aesthetically it may look the same or look as good, the engineering is drastically different," he says. "They're going to fail because the only design criteria was that the graphics matched.
Specialized has subjected the counterfeit framesets to rigorous safety testing standards at its Morgan Hill headquarters, and the company reports that the frames failed miserably.
Schroeder says the company has received calls from duped customers, whose bikes came apart while they were riding.
"People call up, thinking about the warranty," he says. "A lady broke one apart in Dubai; a guy in New Zealand broke one."
Workman says that "it's all the invisible stuff you can't see that makes a Specialized carbon frame much more expensive then Uncle Bob's Magic Carpet Frame, because Uncle Bob may or may not have put the effort into all of those orientations. "
Specialized has an employee who aggressively monitors online bike sales and auction sites for fake Specialized products, shutting down sales when they pop up. The company has involved American law enforcement and set up undercover stings. "It involves sneaking around and taking spy photos and setting people up," Schroeder says.
With the volume of sales and auctions on the Internet, Specialized admits that it cannot control or even estimate the number of fake bikes that are being sold under its name.
Schroeder said that the most frustrating hurdle has been China's trade policies when it comes to fraud. So far, they have not been able to locate the counterfeit factory, though evidence strongly points to its existence.
"Frankly, the government of China is not that interested in helping us," Schroeder says. "It seems like, in order to get these Chinese officials interested, they need to get paid."
Capron says if a deal looks too good to be true, it probably is, and that cyclists should not worry about the authenticity of bikes purchased at an authorized dealer or Specialized.com.
"The tarmac SL from 2007 and 2008, if it was purchased new online, big question mark there, don't do that," he says. "If people follow that guideline, they'll be fine."
Send a letter to the editor about this story.