02.05.09
home | metro silicon valley index | features | silicon valley | sports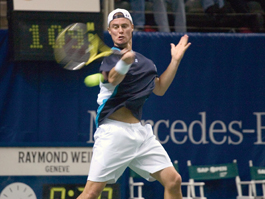 Photograph by Felipe Buitrago
THE HITS KEEP COMING: Lleyton Hewitt made it all the way to the finals back in 2006 but Andy Murray took him down in the final match. Maybe this time around he'll take the trophy home.
Pro's Style
By Felipe Buitrago
WHEN THE WEATHER get dreary, it's time to check out the Southern Hemisphere. At least that's what the tennis pros do. Sadly for some of those pros, their performance at the Australian Open has been a bit dreary as well. On the bright side of things, if a player got eliminated in the first round at the Australian, he wouldn't have to endure the exhausting 122 degree heat, like Vince Spadea, who lost in the first round. He, along with the likes of like Lleyton Hewitt, will have plenty of time to get some rest and replenish before the SAP Open, which starts Monday (Feb. 9) at the HP Pavilion.  
This week-long tournament will definitely be more than just a venue to bounce tennis balls over a net. For many, it will also be the stage for redemption. James Blake, the 10th-best tennis player in the world lost in the fourth round of the Australian Open in straight sets. Australia's own Hewitt will also be paying us a visit. He should be playing at his best, considering that he's the most rested of any of the players to participate in both tournaments as he was eliminated in the first round of the Australian.       
But it wasn't a downer down under for everyone. Andy Roddick, ranked ninth in the world, reached the semifinals against Roger Federer. The match became a showdown with two of the biggest guns in the game. In the end, Federer handed Roddick his plane ticket to San Jose in three straight sets. But being on top of the game at a major tournament is not an easy task, and if anyone has any doubts they can go ahead and ask the Grand Slam master himself, Pete Sampras. Maybe James Blake should take notes between sets in his exhibition match against Sampras at the SAP; the two-time Australian Open winner will certainly be making some good points.
THE SAP OPEN happens Feb. 9–15 at the HP Pavilion, 525 W. Santa Clara St., San Jose. For more information call 408.ACE.2121 or go to apopentennis.com.
Send a letter to the editor about this story.