02.06.08
home | metro silicon valley index | news | silicon valley | news article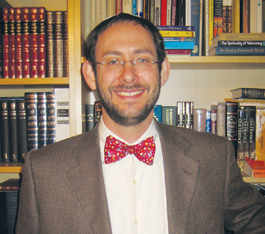 SEEKING TO UNITE: Rabbi Joshua Fenton hopes to open visitors to a variety of perspectives at Friday's study sessions.
Unity Time
By Dina Baslan
WHILE THE PEOPLE of two nations continue to battle in one holy land, their brothers and sisters across the world seek to unite here in Silicon Valley. In search of some common ground, the Jewish Community Center is hosting an evening of study and discussion on Saturday in the Addison Penzac Jewish Community Center in Los Gatos. The event, taken from Eretz Yisrael, Hebrew for "the land of Israel," is titled "Spice of Eretz Yisrael: The People, Land and Soul," and is free of charge and open to the public.
Rabbis, professors, historical scholars and experts in the Israeli film industry and literature will come from around the South Bay to present one-hour courses stressing themes of unity, togetherness and community in the Jewish culture. "A night of learning; celebration of culture," says Rabbi Joshua Fenton, the new director of the Center for Jewish Life and Learning, describing the event.
Ten to 12 diverse courses will be offered at the event, and attendees will be given the choice to pick the area of interest they would like to learn about. Issues to be discussed include the Israeli revolution in the 1970s, Kabbalah, Israeli poetry, religious Zionism and the Diaspora.
In a time of raging political conditions between Israelis and Palestinians, the Jewish Community Center is celebrating the 60th anniversary of the founding of Israel and hoping to give all denominations a chance to value its heritage. "It is not about the Israeli state, the political entity," Fenton explains, "it is a celebration of the land, the people and the spirit of the country." While stressing the notion of "unity," "identity" and "the joining as one people," Fenton mentions a course that will include the Arab inhabitants of Israel, who make up 19.7 percent of the population, according to the 2006 report by the Israeli Central Bureau of Statistics. Fenton adds, "I think somebody will be teaching agricultural techniques used in some farms where both Israeli and Palestinians work together."
This event is one of a series that have been coordinated by the Jewish Community Center. Just recently, a lecture was held addressing the challenges that people of religion face in the modern world. "As opposed to highlighting the differences, we hope to talk about similarities," says, Fenton who notes that even among the presenters and educators themselves at the event there exists a radically range of belief systems.

SPICE OF ERETZ YISRAEL: THE PEOPLE, LAND AND SOUL event takes place Saturday (Feb. 9), 7–10pm, at the Addison Penzac Jewish Community Center, 14855 Oka Road, Los Gatos. It is free of charge and open to the public.
Send a letter to the editor about this story.