02.06.08
home | metro silicon valley index | news | silicon valley | news article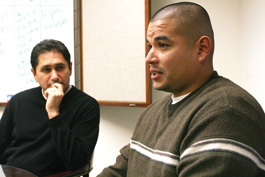 Photograph by Felipe Buitrago
AN INNOCENT MAN: Jeffrey Rodriguez, right, and attorney Jaime Leanos have filed a $5 million compensation claim for the five years Rodriguez was wrongfully imprisoned in Santa Clara County.
Unsettled
With the looming threat of costly lawsuits, the county may consider reaching out to the exonerated
By Vrinda Normand
A YEAR ago, Jeffrey Rodriguez didn't know how to answer a cell phone. The embarrassing truth came out when he was sitting in his lawyer's plush downtown San Jose office, and the mobile started blasting inside his pocket. Rodriguez pulled it out, stared at it and asked his attorney, Jaime Leanos, for help.
From across his desk, Leanos quickly dealt with the noisy phone and then listened to his client describe other things he was afraid to admit he didn't know. After all, the 30-year-old man had just missed five years of life in the real world.
From December 2001 to February 2007, Rodriguez was locked up in prison for a crime he didn't commit. Santa Clara County prosecutors wrongfully convicted him of robbing a San Jose auto parts store.
While he was fending off Latino gang members in prison, the mother of his then-5-year-old son left him. She married someone else, and now Rodriguez says his son barely even considers him a father. Rodriguez's hopes for his education and career also fell behind while he served time.
"What would that be worth to you?" Leanos asks me.
They both may be about to find out exactly what it's worth. Rodriguez is in Leanos' office because it's payback time.
In December, Rodriguez won an official finding of "factual innocence" in federal court. He's also submitted a compensation claim for $5 million with the county, which could become a full-blown trial if not settled beforehand.
Paying Out
There's a good chance county officials will give him a hefty chunk of change before they let a jury decide what five years of life is worth to an innocent man. The already-cash-strapped county government has a lot to lose when it comes to dealing with the victims of its faulty criminal justice system.
In 2005, the county doled out $500,000 to exoneree Glen Nickerson and agreed to pay him $3,700 every month for the next 10 years. Nickerson had served 19 years for a murder he had nothing to do with.
Just last September, the county settled with exoneree Rick Walker for a whopping $1.75 million, plus $1 million toward an annuity. Walker had spent 12 years of his life behind bars for a murder he didn't commit.
Kenneth Foley spent 11 years incarcerated for a burglary he didn't do. Like Rodriguez, he's waiting for a settlement from Santa Clara County since filing his claim for damages in October.
Is the substantial Walker settlement a good sign for Rodriguez and Foley? Let's just say County Counsel Ann Ravel is worried.
"The Walker case could open the floodgates for more litigation," she says.
In fact, Ravel points out, the financial fallout of wrongful convictions is statewide. This year, Riverside officials paid $2 million to an exoneree named Herman Atkins who lost 12 years behind bars for a rape he didn't do.
John Stoll spent 20 years in prison on sexual abuse charges before he was exonerated in 2004. He's still waiting for a big payout from Kern County.
Antoine Goff and John Tennison, two men wrongfully convicted in San Francisco for murder, are sitting on an open federal case against the city.
San Diego County is also dealing with a lawsuit from exoneree Ken Marsh, and Los Angeles County officials are engaged in a hush-hush legal battle with exoneree Thomas Lee Goldstein, which they won't talk about.
"It's classic California criminal justice," says Natasha Minsker, attorney for the American Civil Liberties Union. "We don't invest in the front-end preventing the problem; then we end up paying a lot more at the back-end trying to fix the problem we've created."
New Outlook
On a Monday morning last February, Rodriguez walked out of the Santa Clara County jail and straight into the arms of his family members.
"I was hugging everybody," he remembers, his mom, sister, brother, nephews. His father and more relatives were anxiously waiting for him at their San Jose home.
After a quick stop at Jack in the Box, where Rodriguez gorged on fast food he'd been missing for five years, they got home and ate more—this time pizza from Round Table. "Everyone was touching my face, saying I looked different, saying I was all skinny," he says.
The 5-foot-9 Rodriguez weighed 165 pounds at the time, but now he's back to his muscular 220.
He's been fortunate to have the support of his family through it all. They gave him a place to stay and the resources to get his feet back on the ground.
Heather Weigand from the Life After Exoneration Project points out that all exonerees are freed with absolutely nothing—unlike convicts who get halfway housing and other services to integrate into society. It's the ultimate irony, because not only do exonerees have to rebuild their lives from the ground up, they have to wage an uphill legal battle to get compensation and deal with the social stigma of having served time in prison.
"Our government has failed the exonerated," Weigand says.
Ravel too has been thinking about how there is room for improvement. She spoke with me about a new possibility for exoneree support: "We're the social service provider," she says about the county government, "so we should be doing that [for exonerees]."
She believes it's better to give people a place in society than go through litigation that's tough for everyone. She hopes the county could settle for less money and instead offer more welfare support.
Most of the advocates we spoke with thought it was about time that the county step forward for exonerees. The extra service, however, isn't likely to stop the wrongfully convicted from suing, particularly those who have strong cases and savvy legal representation.
"Human rights don't usually propel policy," Weigand says, "but hitting the county's pocket does creates more urgency. Unfortunately, that's usually the wake-up call."
Cookie Ridolfi, head of the Innocence Project at Santa Clara University, says she doesn't think there's such a danger of expensive lawsuits anyway, and calls the county's "floodgate" fear "unreal."
That's because the odds are stacked against exonerees from the moment they're released as innocent people. Most file with the California's State Victim Compensation Board for some financial assistance. Before 2001, they could only get a maximum of $10,000, but now they're eligible for $100 a day spent incarcerated—only after they jump through a bunch of legal hoops.
Once they're released, exonerees have only six months to file their claim with the state board; and in the meantime, they usually need a lawyer to help them do that. If their case is even considered, they must re-prove their innocence to the California attorney general.
If history is any indication, exonerees have a measly 24 percent chance of getting any payout from the state board. Since 1984, they've submitted 78 claims. Officials only considered 56 of those claims and have so far approved only 15. They're still reviewing another 15.
And in California, it's even more difficult to win a settlement with the county.
Just finding a lawyer willing to take on a wrongful conviction case is a hurdle. Leanos says they're tough to win and require a lot of work. He's representing Rodriguez on contingency, but says there are few other attorneys who would do this.
Burden of Proof
It's not enough that exonerees are victims of a negligent system that happened to bust the wrong guy. Prosecutors and other law enforcement officials doing their jobs within reason have wide immunity against lawsuits.
The wrongfully convicted must prove that the characters responsible for putting them away acted intentionally and maliciously. In other words, that prosecutors or cops knowingly withheld evidence or did something on purpose to skew the case.
Because the standard of proof is so high, advocates say the majority of exonerees don't succeed in suing or settling out of court with counties.
At the same time, wrongful conviction claims are on the rise as innocence projects and exoneree advocate groups increase their capacity to help more people.
"There's a movement now," Weigand says, "It's growing. More and more attorneys are getting involved, especially people who want to keep the integrity of our justice system."
Rodriguez has been lucky enough to catch the building wave of support from innocence projects. With the help of such advocates from Santa Clara University, he filed a claim with the state board that could bring him a maximum $188,000. Rodriguez is optimistic, but he isn't holding his breath for the government checks to start rolling in. He has a job installing awnings on buildings, which he says he's grateful for even though he has to show up at 6am. "I can't complain," he says, "it's a blessing to be able to come out here and work."
On weekends, he does odd jobs for his family's businesses, and when he can afford to fill up his gas tank, he drives to Manteca to visit his 11-year-old son.
"When times get rough and you feel like the water's coming over your head," Rodriguez says to all the exonerees out there who are struggling to glue the pieces of their lives back together, "just remember what you've been through."
Send a letter to the editor about this story.