02.06.08
home | metro silicon valley index | features | silicon valley | column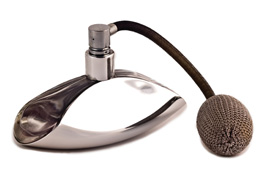 Music to Your Nose Fragrance is in style on Valentine's Day.
Scents and Sensibility
By Joseph Rosenfeld
WHEN it comes to conveying how deep your love is this Valentine's Day, you might consider delving deeper by showing up at your date's door with the allure of fragrance.
Not so long ago, Jo Malone London quietly sprayed itself into Valley Fair, and Silicon Valley's crown jewel of fragrance boutiques. Malone morphed from facialist to skin-care creator when she cooked up her first concoction, nutmeg and ginger bath oil, gave it to clients as holiday gifts and got raves in return. Years later, and at only the fourth eponymous boutique in the United States, Jo Malone's bouquet of scents are spicy, fruity, floral, woodsy and citrus. Created as a luxury lifestyle brand, Malone's desire was "to create scents that are authentic and true," according to store manager Jenny Powell. The scents maintain their complexity, as compared to mass-market products, because the perfume oils are produced just as they were in the 18th century.
Many of the company's 19 scents were developed directly from Malone's personal experiences, for example, French Lime Blossom. "Jo Malone was inspired by a spring stroll along the Champs Elysées, lined with lime blossom trees," says Powell. Pomegranate Noir's inspiration evolved when "she was waiting for a friend in a restaurant during a trip to Morocco. She looked up at the top of a set of stairs and spotted a woman in a rich red silk gown. She was so inspired by the sight of the woman and by the fragrances in the restaurant that she created this fragrance to capture that moment."
If you're going to shop for your sweetie's new scent, the staff wants to know what your special someone is currently wearing, and they will ask about the person's lifestyle and clothing choices for clues. Is the person "classic, playful, or exotic?" Are they open to experimenting and layering fragrances? Another benefit to consider about an exclusive brand like Jo Malone's is the myriad of fragrant options that go beyond traditional cologne. Some people work in sensitive environments, but being able to use fragrant soap or bath oil still gives them a sensuous experience. Even burning a candle during a bath "can provide someone with a fragrant experience even if wearing a fragrance is not what they normally do," says Powell.
Perhaps the most famous of all fragrance campaigns, just reeking of pure fantasy, is Chanel No. 5. Of particular memory is a circa 1979 commercial depicting a perfect cerulean pool, a perfect-looking woman and a perfect-looking sky with a jet plane flying overhead, set to music featuring the lyric, "I don't want to set the world on fire. ..."
The commercial was punctuated with the unforgettable slogan "Share the fantasy."
But beyond the marketing hype—and the fantasy—fragrance is a remarkable creation that makes life a sensuous experience.

Joseph Rosenfeld, the nation's only male Certified Image Professional, helps men, women, and corporate employee groups to become more dynamic, compelling and stylish. Visit www.JRImageMentor.com for more information.
Send a letter to the editor about this story.