February 7-13, 2007
home | metro silicon valley index | features | silicon valley | column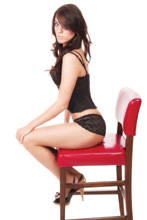 On and off: Underthings are a can't-miss Valentine's gift.
A Practical Guide to Impractical Panties
By Joseph Rosenfeld
THANKS to Britney Spears' recent "overexposure" in which she was caught on camera sans panties, it's as clear as a paparazzo's flashbulb that underwear is underrated. So for all of you ladies with suitors who do love lingerie but fear getting presented with the wrong underpinnings this Valentine's Day, here's a cheat sheet to help your man score big with you. Rip this out and stick it in his pocket.
Guys, football season is now over, but the Super Bowl of your love life is just around the corner. Most women I know just love lingerie. So huddle with me, as I coach you through the lingerie buying process.
Size matters above all else when it comes to lingerie. You can be skimpy on price if you need to be, but you cannot skimp on the size! The best way to determine the size she wears is to visit her lingerie drawer and look at the sizes of her bras and panties. Bras will have a band size listed by number and a cup size listed by letter. If you're eyeing European lingerie, there may be various sizes shown on the tag. Write down the options that are either U.S. or U.K., depending on how the tag is labeled. Then do the same for the bottoms, which are typically marked S-M-L-XL. If you should notice multiple sizes in the drawer, think back and remember which set you found to be best fitting. And if all else fails, call her best friend and ask her.
The mating game continues when you check her out in a bra, say in the morning when you're both dressing for the day. What you want to look for is how the band wears around her back. If the strap is riding up her back while clasped at its tightest hook, you can be assured that she's in the wrong size. You should select a bra that is one or even two band sizes smaller. Also, check to see how well her breasts are fitting into the cups. If you notice that they are protruding out of the cups, she needs larger a larger cup size. If the band size is too large, you need to go down a band size and then up a cup size. If the band size appears right but the cup size appears too small, just go up a cup size or two. This is such an important part of the process because about 80 percent of women regularly wear the incorrect bra size.
If you think you are going to look like a boob showing up with an ill-fitting bra, there are other fantastic lingerie choices available. Negligees, now better known in stores as chemises and babydolls, are nightwear and sleepwear that fit to the tops of the thighs. The more sheer the fabric is, the sexier the effect on the body. Also very popular are camisole sets. Camisoles with underwire are typically worn as daywear underneath tailored jackets. Shop for styles without an underwire and you'll find a more seductive selection.
Style really is important when making choices that will please your woman. Don't buy her something too sheer if she's more modest. Demi cup bras are very popular, yet don't be shy about looking for a push-up bra if she needs one. Full cup bras are best for those who have full busts. On the bottom, thongs and g-strings are only sexy choices if you know that she already wears them; otherwise a bikini style is good. If she has lots of lacy items, you should prepare to spend a bit more on hand-detailed qualities like that. White underwear tends to show up under clothing in photographs, so if you're looking to get her something practical for every day, opt for either black or the shade that most closely resembles her skin tone. However, don't be afraid of selecting something with color as this is the perfect opportunity to show her beautiful you think she is.
By now, you may even feel up to giving her a hint about some sexy skivvies for you. So bottoms up and here's to a Valentine's Day with lots of that Va-Va-Va Voom!
Joseph Rosenfeld, AICI, CIP, the nation's only male certified image professional, is a men's image mentor based in downtown San Jose. Contact him at: [email protected]
Send a letter to the editor about this story.