February 7-13, 2007
home | metro silicon valley index | features | silicon valley | sports news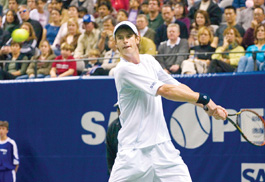 Photograph by Felipe Buitrago
Yellow ball to home planet: All clear! Andy Murray slapped his signature two-handed backhand on the unsuspecting ball to beat Lleyton Hewitt in the finals of the 2006 SAP Open.
Hit Parade
By Felipe Buitrago
A TENNIS history great returns to San Jose for another year of explosive hits. Feb. 12 is the launch date for the SAP Tennis Open, which enters its 119th year and will be on all week at the HP Pavilion until only a handful of players are still standing at the finals on Sunday, Feb. 18. The second oldest tournament in the United States, the SAP has been a platform for players like Rod Laver, Barry MacKay, Andre Agassi, Pete Sampras and Andy Roddick, and will now host a new legion of players who aspire to the ranks of the masters in the Association of Tennis Players. Returning from last year and looking for a second win at the SAP is Andy Murray, who took out Lleyton Hewitt in last year's SAP Open Final in three sets with a grueling tie break in the third. But Murray may have to go up against the top seeded player (and No. 4 in the world) James Blake, who will also be part of the '07 SAP firing squad. Down and out this time around will be a few of Murray's victims from the '06 SAP Open like Andy Roddick and Vince Spadea. This year the grid will have names like hard-hitting Russian Marat Safin, currently ranked 24th with 15 singles titles, and German Nicolas Keifer, who made fourth in the rankings in 2000, but has been out most of 2006 due to a wrist injury. For more information and tickets visit www.sapopentennis.com.
Send a letter to the editor about this story.