02.11.09
home | metro silicon valley index | features | silicon valley | sports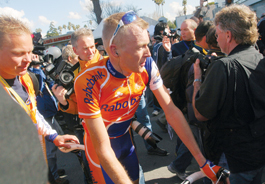 Photograph by Felipe Buitrago
AMGEN ACTION: Last year, team Rabobank's Robert Gesink edged out Levi Leipheimer at the end of the third stage coming into downtown San Jose. This year's reversed route, which excludes Mt. Hamilton, will offer a new challenge to the peloton.
High Rollers
By Felipe Buitrago
WHEN I SAY, "Climb!" you say, "How high?" That's how the Amgen Tour of California rolls. Eight days of nothing but pedaling through California countryside from Santa Rosa to Escondido—that's 750 miles. Sure the race has expanded, and more cities have been added, but what people are really buzzing about is the return of Lance Armstrong. Finally the seven-time Tour de France champion will be joining the ranks of already formidable world-class cyclists in the Tour of California, and we will be able to see him up-close and doing what he does best: climbing.  
    One of the changes in this year's edition is the role that San Jose will play in the tour. Now that the city is the starting point of the third leg of the race, fans can ogle the riders at the starting line. And for those of us that like to see a bit more action, the San Jose portion offers some of the steepest climbs around—10 miles into the third leg, the riders will have to tackle Sierra Road, which rises 2,000 feet in just more than five miles. That's great for spectators but torturous for the riders.     
  The stage will also offer two sprints—the first in Livermore, and the second in Tracy—but not before another climb to Patterson Pass at 1,500 feet. The downhill promises to be spectacular as it will roll into the final sprint, and then it's a flat ride all the way to Modesto. The start time is noon, and the expected arrival time in Modesto is approximately between 4 and 5pm.
THE AMGEN TOUR OF CALIFORNIA, Stage Three, happens Tuesday, Feb. 17, 10am–noon at Park Avenue and Almaden Boulevard in downtown San Jose. Starting location features a rider's autograph alley and lifestyle festival. For more info on the tour or your favorite teams go to www.amgentourofcalifornia.com
Send a letter to the editor about this story.