02.18.09
home | metro silicon valley index | features | silicon valley | sports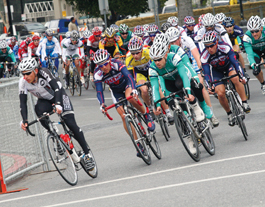 Photograph by Felipe Buitrago
RAINDROPS KEEP FALLING: The only reason the pavement was dry was because the pros are very fast; Jackson Stewart from BMC Pro Cycling took first place and $5,000 in the San Jose Classic Criterium.
Wet Wheels
By Felipe Buitrago
FOR Valentine's Day, cycling speed freaks clicked into high gear to race in the San Jose Classic Criterium downtown, while the climbing crazies took on Sierra Road in the King of the Mountain ride that started in front of City Hall. All of this wheeling action took place around the most anticipated cycling event in the country, the Tour of California.
     The .86-mile closed circuit for the Classic Criterium had its start and finish line on Park Avenue. Riders headed west to a sharp right onto Almaden Boulevard toward the De Anza Hotel and then made a 180-degree hairpin turn onto San Fernando that would take them back to Park Avenue to circle Cesar Chavez Plaza—and to deal with more than just a few spurts of rain. The race was a great endeavor, the first of its kind on the streets of San Jose; it displayed many talented female and male cyclists who scorched the wet streets. Unfortunately, the race was like riding alone on a multiseated tandem. Although the field in the pro division was packed to 125 participants, spectators were sparse, and the cheering sections were few and spread out.  
   Maybe everyone was else was participating in the King of the Mountain ride. This event congregated cyclists in front of the rotunda at City Hall and started at 10am. Riders then headed east tackling Sierra Road and Felter. Those who were participating in the time trial came straight back, but those who registered for the recreational ride went as far as Silver Creek Valley Road and then returned to City Hall. Despite the weather being the wet blanket in the cyclist-ride, we can always count on serious enthusiasts pulling through. (For more info and race results go to SanJoseClassic.com.)
Send a letter to the editor about this story.