02.20.08
home | metro silicon valley index | features | silicon valley | sports news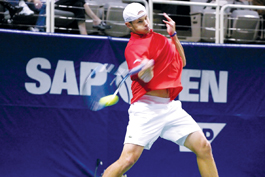 MY AIM IS TRUE: Andy Roddick returns this year to the SAP Open with a quiverful of powerful forehand swings.
Open Season
By Felipe Buitrago
LATELY THE South Bay is sports central. Last Sunday, Palo Alto hosted the prologue of the Amgen Tour of California, one of the greatest cycling events this country has seen since the Coors International Bicycle Classic in the late '70s and '80s. This week, the HP Pavilion has the SAP Open, the second oldest tournament in the United States. Starting back in 1889 in Monterey, this stop of the ATP Tour has gone from San Francisco to Albany and Berkeley, among other places. Since 1994, it has taken up residence in San Jose. Throughout that time it has always succeeded in bringing back the best players in the world and even puts them on the same court, starting off with the exhibition match between 14-time Grand Slam winner Pete Sampras and world-ranked No. 26 Tommy Haas on Monday. As of presstime, the stage has been officially set for a full week of scorching tennis. The qualifying rounds at Courtside Club in Los Gatos held its own exhibition of talent, with Wisconsin native Tim Smyczeck plowing through the competition to secure a spot in the first round of the SAP against friend Mardy Fish. And keep your eyes on Kei Nishikori from Japan who already defeated No . 2–ranked-in-the-world James Blake in the Delray Beach tournament, raising his world ranking to 122–a climb of more than 400 spots in one year. So while the Tour of California sped through San Jose and made its way south, the SAP will be generous and give San Jose until Feb. 24 to catch more than a glimpse of some world-class tennis action.

THE SAP OPEN happens Wednesday–Thurday, Feb. 20–21, 9:30am and 7pm; Friday, Feb. 22, 11am and 7pm; Saturday, Feb. 23, 1 and 7pm; and Sunday, Feb. 24, 1pm. $19–$110. HP Pavilion, 525 W. Santa Clara St, San Jose; 408.998.TIXS. For more info visit www.sapopentennis.com; schedules update daily.
Send a letter to the editor about this story.