02.25.09
home | metro silicon valley index | news | silicon valley | news article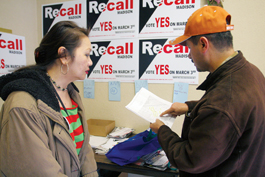 Photograph by Felipe Buitrago
STREET FIGHT: Juan Castro Rivera and Loan Pham strategize before walking District 7 to distribute anti-Nguyen leaflets.
Territorial Dispute
Can Madison Nguyen's troubles be explained away as a branding battle between two shopping centers, and the powerful men who own them?
By Erin Sherbert
COUNCILWOMAN Madison Nguyen didn't receive an invitation to San Jose's annual Vietnamese Spring Festival, which was held two weeks ago. It was the second time that Nguyen, the first Vietnamese-American elected to the San Jose City Council and one of the highest-ranking Vietnamese elected officials in the nation, was scratched from the list.
The public act of disrespect was not that surprising, given that one of the event's main organizers was the powerful local landowner Son Nguyen.
Son Nguyen is the father of Linda Nguyen, who, in 2005, lost to Madison Nguyen in a nasty council campaign. Son Nguyen is also a real estate developer with a Story Road shopping plaza named—coincidentally or not—-Little Saigon.
Son Nguyen, who did not reply to interview requests for this story, is the president of NOR-CAL Development Group, which built the Little Saigon Plaza in Sacramento. He would not confirm that he owns another shopping center on Story Road in San Jose, also called the Little Saigon Plaza. But according to property records, San Jose's Little Saigon Plaza is owned by H&D Investments Inc., which has the same street address as Son Nguyen's NOR-CAL Development Group.
According to the Recall Committee, Son Nguyen is not taking a lead role in the campaign. But he has taken a strong anti-Madison stand. Son Nguyen leases airtime on KVVN-AM, where he has reportedly used his Vietnamese-language talk show to run pro-recall material on the air for free.
Is it possible that Madison Nguyen fought "Little Saigon" because that name would have contributed economically to Son Nguyen's Little Saigon Plazas?
Councilwoman Nguyen (almost incredibly) insists that she didn't even know about his Little Saigon Plaza until long after the council vote on the naming of the business district.
It's also true that had she succeeded in naming the area Vietnam Town Business District, as she had initially proposed, it would have helped one of her political supporters.
Lap Tang, another developer who is building the Vietnam Town mall directly across from Son Nguyen's Little Saigon Plaza, contributed money and effort to Madison Nguyen's campaign for City Council. Some recall supporters believe that was the impetus behind her opposition to Little Saigon.
"He has a mall called Vietnam Town," says Minh Steven Dovan, a local Vietnamese attorney and recall supporter. "For God's sake, he is capitalizing on it,"I It's true that "Little Saigon" has become the stamp for Vietnamese-American enclaves all over the nation, serving as the calling card of freedom for political refugees who escaped Communist Vietnam.
But beneath the surface, this name game, which has now boiled over into a recall election, might be nothing more than a tale of two shopping centers.
As the recall approaches, following more than a year of controversy, it is clear that this battle is about more than the name Little Saigon. It's not quite about Democracy vs. Communism, nor is it a tribal squabble between the two Nguyen clans. It is, rather, about money and political power.
Power Families
In the Vietnamese community, it's widely believed that the coziness of the Tang-Nguyen relationship underlay the Little Saigon battle. The recall committee frames its overall message: Nguyen represents rich developers, not her constituents.
Andre Charles, the political consultant running the recall campaign, openly accuses the councilwoman of political patronage.
Tang was trying to get his Vietnam Town mall built at the same time that she was a rising political star in the Vietnamese community. In 2005, Tang donated to Nguyen's council campaigns. At the same time he was working to get the property rezoned for Vietnam Town.
"She is partially rewarding campaign supporters, specifically Lap Tang and his Vietnam Town development," Charles says. "He is a huge supporter in terms of getting his extensive network of friends to support her verbally and with contributions."
Nguyen acknowledges that she tapped Tang for support at the time. "He is one of the biggest land owners in that area," she says. "If I don't reach out to him, who am I going to reach out to?"
Point taken. But why isn't Nguyen reaching out to him during her recall campaign? Campaign finance records show that Nguyen has raised more than $95,000, but Tang hasn't contributed to her campaign. "I don't talk to the guy anymore," Nguyen says, slightly exasperated. "I talked to him because of the Vietnam Town project and then it turned into this huge controversy. There is no reason to talk to him anymore."
Friends With Money
In December of 2007, a month after the City Council rejected the Little Saigon name, Lap Tang dined at a restaurant in the Grand Century Mall, his shopping center in the heart of the vibrant Vietnamese business district. It was about the time that the Little Saigon supporters had unraveled a string of email exchanges dating from April 2007 between Madison Nguyen and the city's Redevelopment Agency director. The emails had become the smoking gun for them—the councilwoman, after conversations with Lap Tang, was plowing ahead with plans to name the area Vietnam Town Business District.
Tang, who had managed to stay far away from the Little Saigon battle, was now seen as the wizard behind the curtain, although that day, as he dined in his restaurant, chewing and talking at the same time, he made himself appear to be standing on the sidelines of this controversy.
His broken English was punctuated with nervous laughter as he brushed off what he deemed "silly rumors" about his being in cahoots with the councilwoman, as well as the story that he was using the name Vietnam Town to drum up money from Vietnam to help his foundering mall project.
It was no secret that Tang had hit some financial bumps on his Vietnam Town mall, which was scheduled to open in mid-2008. He was having problems securing a construction loan, and liens were filed. What Tang didn't mention was that in August 2007, he had established Coldwell Bank Vietnam, where he is the president. His bio on the website brags about his hand in developing "the first officially recognized Vietnamese Business Districts in America."
Tang had already been carving out an important place for himself in politics—hobnobbing with political lions like Hillary Clinton, on whose senatorial foreign policy council he served. But locally he stayed out of the limelight.
All along, Councilmember Nguyen has said she was only trying to follow through on a campaign pledge to designate a business district to mark the economic success of her community. Nothing more, nothing less.
"A lot this has to do with a certain segment of the community not understanding certain policies dealing with local government," Nguyen says.
The Little Saigon supporters who are working tirelessly to run Madison Nguyen out of office have been relentlessly focused on the Nguyen-Tang connection. They have not made any attempt to file any charges (which would allow the councilwoman to legally defend herself) but rhetorically they've blown the deal up to the level of corruption.
"Madison Nguyen attempted to direct $100,000 to Mr. Lap Tang so he could essentially promote the Vietnam Town name," says Andre Charles, "and that's disconcerting."
Nevertheless, Madison Nguyen has maintained the support of strong political allies who don't believe she deserves to be recalled over the naming of a business district. Her supporters contend that none of the councilmember's actions rise to the standard required to overturn an election and oust an official partway through her term. The last time a recall was used locally was in 1994, when voters recalled Councilwoman Kathy Cole for delivering a speech where she reportedly made anti-Asian facial gestures. That was the first time in three decades that a councilmember had been recalled.
Mayor Chuck Reed, who has tried to maintain good relations with the Vietnamese community, has been walking precincts on Nguyen's behalf.
"Anyone who thinks she has not done a good job will have a chance to vote her out of office next year when she stands for re-election," Reed says. "Recalling her in the middle of her term will divert the energy of the community away from efforts to solve problems in District 7 and cost the taxpayers a lot of money to replace her."
A month before the election, members of the recall committee gathered on the steps of City Hall, prepping for one of the few public appearances the group has made during the campaign. A few blocks away, a beleaguered Madison Nguyen sat sipping her Starbucks drink, resigned to rehash the past. She said she still views the whole controversy as a community disagreement gone awry.
Maybe this little disagreement over Little Saigon, which caught international media attention, will cost Nguyen a political career so promising it once seemed possible that she would be the first Vietnamese-American big city mayor or representative in Congress. She's firmly unapologetic, though, about having opposed the name Little Saigon.
"It's a tough job," she says simply. "What can I say?"
Send a letter to the editor about this story.