03.04.09
home | metro silicon valley index | features | silicon valley | sports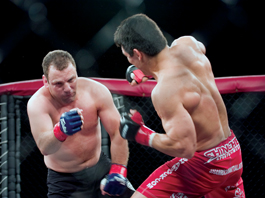 Photograph by Felipe Buitrago
A MATTER OF SECONDS: In the 21st second of the first round of the main event of Strikeforce Judgement Day back in March of 2006, Frank Shamrock (right) turned out the lights on Cesar Gracie.
Payback Time
By Felipe Buitrago
REMEMBER back in March of '06 when Frank Shamrock pranced around yelling, "This is my house!" after he took down Cesar Gracie with one punch, 21 seconds into the first round of the first Mixed Martial Arts Strikeforce event in San Jose? Nick Diaz does, and so does his trainer, none other than Cesar Gracie himself.  
It certainly has rained a bit since then. Shamrock took down Phil Baroni by submission. He got DQed when he fought against Renzo Gracie for knees to the head while his opponent was on the ground. And then Shamrock lost his title to Cung Le. Now Nick Diaz wants kung-fu-cinema-style payback, or at least a crack at it. Sure it's been a while since "The Legend" has been in the ring, but legends take time to create, that's what his record says. A 24-9-1 record wasn't built in one day and is pretty hefty, especially against Diaz, who pulls in at 18-7. Sure Diaz is 6 feet tall, about a decade younger and takes down his opponents via barrages of punches, but will he be a match for legendary experience in submissions?       
Hard to say, but don't let that distract you from the rest of the card that will unfold April 11 at the HP Pavilion in San Jose. The middleweight fight will feature Scott Smith, who is 16-5 with his "Hands of Steel" and will attempt to bring down Benji "Razor" Radach and his 19-4 record. If after this event, the fighters keep trying to claim territory, maybe Strikeforce should reconsider making a belt the trophy to take home and just give the winner a copy of the keys to the Pavilion.
STRIKEFORCE takes place Saturday, April 11, at 5pm at the HP Pavilion, 525 W. Santa Clara St., San Jose. Tickets are on sale through Ticketmaster and www.strikeforce.com.
Send a letter to the editor about this story.