03.05.08
home | metro silicon valley index | sports
The PAC-10 Tournament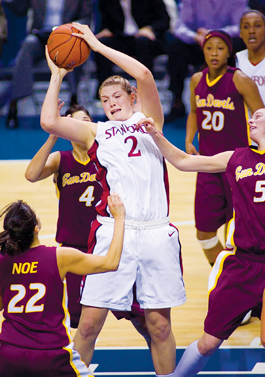 DEPTH FROM ABOVE: At 6 feet 4 inches Stanford's Jayne Appel not only gets the ball—she also got last year's PAC-10 Freshman of the Year.
Ladies' Net
By Felipe Buitrago
IT'S NOT your typical ladies' night when PAC-10 Women's Basketball Tournament brings theirs to the HP Pavilion. After the first tip-off on Friday night, Saturday's "Ladies' Night" lineup includes four games, and by Monday the 10 teams will be narrowed down to two and will battle for the Championship Game. But the PAC-10 isn't only about basketball; Sunday will feature Dads and Daughters Day, where Stanford alum and basketball Olympic Gold Medalist Jennifer Azzi, among others, will be present to talk about how her relationship with her father helped shape her career. Fast-forward to Monday when Dream Weavers will take the stage to present women who have triumphed not just in sports but in unconventional careers. And where would these events be if it weren't for the Bay Area Women's Sports Initiative (BAWSI)? Spawned from the remains of the Woman's United Soccer Association in 2005, Brandi Chastain, Julie Foudy and Marlene Bjornsrud pledged that women's sports will not suffer the fate of the WUSA. Since then, BAWSI has become a formidable force in women's sports helping other women find a path and career in athletics.
The PAC-10 TOURNAMENT happens Friday, March 7, 6 and 8:15pm; Saturday, March 8, 11am, 1:15, 5 and 7:15pm; Sunday, March 9, noon and 2:30pm; and Monday, March 10, 7:30pm. Tickets $25-$85. HP Pavilion, 525 W. Santa Clara St, San Jose, 408.998.TIXS. For more information go to www.pac-10.org/w-baskbl-tourney.
Send a letter to the editor about this story.