03.11.09
home | metro silicon valley index | features | silicon valley | sports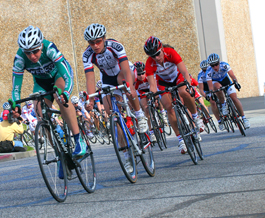 Photograph by Felipe Buitrago
HARD CHARGERS: Webcor's Kathryn Curi Mattis (left) edges out in front of a patient Brooke Miller, who is waiting her turn to take the lead in last Sunday's Menlo Park Grand Prix.
Women Wheeling
By Felipe Buitrago
TO THE WOMEN about to bike, we salute you. March 8 is your day, and Velo Girls celebrated it by putting on the Tri-Flow Menlo Park Grand Prix. Sure, the guys can ride, too, but this one was really for the women cyclists. With a lucky break from the rainy weather, the race got under way with the Elite 5 category riders followed by the Masters Men's race and the much-anticipated Women's Pro race, which included such major riders as Webcore Builders' National Champion Kathryn Curi Mattis and 2008 National Road and Crit Champion Brooke Miller, who has recently added her first place in the First Amgen Tour of California Women's Criterium to her long list of cycling triumphs.
Miller races for TIBCO, and she was flanked by the Alisons—not a family operation but two new powerful cyclists: Alison Starnes, who gave up tennis for cycling in 2008 and has quickly climbed the ranks and is earning her bragging rights; and Alison Rosenthal, who is in her second season but already took 11th in the Amgen Tour of California Women's Crit and first place in the Coyote Creek Road Race.
The race sported a new layout for 2009. The start and finish line were located on Constitution Drive between Jefferson Drive and Chrysler Drive, and the course took riders through a 1.4-mile loop around the block. Sound easy? Think again. Although the pavement had its moments, it was relatively smooth, and the course is flat. Unfortunately, the cover to access the district's water kept popping up on the inside of the third turn causing a major hazard for cyclists. It seems to be in the nature of the sport to have these occurrences. If it doesn't rain for the Paris-Roubaix, then it's just too easy.
Send a letter to the editor about this story.