03.12.08
home | metro silicon valley index | sports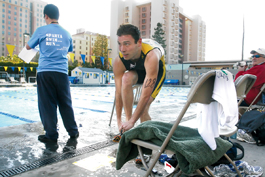 FIRST ON LAND: David Carlton of the CAL Triathlon Team was first out of the pool and first across the finish line on Saturday.
Taking the Plunge
By Felipe Buitrago
FOR AS long as I can remember I've wanted to do a triathlon, and this year it was my New Year's Resolution to finally make it happen. Even though I've been training, I was still nervous about what I'm getting myself into, so I decided to test the waters at the First Annual Spartan Swim Run event last Saturday at the Aquatic Center on the SJSU campus. This wasn't your typical university-only event; the organizers decided to take it a step further and open the doors to faculty and the community. Participants between the ages of 8 and 57 woke up bright and early to take part. A 500-yard swim that turned my arms to jelly was followed directly by a three-mile run where I felt the exhaustion slowly slide into my lower half after the first lap. Clearly, I need to train more. Nonetheless, the experience left me wanting more, quite unlike the gel shot that I had after the swim that almost made me gag while I ran. Fortunately this Spartan Swim Run is the first of many events of this nature and a prelude to the triathlon that is coming up April 26. A triathlon with a twist, the three segments will be based on points with stationary bikes on the deck of the pool for the cycling leg. This should be an interesting race, so if you didn't get your chance to savor the duathlon experience, get yourself in gear. Few things are this rewarding.
Send a letter to the editor about this story.