03.18.09
home | metro silicon valley index | news | silicon valley | news article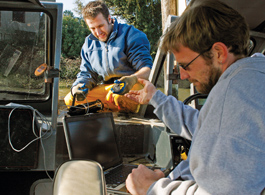 WATERMEN:
Volunteer Gabe Singer (left) and researcher Phil Sandstrom have been collecting data in the Delta, and finding fewer and fewer fish.
Delta Blues
With much-needed funding unavailable, California farmers and nature lovers are fighting over dwindling water resources
By Curtis Cartier
DAWN on the Delta. As the sun peeks out from behind the John A. Nejedly Bridge near Antioch, a small flock of terns flaps up to the concrete trusses and rests on a set of nooks in the construction.
Below, on the San Joaquin River, the low buzzing of an outboard motor mixes with the calls of the terns and the thud-thud of wheels rolling over the bridge's ribbed surface. The smell of wet marsh air mostly overpowers the occasional hit of fertilizer carried east on the winds from some nearby farm, while slowly, the water world comes to life under the yawning gaze of a new day's sun.
This is a morning on the new Sacramento Bay Delta. True, the birds have been around for eons, the bridges are fairly old and most of the farms have been here for 100 years or more. But the Delta seen on this March morning is different from the one seen last year or the year before. It's an environment that through erosion, damming, dredging and river redirecting has changed so dramatically that maps more than 20 years old are nearly useless.
It's also an environment on the brink. More than two-thirds of California residents get drinking water from the Delta and more than 3 million acres of the state's crops are fed from it. Hundreds of species—more than 20 of them endangered—live or travel through in countless tributaries, streams and bays. And each of these demands is backed by passionate voices and powerful people, all with their own idea on how best to change the Delta.
But while nearly everybody agrees that more change is coming, whether that change will be for better or worse for California's ecology, economy and health and welfare is still up in the air. All that's for sure is that with aging levees, dying species and the slow intrusion of seawater into the overpumped soil, things can't go on the way they are now.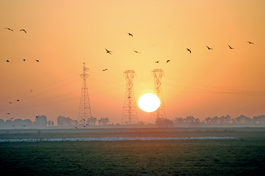 DRYING UP: Almost all of the state funding earmarked for the Sacramento Delta has been cut, pitting farmers against environmentalists and north against south.
Scientists and Shepherds
Phil Sandstrom counts fish. To be fair, the approximately 50 underwater receivers at the bottom of the Delta's many rivers count the fish, and only the ones pretagged with ultrasonic sensors embedded in their body cavities.
But, in a 27-foot UC-Davis fishing boat, Sandstrom putters around the Delta yanking the receivers out of the muck and downloading their data into a matrix used by countless environmental groups, universities and military analysts. This morning, he, along with volunteer and UCSC grad Gabe Singer, is harvesting 4-month-old data from receivers at Decker Island and Three Mile Slough.
"We've seen some high mortality rates in certain species," says Sandstrom, while the data from the pipe-bomb-shaped monitor downloads into his laptop. "But it takes a lot of work to keep track of it, and we're just not getting the money we need."
Sandstrom is a doctoral student whose dissertation is based on salmonid research, and though his funding has been cut completely this year due to California's financial lockdown, he's still on the water at least twice a week because, as he puts it, "the work still has to be done."
Sandstrom has a firsthand connection to disappearing fish like the Delta smelt and Longfin smelt that have been pushed to the edge of extinction due to habitat destruction and water pumps that change river currents and confuse the fish's reproductive instincts.
As the boat nears Frank's Tract, a "sunken island" caused by years of erosion and now a breeding ground for the invasive and damaging egeria plant, his obvious distaste begins to show.
"The levees protecting this entire area are more than 100 years old, and they're going to fail soon," he says, as he pulls the boat away and heads back to the dock at Rio Vista. "And when they do, this whole area could be underwater."
Sandstrom may be worried about the centurion levees, but local farmer Mike Robinson thinks they'll be just fine. "These are ancient levees. They're settled levees and they're sturdy," says the third-generation Delta farmer while looking out at crusty dirt rows that will soon be alive with tomato plans. "We farmers are the best shepherds of the land there are. I never understood why people don't realize that."
Robinson is one of the few people content to keep the Delta as it is, although he admits this will require changes of its own. He says the Gov. Schwarzenegger–sponsored plan to create a peripheral canal that diverts Sacramento River water around the Delta would be a "disaster," and he says his family's 123-year-old water rights trump any other public or private needs for the water.
Robinson views the battle over Delta resources as another clash between Northern and Southern California interests, and assures that once cities like Los Angeles and San Diego get the extra water they are demanding, any interest in saving the region's agriculture and animal species will vanish.
"Everyone's attention is on the Delta right now because people need the water," he says. "But what happens once they get it? And they will, somehow. We'll still be here, taking care of the land, but will anyone care?"
Send a letter to the editor about this story.