03.18.09
home | metro silicon valley index | features | silicon valley | sports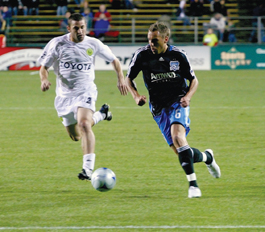 Photograph by Felipe Buitrago
BREAKOUT: San Jose Earthquakes' no. 6, Darren Huckerby (right), breaks right for an attempt on the Portland Timbers' goal in a preseason game last Saturday at Buck Shaw Stadium.
First Tremors
By Gary Singh
THE SAN JOSE EARTHQUAKES kick off the 2009 campaign this Saturday against the four–time MLS Cup finalists, the New England Revolution. In building this year's squad, coach Frank Yallop added several new pieces to the puzzle, the most notable of which is U.S. National Team midfielder Bobby Convey. The Philly native began his MLS career in 2000 with DC United at age 16, during a time when Yallop was DC's assistant coach. Convey eventually went on to play for Reading FC in England, helping them win the 2005/06 Football League Championship, which earned them promotion to the Premiership for the first time in club history.  
Convey was also the first Reading player to play in the World Cup when he appeared with the U.S. National Team in 2006. He is now 25 years old. Convey normally plays wide left, where the Quakes' English hero Darren Huckerby usually sets up shop, but Yallop will most likely play him in the middle instead. Also on board for the season is Bakersfield native and UC-Davis forward Quincy Amarikwa, whom San Jose chose in its third round (32nd overall) draft pick. Amarikwa just came off a stellar run at UC-Davis, where he appeared in 77 games over four seasons, notching 31 goals and seven assists. Other new acquisitions include New Zealand native and former L.A. Galaxy midfielder Simon Elliott. Yallop has a good track record with refurbishing former L.A. players, so we shall see.
SAN JOSE EARTHQUAKES VS. NEW ENGLAND REVOLUTION, Saturday (March 21) at 7:30pm, Buck Shaw Stadium, Santa Clara University. Several ticket packages available at: 408.556.7700 or [ http://www.sjearthquakes.com/ ]www.sjearthquakes.com.
Send a letter to the editor about this story.