03.25.09
home | metro silicon valley index | features | silicon valley | feature story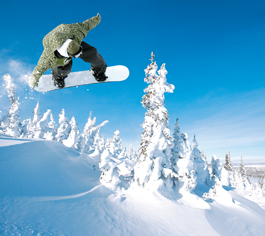 A Tale of Two Tahoes
Today,s assignment: compare and contrast one of Tahoe,s best-known resorts with one of its best-kept secrets
By Curtis Cartier
After the Second or third day of a drizzling winter storm in the valley, it's easy to get a bit down. But for every raindrop that splatters in San Jose, three or four snowflakes drift down around Lake Tahoe. And anyone who's ever stepped into a hunk of carbon-Kevlar and raced down a snowy hill can attest that those snowflakes represent an undeniable opportunity to head to the top of a mountain and put physics to work.
The closest place to us to do just that is a bit more than 200 miles away, in the city of South Lake Tahoe. Once described by a friend as "the bastard child of a one-night stand between Salt Lake City and Las Vegas," this small town with big attitude has massive casinos, 24/7 clubs, world class dining and seven nearby ski resorts.
March is arguably the year's best month for snow sports and possibly the best month for snow. That in mind, we came up with two Tahoe area resorts that, between them, should cover all the bases for both the powder-worshipping snow bum and the nightlife-craving alpine partier.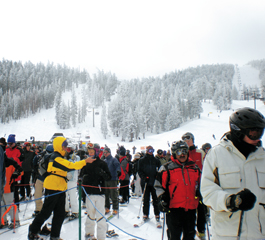 Photograph by Jenn Ireland
LEAVE 'EM TO HEAVENLY: The variety of slopes and entertainment options at Heavenly draws big crowds.
Heaven and Hell
The view from the top of the Sky Express lift sums up the Heavenly experience. At your feet, the finely groomed snow and epic terrain of a first-rate ski resort stretches out like a wedding dress. Farther down, South Lake Tahoe's skyline, with its round-the-clock casinos, glimmers in the sun and promises a wild night to come. And below it all, the sapphire waters of the region's namesake lie cold and deep, occupying the remainder of the lower horizon and providing a vista equal to any postcard ever sent.
As part of Vail Resorts, a massive company that also owns Colorado parks Vail, Breckenridge, Beaver Creek and Keystone, Heavenly exists in the upper echelon of "destination resorts." These all-in-one vacation smorgasbords pack skiing, lodging, entertainment and food into one, which means less driving and more spending for the visitor. A family on holiday from Japan, for example—of which there are hundreds at any given time—can spend a week skiing, eating, gambling and partying at Heavenly and never stray farther than a mile from their hotel.
Like the town of South Lake Tahoe itself, Heavenly is split in half by the California/Nevada border. The California side of the mountain is home to the breathtaking views that make the resort famous. It's also home to noticeably thicker crowds of skiers and boarders, so plan accordingly. The Nevada side doesn't have as much eye candy, but it's less crowded and has better runs, including heart-racing (but hiking-required) drops into the legendary Milky Way Bowl and the stellar Dipper Express lift.
The tree riding at Heavenly is epic. It's also easy to overlook, with 4,800 acres of cleared terrain available. One of the best tree runs (and my personal favorite), "Orion," is also the most notorious. With its tall pines and steep grade, this intermediate run marks the spot where singer and politician Sonny Bono met his end back in 1998 when he collided with one of the same trees I missed by mere inches.
Heavenly's top flak, Russ Pecoraro, has been avoiding trees his entire career. He was on hand to give his spiel on why the resort is worth an $82-per-day lift ticket.  
"Number one, Heavenly is a huge mountain," he explained. "Really, there is something for everybody. I also think the people who come here aren't here to get off the mountain and curl up by the TV. They are here to gamble, watch entertainers and experience all that Tahoe has to offer—not just the skiing."
When it comes to big views, big lodges and big entertainment, Heavenly delivers on all fronts. What comes with it, however, are big crowds, big lines and big prices. On a weekend day, a 10-minute wait in any given lift line is a short one. And if you're on the Sky Express or Tamarack lifts, forget about it. You might as well hike up the mountain.
The hordes on the hill also make for some of the gnarliest traffic ever witnessed. One trip back home took nearly 10 hours, including a 20-mile stretch of Highway 50 that required 4 1/2 hours of stop-and-go torture.
In the end, however, staying in South Lake Tahoe, driving for five minutes to the mountain and afterward waddling a few hundred yards to the casino makes Heavenly synonymous with the complete Tahoe experience.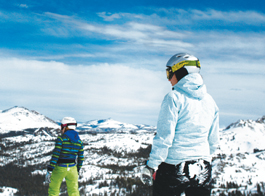 Photograph by Jenn Ireland
TAKING THE LONG VIEW: Relatively undiscovered, southerly Kirkwood is also a shorter drive from the valley than the other big Tahoe resorts.
The Back Woods
Every Western ski state has at least one mountain that you don't read about in magazine ads or on billboards, a resort off the beaten path that all the locals swear by, if you can get them to admit it's even there. Utah has Powder Mountain, Colorado has Wolf Creek and California has Kirkwood.
A 45-minute drive from South Lake Tahoe, Kirkwood is a snow magnet of a resort that brings skiing and boarding back to basics. It starts when eastbound storms from the Pacific cross with southbound storms from Canada in the skies over Kirkwood, resulting in, quite simply, craploads of snow. In an average year, Kirkwood sees 42 feet of the white stuff fall on its 2,300 rideable acres. As Kirkwood's senior vice president Tim Cohee put it, "We get the best snow and we get the most snow."
We verified Cohee's claim of "no crowds and no traffic" when weekend traffic entering and leaving the resort proved almost nonexistent. "We breathe a different vibe here and we attract a different type of skier than Heavenly or other Tahoe resorts," the boss man said.
Kirkwood has a reputation as a badass resort. Most of the rap comes from two words: The Wall. Just getting onto this legendary trail's chair lift requires that you maneuver around a huge black sign in the lift line that reads "experts only" and is crowned with a skull and crossbones. Halfway up the lift, it becomes clear why: even from 20 feet up the nearly sheer pitch of this double-black-diamond trail is impossible to ignore. But survive the run and you can not only sport the sweatshirts seen around the village that mimic the aforementioned warning sign, you can proudly say you've ridden one of the steepest in-bounds runs in the world.
On the complete opposite side of the spectrum, Kirkwood is also known for its tenderhearted beginners' terrain. The Timber Creek beginners' park is big, it's open, it's separated from the main resort and, most importantly for anyone strapping on skis or a board for the first time, it's almost perfectly flat. In between, Kirkwood has plenty of intermediate runs and a killer terrain park as well. And while it doesn't have the 5-mile-long runs and super-speedy lifts of Heavenly, it has enough narrow chutes, bump trails, open bowls and tree runs to satisfy whatever you're into.
Kirkwood is not a destination resort. There is plenty of lodging and a lot of it is cheap—$99 a night in some cases. But besides a couple bars, a fancy restaurant and all the snowmen you can roll, there's not much for nighttime entertainment. The lodges also leave a little to be desired with a rather bland supply of hot dogs, burgers and pizza, plus a few more exotic dishes offered in the base village. What Kirkwood does have is pure unadulterated skiing and boarding, which, in the end, is what ski resorts should be all about.
Bases& Runs
Vital statistics on two of the jewels in the Tahoe crown
Heavenly
Location: South Lake Tahoe/stateline, Calif./Nev.
Season Length:  November through April
Base Elevation: 6,540 feet
Summit Elevation:  10,067 feet
Trails:   94
Lifts:  29
Acres:  4,800
Current Snow Base:  116 inches
Average Yearly snowfall:   360 inches
Adult Day Pass: $82
Adult Season Pass:  $329 (with blackout dates), $579 (no blackout dates)
Student Season Pass:  $269 (with blackout dates)
Website:   www.skiheavenly.com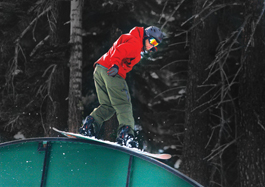 Photograph by Jenn Ireland
GETTING A LIFT: A snowboarder rides the rail slide at Kirkwood.
Kirkwood
Location:   Kirkwood, Calif.
Season Length:  November through April
Base Elevation:  7,800 feet
Summit Elevation:   9,800 feet
Trails:   65
Lifts:  14
Acres: 2,300
Current Snow Base:  207 inches
Average Yearly Snowfall:  504 inches
Adult Day Pass: $72
Adult Season Pass:  $469 (with blackout dates), $599 (no blackout dates)
Student Season Pass:  $299 (with blackout dates)
Website:   [ http://www.kirkwood.com/ ]www.kirkwood.com  
Ski & Snowboard Resources
Any Mountain
1600 Saratoga Ave. #105 (Westgate Mall), San Jose; 408.871.1001.
Big 5 Sporting Goods
3132 Stevens Creek Blvd., San Jose; 408.249.4370.
2249 Tully Road, San Jose; 408.258.5133.
946 Blossom Hill Road, San Jose; 408.578.5455.
1600 W. Campbell Ave., Campbell; 408.871.7249.
721 Sunnyvale-Saratoga Road, Sunnyvale; 408.732.4280.
Boarder Nation
14442 Union Ave., San Jose; 408.377.3577.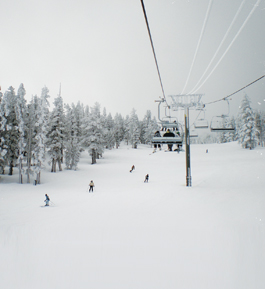 Helm of Sun Valley
1111 Saratoga Ave., San Jose; 408.996.7669.
Mel Cotton's
1266 W. San Carlos St., San Jose; 408.287.5994.
The North Face
2855 Stevens Creek Blvd., Santa Clara; 408.553.0190.
Outback Adventures
1158 Saratoga Ave., San Jose; 408.551.0588.
Play It Again Sports
2081 Camden Ave., San Jose; 408.371.4531.
REI
400 El Paseo De Saratoga, San Jose; 408.871.8765.
Sports Basement
1177 Kern Ave., Sunnyvale; 408.732.0300.
Wintersport Warehouse
2605 Lafayette St., Santa Clara; 408.748.0880.
Send a letter to the editor about this story.