03.25.09
home | metro silicon valley index | features | silicon valley | sports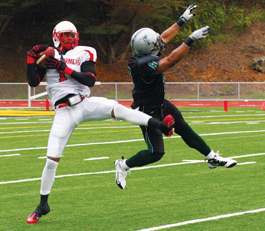 Photograph by Felipe Buitrago
LOOK TO THE SKY: A Pacifica Islander defender was seemingly distracted by some kind of UFO as Central Coast Barnstormer receiver Greg Walton ran this catch to the end zone at Saturday's game at Terra Nova High School in Pacifica.
Pigskin Option
By Felipe Buitrago
DESPITE ALL the talk the NFL creates in the off-season, football fans still have a long wait even for preseason games to start. And this year, the wait is even longer considering that the Arena League SaberCats have been put on hold. Football fans, however, don't need to settle for T.O. gossip or even March Madness—a cure is on the way.
The answer lies in the Northern California Football League. Stemming from four independent teams in 1996, the league has undergone a significant evolution. Teams have sprouted all over Northern California, from Salinas to Santa Rosa, creating a league with up to 24 teams between 2002 and 2005. The 2009 league is 16 teams strong, and the excitement is still there. Sure these teams don't have giant stadiums to play in; most use high school fields and some are currently fieldless. But that doesn't mean teams and fans will be traveling long distances to catch a game of flag or two-hand touch football—this is the real deal.
The league is currently in its second week of the new season, so I decided to catch the Pacifica Islanders vs. Central Coast Barnstormers game in Pacifica last Saturday, and it did not disappoint. The first half was dominated by the guys from Gilroy and plagued by more turnovers than a bakery. But an interception by Islander Scott Burke gave the team the momentum it needed to carry through to a 50-28 win over the Barnstormers.
For more information on the NCFL and the 2009 season go to www.mcflfootball.com.  
Send a letter to the editor about this story.