03.26.08
home | metro silicon valley index | sports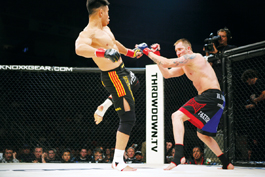 HE'S A REAL KICK: 'Mr. Unbreakable' Brian Warren (right) has a look of dread as Cung Le (left) approaches. Will Shamrock suffer the same fate?
Bragging Rights (and Lefts)
By Felipe Buitrago
IT'S GOING to be like a Mortal Kombat video game come to life at the Tank when two mixed martial arts heroes from the streets of San Jose face off this Saturday, March 29. Cung Le, known for lightning leg speed from his San Shou kickboxing background, delivers a thunderous clap of power when he makes contact with his opponent. Frank "The Legend" Shamrock is a master of grappling and submission. So what happens when the unstoppable roundhouse kick meets the unmovable takedown? Hard to tell, but at stake is the Strikeforce Middleweight Championship (185-pound limit) currently held by Shamrock. Both fighters will be entering the ring with impressive records, Shamrock is 23 and 8 and 1 and going up against an undefeated Cung Le with 21 and 0. The event has proven to be so huge the Pavilion will be opening its doors at 4:30pm and has the first fight scheduled at 5pm. The main card action, with fighters like Evangelist "Cyborg" Santos and Joey "Dream Smasher" Villasenor, is scheduled to start at 6pm.
STRIKEFORCE WORLD MIDDLEWEIGHT CHAMPIONSHIP BOUT  happens Saturday, March 29, at HP Pavilion, 525 W. Santa Clara St., San Jose. Tickets are $30/$400; 408.998.TIXS. For more information and the updated card go to [ http://www.strikeforceusa.net/ ]www.strikeforceusa.net.
Send a letter to the editor about this story.