03.26.08
home | metro silicon valley index | features | silicon valley | column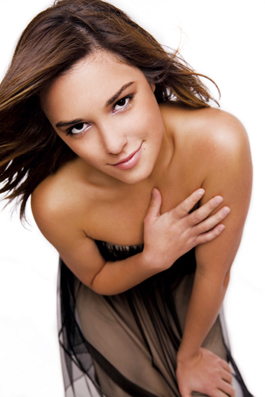 Spring Fashion: Women's Edition
By Joseph Rosenfeld
S PRING fashion is a complex range of '50s pure innocence, '60s love child and '70s feminine power, all reshaped by current events and a bit of hindsight. The designers clearly concur with poet Erica Jong, who once wrote that "the future and the past are all one ... and that the moment now is all we ever have."
Fashion's bouquet of spring colors, influences, motifs and styles are like patterns in a kaleidoscope. What we see in the mirrored cylinder looks beautiful and complex. Peering into this season's kaleidoscope reveals a complex, but very girlish, spring season in women's fashion.
Betsey Johnson showed a range of puffy prom dresses that were either righteously polka-dotted or rebelliously punk. Gucci's big skirts were less expansive, but no less expressive with gutsy floral and graphic print motifs. Dolce & Gabbana took the ball gown to überproportions in full, florid and fantasy-worthy, splashily painted organza.
If the women in the designers' minds are not all belles of the ball, they sure are an international set. A review of Giorgio Armani's current collections is like taking a trip around the world. Some of his daytime looks evoke his southern Italian inspiration. Nearly two dozen runway exits of his ready-to-wear collection feature short silk pants that tie at the knee. Worn with loose, breezy layers in neutrals of stone, beige and cement, and with pops of blue-gray, the mood is at once tentative and serene. Stunning beaded pant gowns would seem at home in Istanbul or India. Jean-Paul Gautier's collection for Hermès is more like a "passage to India." Part shimmering sari, and part spicy safari, the collection is comprised of ultraluxurious examples of both, replete with reptile-skin signature boots and poppy colors fresh from a French garden.
Hipster line Rag & Bone's look is a bit more "out of Africa" with Bond-girl edge. Whether it's a sexy safari jacket paired with tapered pants tucked into tall boots, or a bikini worn with khaki cover-up, they succeeded in updating both. Michael Kors' lady is always a jet-setter. This season she'll easily fit into Palm Beach society while wearing his version of the safari jacket with a wide-legged trouser, classic business blues, pastel daytime dresses and chiffon evening gowns. Marc Jacobs' flirty, color-blocked collection seemed to reference a more glamorous era in air travel as model after model took off and flew down the runway like retro stewardesses.
As if the trip around the world is not enough to make the spring fashions feel like a whirlwind, gauzy, sheer layers and brightly glowing colors combine to reveal a woman's intense emotions and her taut body. Not intended for a shrinking violet, these looks are confident, yet girlie. If you are game enough, check out the Louis Vuitton collection, where vivacious colors and sheer fabrics are creatively combined. Our kaleidoscopic tour of spring fashion would not be complete without mentioning Donatella Versace's epitome of the global girlie goddess: finely draped, confidently colorful, ethereally elegant, on trend and scheduled for an on-time arrival this spring. Jong would be thrilled that these women have no fear of flying.
Joseph Rosenfeld, the nation's only male Certified Image Professional, helps men, women and corporate employee groups to become more dynamic, compelling and stylish. Visit www.JRImageMentor.com for more information.
Send a letter to the editor about this story.