March 28-April 3, 2007
home | metro silicon valley index | features | silicon valley | feature story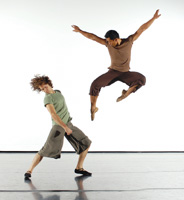 Leaps of faith: The SpectorDance Company of Monterey will help celebrate a month's worth of events dedicated to the life and work of César Chávez.
Cesar Chavez Month
By Deena Bustillo
CESAR CHAVEZ has parks, streets, schools and even a bowling alley named after him—and the recognition doesn't end there. A month of festivities in remembrance of the famed labor leader kicks off in San Jose March 30, a day before what would have been his 80th birthday. Chavez co-founded the National Farm Workers Association and led human rights campaigns throughout California. He was nominated three times for the Nobel Peace Prize. The second year of the Festival de las Bellas Artes en Honor a Cesar Chavez, sponsored by the Mexican Heritage Plaza, brings a smattering of festivals, music, education and awareness to the Bay Area.
Cesar Chavez Commemorative Breakfast Rise, shine and dine with community leaders and activists in the sixth annual tribute to Chavez's civil rights work. Mayor Chuck Reed and Councilmember Nora Campos co-chair the event along with Chavez's sister, Rita Chavez Medina. Friday at 8am; Mexican Heritage Plaza; 1700 Alum Rock Plaza, San Jose; $25; 408.928.5563.
Cesar Chavez Celebration Honor the labor leader's life and work with an evening celebration, beginning with a traditional Danza Mexica-Azteca blessing. Recording artist and film star Daniel Valdez shares and sings about Chavez's early activism, and chairwoman of the SEIU International Latino Caucus, Gilda Valdez, speaks about current civil rights issues. Mexican vendors sell handmade crafts, clothing and jewelry and an exhibit of photos of farmworkers will be displayed. Music from Conjunto Libertad and Cuatro Con 3 closes out the festivities. Friday at 6pm; SEIU Local 521, 2302 Zanker Road, San Jose; $1, $5 for dinner.
Cesar Chavez March The annual march begins at San Jose's Plaza de Cesar Chavez and ends at the Mexican Heritage Plaza, where a La Colectiva concert follows at noon. Saturday at 10am; Plaza de Cesar Chavez; Market Street and Park Avenue, San Jose.
Common Ground & Figures in the Dust Monterey's SpectorDance Company presents a two-part performance exploring past and present agricultural politics. Seven dancers take the stage and weave together visual images, prose, video and music. "Figures in the Dust," an interpretation of Salinas Valley farmworkers' struggles in the 1930s, was inspired John Steinbeck's novel The Grapes of Wrath. Choreographer Fran Spector Atkins created its "Common Ground" modern counterpart from interviews she had with farmers in Delano, Calif., where Chavez first settled. Sunday at 1pm; Mexican Heritage Plaza; 1700 Alum Rock Plaza, San Jose; Free.
Harry James Orchestra Way back in 1939, Harry James left the Benny Goodman Band and teamed up with a little-known vocalist, Frank Sinatra. It was the heyday of swing music and James pumped out hit after hit including, "You Made Me Love You" and "I've Heard that Song Before." James continued performing until his death almost 50 years later, in 1983. Oakland native Fred Radke has been the bandleader for almost 20 years and brings back James' sounds of swing. Sunday at 7pm; Mexican Heritage Plaza; 1700 Alum Rock Plaza, San Jose; $20 general, $15 seniors.
Send a letter to the editor about this story.