March 28-April 3, 2007
home | metro silicon valley index | news | silicon valley | news article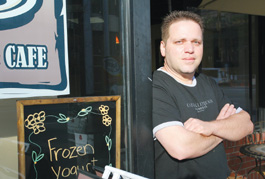 Photograph by Felipe Buitrago
The independent: Ali El-Afifi, owner of Taza Bistro and Cafe on Santa Clara Street, has stared down a Starbucks and will soon be competing with a new Peet's Coffee and Tea.
Chain Reaction
Coffee is a battlefield for local independents battling new competition from chains. Do consumers win?
By Matt Stroud
Five years after Germany's post-Communist reunification, during 14 days in 1995, artists Christo and Jeanne-Claude covered the German parliament building with more than 1 million square feet of white fabric, and 50,000 feet of blue rope.
The spectacle attracted attention from around the world. Locals said the wrapping of Reichstag reflected the huge changes around them and added an element of mystery to a fixture Berliners had come to view as commonplace.
Now, on any given day, it's not customary to compare downtown San Jose to Berlin. But walking down Santa Clara Street this week, the connection seems unavoidable. When you get to the corner of Santa Clara and Lightston Alley, just east of Market, you'll notice a building on the corner sheathed in white. It too adds an element of mystery to a structure locals have come to view as commonplace.
Could this represent big change for downtown San Jose?
On the surface, probably not. There's a new Peet's Coffee and Tea under the white sheet, which doesn't exactly rank up there with the democratization of the Eastern bloc in terms of global import.
But it has rocked the world of one downtown business owner. Ali El-Afifi has owned various incarnations of the independent Taza Bistro and Café, located just across the street from the new Peet's, for the last decade. He says he was offered 66 W. Santa Clara St.—where Peet's has opened—for $6,000 per month, but turned down the offer.
"Can you imagine," he asks, "how much coffee I'd have to sell?"
This won't be the first time El-Afifi has gone head to head with a chain. In October, he restructured his business with new menus, décor and equipment, after another Starbucks opened in the downtown area. Now, he's considering what he can do to stay competitive once again.
"It's like we have to change our menu every time a new coffee shop moves in," he says.
Peet's Perks
Today, the building at 66 W. Santa Clara St. is covered in white cloth because FJP, LLC (consisting of Nicholas Pastore, J. Michael Fitzsimmons and James Campagna), which owns the buildings at 62-66 W. Santa Clara St., and rents to Peet's and Picasso's Tapas Restaurant, received a revitalization grant from San Jose Redevelopment Agency (SJRA) to the tune of $90,000. The grant is strictly for facade improvements, and available, according to SJRA executive director Harry S. Mavrogenes, to anyone who applies. "The main goal of the program," Mavrogenes says, "is to eliminate blight." But the main initiatives are focused around retail streets, like Santa Clara. Peet's happened to be on the advantageous side of the agency's blight equation.
Edith Ramirez, a development officer with SJRA, explains that because 66 W. Santa Clara is considered a historic site, SJRA replaces doors, for example, adds handicap accessible ramps and affixes safety film to the building's historic windows. He expects construction to be finished in a couple of weeks.
El-Afifi is certainly concerned about the impact of this particular unveiling. And yet, unlike many small business owners who rail against the invasion of chains, he's not against them.
"It's good for everyone," he says. "The competition keeps everybody on their toes."
Are Chains Bad?
Corporate expansion theoretically decreases the number of conglomerates who control goods and services. With that, choices dwindle, and we move toward a consumer marketplace where variety is an afterthought, and eventually we're caught in an Orwellian nightmare. Right?
Maybe not, according to Dr. Edward Stringham, an associate professor of economics at San Jose State University. Stringham thinks El-Afifi is onto something.
"Chains, by running things more efficiently, have the possibility of introducing more products at lower prices," he says. "That frees up resources for local companies to produce other things that consumers value more—like restaurants or bars."
In this case, says his colleague, Dr. Benjamin Powell, "the influx of Peet's should spur Starbucks and independent businesses to be more competitive, hopefully offering better and faster products and services."
Powell, an assistant professor of economics at San Jose State, has written extensively against corporate restriction, particularly on legislation banning Wal-Mart expansion.
"Wal-Mart's not always good, but, on net, it's pretty good," Powell says. His argument was fashioned in response to a 5-3 San Diego City Council vote to ban certain giant retail stores, including Wal-Mart, within the city. "[Wal-Mart] brings low-cost products to people, and those who don't like it shouldn't shop there. The appropriate way to promote growth is not to restrict the right to shop at a certain store."
Powell says the result of the ongoing battle between independents and chains ultimately rests not with policymakers or theoreticians, but with consumers.
"As economists, we don't care whether it's an independent or a national chain who's serving needs, as long as the competitive process is serving the needs of consumers," he says. "For those consumers who think that needs would be better met by an independent that specializes in a particular good or service—like coffee—then it's incumbent upon them to go ahead and open a business to challenge the big guys."
But Oden Sy, owner of independent Mountain View video store Videoscope, points out that the deck is often stacked against the little guy.
"We still have to innovate," he says. "We have to work twice as hard. Or else what do we have? Everything the same. Blockbuster or Starbucks or whoever—they would be the only survivors. And who wants that?"
Internet Killed the Video Store
Sy isn't just talking about innovation, he's leading the charge. Video rental stores have fallen to Netflix and Blockbuster, whose online DVD services are more popular than ever. Videoscope isn't trying to stave off the trend, but accepting it and moving forward. They've joined other local video rental retailers like Movie Groove in Redwood City and LeVideo in San Francisco to create www.moviecrazy.com—an amalgam of independent video stores online. Just like Blockbuster and Netflix, moviecrazy.com offers DVDs by mail, but noncorporate retailing is emphasized. Moviecrazy.com offers less mainstream, more localized content than Netflix and Blockbuster. And, in time, viewers will be able to choose where their payments go to; they'll be able to support their local video chain from home.
But not everyone likes getting their DVDs by mail, and Sy hasn't given up on the video store experience, either.
"The local presence is still there, and that's still what I love," Sy says. "Not everybody enjoys the mail order thing, so we do both—that by itself makes us viable."
Record Store Shuffle
As El-Afifi puts it, there's always room to evolve when you're making sandwiches. But what about selling music? Independent record stores all over the country have fallen to online initiatives like Amazon.com and iTunes. Even so-called mainstays of the industry, like Tower Records and National Record Mart, have bit the dust in the wake of the so-called digital revolution. Why go to a record store when you can preview music and then purchase a CD or MP3 online?
"Because there's always local music, and always a local community," says John, a Rasputin Music employee who asked to be identified only by his first name. Rasputin, along with South Bay stalwart Streetlight Records, is one of the few remaining successful record stores in the Bay Area. Rasputin supports seven Bay Area locations, including four former Tower Records sites.
"We don't focus on selling new CDs," says John. "We have a huge used section, and we cater to local artists who might not have all the connections to get on iTunes or sell at Borders." John believes that Tower Records failed because it was a cookie-cutter corporation—everything sold and promoted was bottle-necked and regulated by unreachable corporate leaders. "We're more open-minded and accessible," John says. "Every store's different, and it's easier to get ideas implemented."
It's also possible that chains aren't quite the threat to local independents that they are often perceived to be—or if they are, independents are doing a better job of withstanding that threat than they're given credit for. The California Association of Independent Business released a report in 2003 suggesting that 98 percent of California's workforce is employed by an independent business. And according to San Jose's Office of Economic Development, of the 109 new businesses that have opened their doors in the 95113 zip code since 2004, only 22—about one-fifth—were nonlocal chains.
Bruce Phillips, senior fellow in regulatory studies at the National Federation of Independent Business, would like to see it stay that way. He contends that small businesses are more invested in serving a community better.
"Independent businesses provide a superior product, superior service and customization—something you frequently can't get in big box stores," he says. "Independent business owners innovate to compete. So they have to be there, plain and simple."
Send a letter to the editor about this story.